Image Upscalers are online tools used to enhance the quality of your images by using artificial intelligence. Such tools prove to be extremely helpful for almost anyone who might want to improve the quality of an old picture. Image enhancers can overcome the problem of using low-quality stock photos for online shops and website owners who consistently use such content to improve their presentation. Multiple online and software-based tools are available to use with some benefits as well as drawbacks. I have listed the ten best products below to make your research easy.
Featured AI Image Upscaler Recommended- Image-upscaler.com
Price: Completely free
Image-upscaler.com is an AI-powered online tool to help you do the enlargement job. Trained with thousands of high-resolution photos,  it can upscale and enhance photos automatically. You may use it to upscale your images for different purposes.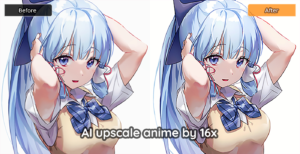 Pros:
Free to use
Improve image quality automatically while upscaling images
Cons:
Best 10 AI Image Upscalers for eCommerce
Price: Free & Paid (basic: $6/2 months, Standard: $12/6months, Premium $22/year)
Bigjp can adjust the lines and colours of an image with the help of a neural network. It processes animated pictures and illustrations better than a regular picture, making it the best option for designers. Loss of detail is evident in photos, especially portraits. Bigjp has more limitations to it compared to other tools and has a much longer processing time. Paid users enjoy the benefits of faster and stable processing, along with a higher resolution compared to the 3000x3000px in the free trial. You are also limited to upload a file of not more than 10MB with the free trial.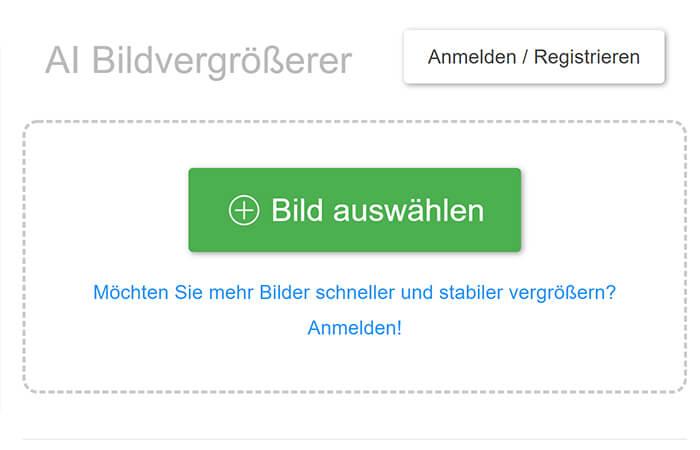 Pros:
Free version available
Supports multiple image formats
3000x3000px in free version
Cons:
Slow processing speed in the unpaid version
Loses quality in portraits
Also read: 6 Best Photo Enlarger Software Review 2022.
Pricing: $0.10/picture after three free upscales
Upscaler by stockphotos.com is a user-friendly online tool that does not require any registration for the free version and works by a simple drag and drop feature. After uploading an image, the AI tool will automatically increase its size to 2x. A paid subscription will allow you to increase the size 4x or even 8x, but it only supports photos up to 5MB. You can only upload three photos not exceeding 2000x2000px for free without registering. It also has a unique feature to resize content for social media (Facebook and Instagram) in which you can select the appropriate aspect ratio before processing your media.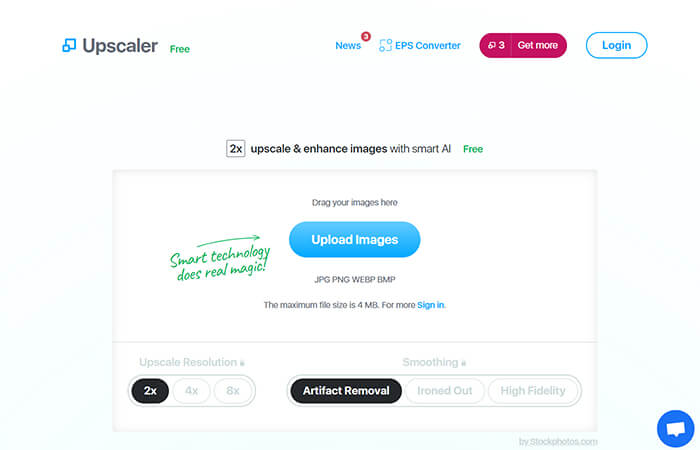 Pros:
Free version with no registration
Supports different image formats
User-friendly interface
Cons:
Limited to 2000x2000px in free version
Image size more than 5MB not supported
Price: Free, Basic ($9.90/mo), Pro ($19.90/mo)
VanceAI Image Enlarger allows you to enlarge your images by up to 8x without compromising the quality. It offers quick results by using machine learning and advanced AI technology and produces print-size pictures effortlessly. It works by artificially adding pixels to the required area of an image, providing a noticeable difference in the outcome. Any picture would lose quality when it undergoes enlargement, but VanceAI increases the image resolution and quality and even helps to deal with unwanted noise and pixelation. Pro members can even enlarge their images by 40x, which is a rare feature for any image enhancer.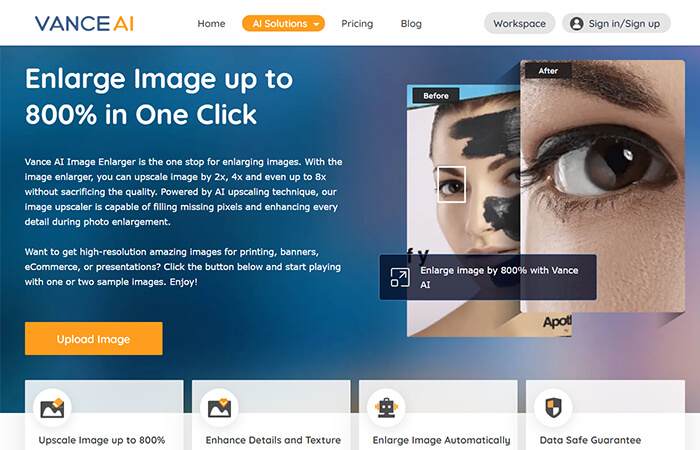 Pros:
Free trial to enlarge images online
Batch processing
Restore details and enlarge images for print quality
Cons:
A paid subscription to access more features
Limited editing tools
Also read: How to Enlarge Image without Losing Quality with VanceAI Image Enlarger.
Price: Free
The image upscaler at zyro.com is a free-to-use online tool that allows you to enhance your images with its deep neural networks. You can upscale as many photos as you want, but you cannot select the output quality that is limited to 2x. It is a friendly tool with limited editing options. If you upscale blurry or poor-quality images regularly, then Zyro might be the best option for you. However, the output quality is not that great, but it does the job quite decently for a free tool.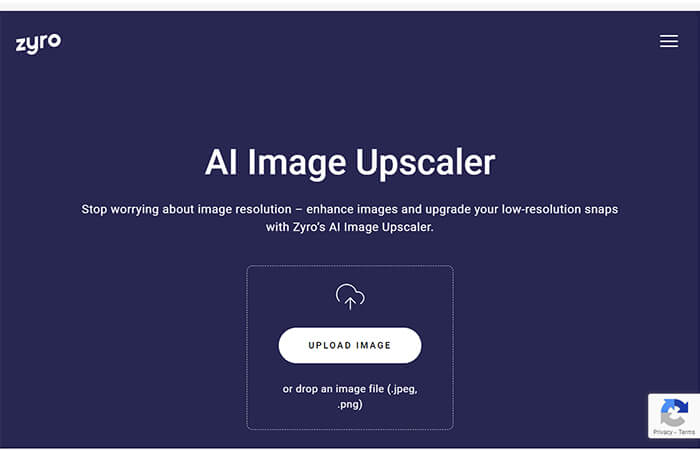 Pros:
Free and easy to use
No registration or sign up required
Decent processing speed
Cons:
Limited to 2x upscaling
Lacks editing options
Price: Free & Paid (Premium $14.99/month, Pro $39.99/month)
With the help of machine learning and advanced GPU, ImgLarger can quickly process and enlarge your photos without compromising the quality. However, its free version limits the files to 1200x1200px and 5MB in size. Paid users can upload files up to 10MB and 2000x2000px and enjoy a faster processing speed. You can also directly share your processed photos from the website to different social media platforms. ImgLarger is an excellent option for upscaling portraits as it preserves details like hair, eyelashes, and eye clarity. Free users can upscale images to 2x and 4x, and paid users can go up to 8x.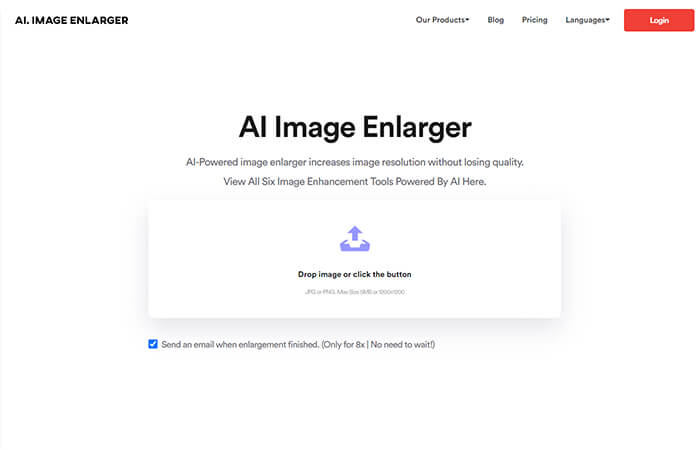 Pros:
Free version available
Supports different formats (JPG, JPEG, PNG)
Good output quality
Cons:
Free trial limited to 5MB, and 1200x1200px
Slow processing speed for unpaid users
Price: Free & Paid ($9/mo/100 images, $24/mo/300 images, $34/mo/500 images )
LetsEnhance is another image upscaler that does not compromise on quality and produces excellent results. However, its outputs look softer and might lose some details on eyelashes, lips, or eyes. But it still performs better than most of the other tools. You can only upscale five images under its free trial and then pay as per the number of images you might want to upscale. You are also limited to upscaling an image 2x or 4x under the free version, which is common in most upscalers. LetsEnhance is an all-rounder and works perfectly fine for photos, art, and illustrations.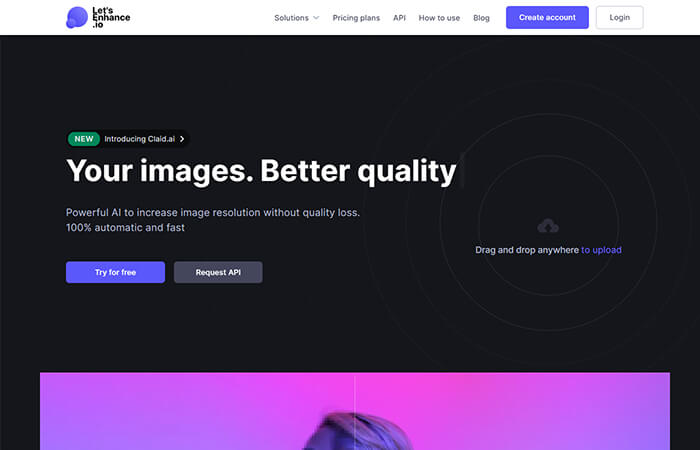 Pros:
Free trial available
Practical pricing
All-rounder tool
Cons:
Only five images allowed in the free trial
Pricing: Free & Paid ($0.09/image, $9.99/50 images, $9-$69/mo for 100-1000 images)
Deep Image is an online photo enlarger that auto enlarges your pictures using the current AI technology. With its JPEG filter, you can restore images to their original quality having a smooth appearance without losing the quality. Using the free version without registration will limit you to upscale only five images with a 2x or 4x output quality. Paid users enjoy better optimizing features and processing speed with 8x enlarging. Deep Image has an appealing website interface, and it lets you glide through the process with its simple functioning.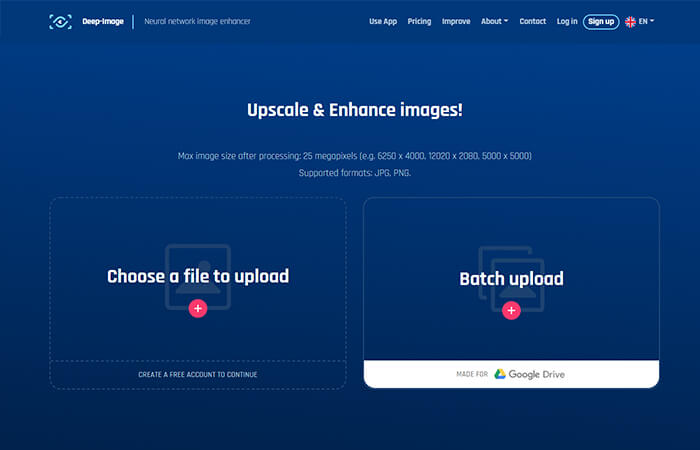 Pros:
Attractive interface
No compromise in image quality
Free trial available
Cons:
Free trial limited to 5 images
Requires registration for new users
Also read: Top 10 Photo Enhancers Review
Pricing: Free & Paid ($5/10 images – $1600/22,000 images)
Hotpot.ai's image enlarger lets you enlarge pictures, art, game assets, and other graphics using machine learning and advanced AI algorithms. This tool is equally optimized for eCommerce stores, photo prints, and app graphics, and it can upscale images to a higher picture quality without losing any details. It lets you choose whether you want to upscale a normal or an animated image. In the free trial, you can upscale images to 2x or 4x and optimize the level of noise cancellation according to your preference. However, the processing is much longer in the unpaid version, and it might end up taking much more than just a few minutes of your time.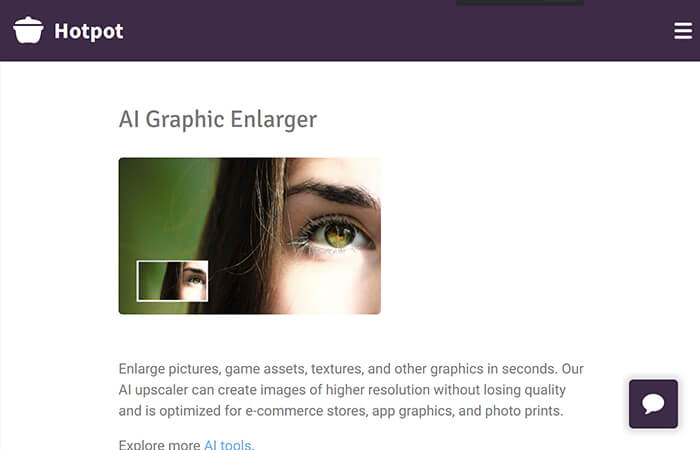 Pros:
Free version with 2x, 4x upscaling
Upscale normal as well as animated pictures
Optimized for eCommerce stores, app graphics, and photo prints
Cons:
Limited free trial with longer processing time
Price: Free & Paid (4$/monthly; Image purchase plan: starting from 20 images)
Upscalepics is an online tool that uses AI-Powered deep convolutional neural networks to enhance the quality of your images without losing quality. It adds details and improves the tone of your pictures to give them a professional look and can upscale images to 2x by default. However, it comes with a few drawbacks like ads and only a 2x upscaling option. But it still provides decent outputs and proves to be a good option for aspiring photographers. After uploading an image, you get to choose from three services; increase resolution, remove JPEG noise, and compress pictures, which is rare to see in many other tools.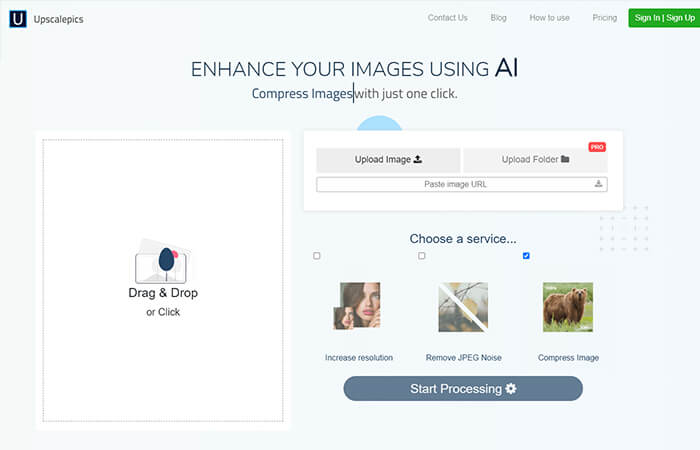 Pros:
Add details and improve the tone of an image
Remove JPEG noise
Free version available
Cons:
Ads on website
Only 2x upscaling available
Price: Free & Paid ($99.99)
Gigapixel AI is an image upscaling software by Topaz Labs which uses artificial intelligence to enlarge images up to 6x without any significant loss in quality. It is a downloadable image editor available for a one-time purchase of $99.99, and it also comes with a free trial. It features automatic face recognition beneficial for enlarging portraits and group photos while preserving details and sharpness. Its batch processing can save you a lot of time by enlarging multiple pictures at once. The processing speed depends upon your computer as it functions smoothly on computers with high specifications only.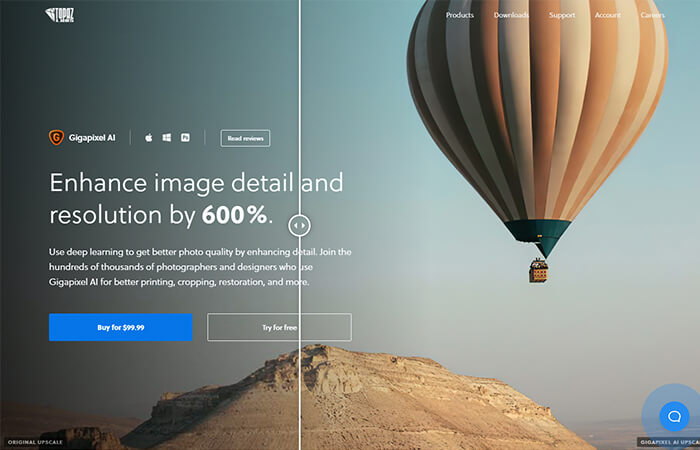 Pros:
Batch processing feature
High-quality image enhancement
Simple user interface
Cons:
High system requirements
Slower processing
Also read: Top 10 Photo Sharpening Software Review.
FAQs
What is AI Upscaling?
AI Upscaling uses machine learning, AI algorithms, and advanced GPUs to enhance the quality of an image, illustration, or even a video. With the help of artificial intelligence, AI Upscaling tools fill the gaps with pixels and enhance other aspects of a photo or a video to increase its size, giving it a better quality on larger screens and prints.
What makes the best image upscaler?
The maximum size and resolution of a picture accepted by an upscaler, preserving the crucial details on a photo while enlarging, and some added photo enhancement features are some key characteristics that account for a good image upscaler. Other factors like good processing speed and usability determine the overall functioning and add good value to the software.
Conclusion
Companies like Netflix, Amazon, and Disney are already using AI Upscalers for their content. AI Upscalers can fulfil dreams because of their ability to enhance the overall quality of both photos and videos. However, it also has the potential to replace human involvement in many projects to a great extent. The basic idea of AI itself is subjective, but the technology and its abilities are mind-blowing. We have already successfully restored many classic artworks throughout the world and even turned some of them into coloured versions with the help of AI Upscalers.  Or if you want to find something more interesting, click Top 10 AI Tools to Turn Photo in Cartoon.