With images being used so frequently regardless of the platform, there is always a need for a photo compressor. Be it a blog, social media page, YouTube channel, or even email, you always need a bunch of images all the time for better communication and more. Not to mention that the image quality and by extension, image size, is ever increasing in these times. With all that said, a good photo compressor is pretty much essential to any professional and casual user. A photo compressor will help you with storage while also maintaining image quality. Our list goes through five of the best image compressors that you can use to compress photo online with AI and more.
Top 5 AI Image Compressors to Compress Photo Online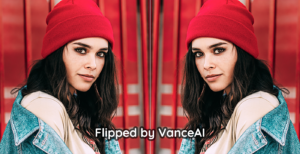 Price: A normal, free account will provide you with 3 free image credits every month. For more credits and features such as bulk processing, you will need a paid account starting from $4.99 per month.
VanceAI's photo compressor is definitely one of the best options that you can choose from in order to compress photo online. You can upload PNG and JPG images to compress online with the maximum size of 5 MB. If you have any of the paid accounts, you can even make use of bulk processing, which really speeds things up. You can upload and compress up to 20 images at once. Lastly, the intuitive and easy to use UI ensures the best experience for all users. Just upload the image and watch the app compress the image in no time.
Pros:
Maintains quality efficiently.
Easy to use.
Makes good use of AI tech.
Cons:
Limited free use.
Can only upload PNG and JPG.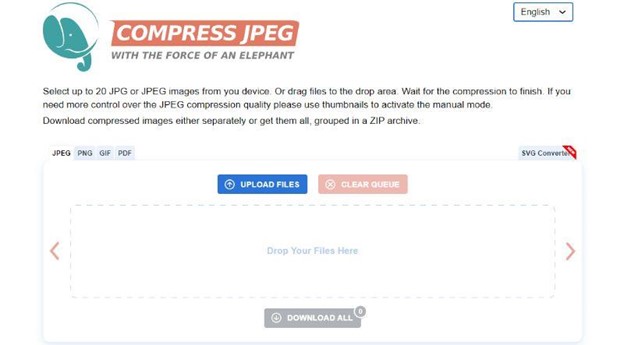 Price: This online photo compressor tool from Compress JPEG is free to use and doesn't require users to make any accounts or download anything.
The photo compressor tool from this website is highly useful for multiple reasons. This application supports image file formats that include JPEG, JPG, PDF, GIF, and more. Similar to VanceAI Image Compressor, you can upload up to 20 images at once in order to compress them together and save time. Moreover, you don't have to worry about the privacy of your data and images, as all uploaded images are deleted from the server after an hour or so. However, the app doesn't really offer any features and is more of a direct photo compressor app.
Pros:
Easy to use app.
Free to use.
Supports multiple image file formats.
Cons:
No extra features.
Results can be off.
Takes time to process.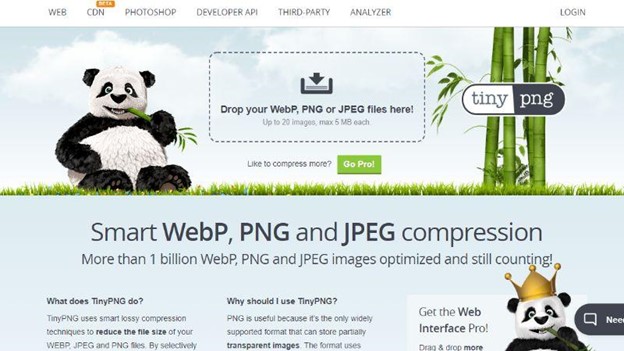 Price: This photo compressor application online is free but with limitations in usage and features. The $39 yearly subscription gives unlimited usage and more features.
TinyPNG is a website known for image compression and generally offers decent outputs. The website also has other useful features such as the CDN, website performance analyzer, and more. You can also use this application as an API by requesting one through the main website and providing your name plus email address. Moreover, it also offers a Wordpress plugin which allows you to compress and optimize images on your Wordpress, which is much more direct and dynamic. Overall, this app is really good if your main content focus is on blogs and similar.
Pros:
Popular app with good results.
Useful tools for blog-based content makers.
Easy to use.
Cons:
No photo compression features.
Takes time to process.
Can be buggy at times.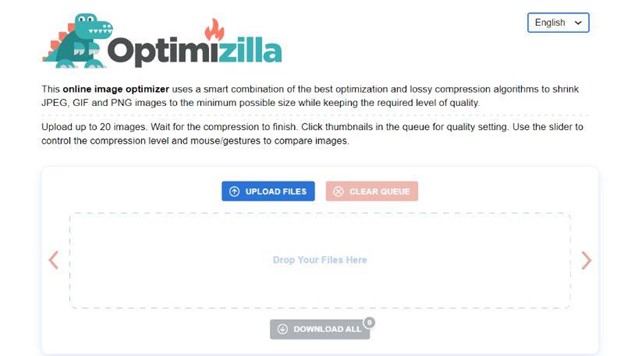 Price: This image compressor is fully free to use for all users without needing any downloads or account creations.
Similar in design to a previous application on this list, this image compressor works in a very similar way as you'd expect. The app is easy to use thanks to the clean UI design and the fact that it is an automatic tool wherein users merely need to upload the image. Not to mention that you can upload up to 20 images to compress them at once in this app as well. There are also a few social media quick links provided at the bottom of the page which allow you to share your work immediately after processing the images. Lastly, the app also erases your images after an hour of upload to maintain privacy and security.
Pros:
Easy to use tool.
Free to use.
Can upload up to 20 images.
Cons:
No other features.
Can be unresponsive.
Results can be off.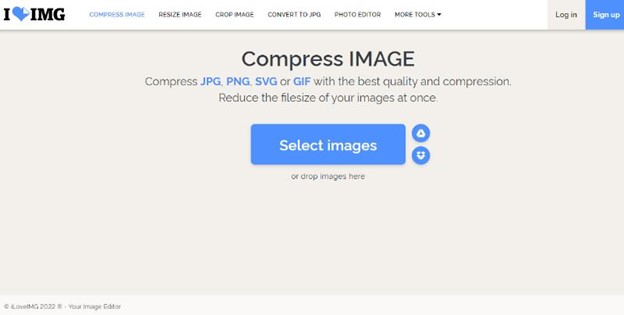 Price: On the free account, you get access to all the tools but with limited use only. Paid subscriptions start from around $3 per month and offer more.
This image compressor offers a good range of compatibility when it comes to image file formats as you can compress JPG, SVG, PNG, and more from this app. Similar to the AI photo compressor from VanceAI, this app also has some additional tools on its website that can help you further to improve your image, though there aren't as many tools as VanceAI. Another helpful feature here is that you can upload images directly from Dropbox or Google Drive. Some of the other tools include meme generator, watermarking images, converting images to JPG, and more.
Pros:
Multiple options for image uploads.
Supports a wide range of image formats.
Easy to use app.
Cons:
Results can be off.
Can be buggy at times.
Takes time to process.
Conclusion
Photo compressors are really useful applications that help you with your storage and more importantly, optimize your web pages in order to rank higher and allow for more traffic. You can also use the AI image compressor apps without worrying about quality as they are adept at maintaining that while compressing images. You can make use of VanceAI Image Compressor and other tools to optimize all of your content on blogs at a really affordable price without needing to be an expert at anything.