Are you one of those who always carry a camera around in hopes of clicking the perfect picture? If you think you have the skills of an excellent photographer, take your passion to the next level and start to sell photos online.
This article will take you through the best places to sell photos online so you can channel your skills into a lucrative side-hustle. We will also explore how image editing tools such as VanceAI Photo Enhancer and VanceAI Image Enlarger can help make your photos ready for the online marketplace.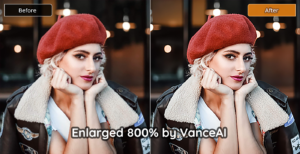 Where to Sell Photos Online
Here are our top picks for where to sell photos online.
Shutterstock has been one of the most popular websites for stock photography for the past 15 years. You can find millions of images, videos, and music tracks on this online platform. Most importantly, Shutterstock has hundreds of purchasing customers, which means your chances of selling your photos here are much higher.
Pros
Easy to set up an account
Very popular website
A trusted online platform
Hundreds of potential customers
Cons
The photographer doesn't get enough to get you discovered.
While Alamy isn't as popular as Shutterstock or Adobe Stock, it's a good option to try if you are just starting out.
The website doesn't have complicated rules, which means you can set up your account easily. Once you start selling your photos, you can make a whopping 40% on each sale. However, they have a strict quality control process that you must clear before selling your approved image on their platform.
Pros
Enables photographers to make more money on each sale.
A trusted online platform that has paid out over $100 million to contributing photographers.
Cons
Inability to create a shareable profile
There is no concept of a community on the platform
Photographers get limited exposure through Alamy.
Adobe has been known as the most popular photo editing software for years. Adobe stock is a great online platform for you to sell your photos on. In addition, the marketplace is also accessible through other Adobe products.
Since the platform has a wide network, it increases your exposure as a photographer. Also, the profits you can make are around 33% which is a good number in itself.
Pros
Adobe is a tried and trusted platform used by hundreds of users.
Good customer support
A well-reputed brand
Cons
More users mean high competition and fewer chances of discovery.
No audio-only submission is allowed.
Etsy is a good choice if you want to sell your photos online since it already has a wide customer base. It charges you a fee of $0.20 for every photograph you list, which can be availed for four months. After the period is over, you need to renew your listing with the same fee.
Whenever you sell an item through Etsy, the platform charges a 5% transaction fee which is quite nominal compared to other online forums for photographers.
Pros
Wide customer base
Beneficial fee structure for photographers.
Allows you to set your own price.
Cons
People aren't aware that Etsy sells pictures online.
You are responsible for your advertisement and marketing.
Takes up time and energy to make your profile profitable.
Shopify is considered one of the most flexible online platforms where photographers can sell their photos. It offers various tools that users and eCommerce businesses can benefit from. While it isn't the cheapest platform, it offers cost transparency, dependable customer support, and the option to sell offline with Shopify POS.
Pros
An easy-to-use interface with low processing time.
Offers several themes.
Provides various plugins.
Dedicated customer support team
Cons
Limited functions
Users must install a paid app to use the AMP feature.
Inability to use multiple discount codes.
Photoshelter is an e-commerce platform created for professional photographers. It has over 100 tools that you can integrate into your work process and transform your images to meet the client's requirements.
Photoshelter currently hosts over 80,000 photographers, which is proof of its popularity in the market.
Pros
Easy-to-use website builder.
Cloud-based storage.
No coding is required.
Cons
The free trial is limited.
Inflexible pricing policy.
Connecting personal domain is complicated.
ShootProof is a photo hosting online platform that allows users to define their parameters around the delivery of their photographs. Its pricing model is based on the number of photos the platform hosts instead of how large the files are. The best feature of ShootProof is that it doesn't take a cut on your sales.
Pros
Easy to create and navigate a photography business.
Flexible price plans.
Cons
Delayed credit card processing.
Limited integrations.
Zenfolio is a great option for photography website building, whether you are a novice or a professional. It is easy to set up your account, select a template and start uploading your photos. You can quickly launch your website and start selling your photographs online.
Pros
Unlimited storage space
Free 14-days trial
Cons
Lack of customer support
Members need to purchase a year's service in advance to avail membership savings.
Smugmug allows users to sell their photos through a custom domain. It also offers automatic watermark protection, sales tools, client management, and a personalized website.
Pros
You can set your own pricing
A good starting point for new photographers
Cons
15% fee on everything
Inability to generate invoice
Payloadz is an online platform where you can sell digital goods such as photographs, ebooks, movies, articles, crafts, or anything that can be downloaded. Your clients can pay directly into your PayPal account, and the funds become available to you immediately.
Pros
An easy-to-use website
Informative help section for beginners
Cons
An outdated online platform
Lack of intuitive features
Get High-Quality Photos with VanceAI
If you are wondering how to sell photos online and make money, you should know how important it is to have high-quality pictures, to begin with. We all know the struggle of blurry and not-so-perfect photos, but advanced editing tools can help eliminate such imperfections.
VanceAI is a powerful online editing tool that offers various features you'd need to achieve perfect picture quality. While each feature is effective, we will discuss Photo Enhancer and AI Image Enlarger in this article.
Do you love capturing the outdoors, nature, and its majestic beauty? If you do, you would have also experienced hazy photographs, especially when clicking in broad daylight. VanceAI's Photo Enhancer uses deep learning to eliminate fog or haze from landscape or any lazy outdoor picture.
The Dehaze tool lets you reduce noise and artifacts from your image to reveal clearer, crisp photos that you can sell online.
Another amazing feature of VanceAI is the Image Enlarger, which enables you to upscale resolution by 800% and significantly improve picture quality. This tool turns low-quality pictures into higher-resolution images that you can sell online and make money.
Conclusion
If you plan to sell your photos on any of the platforms we have mentioned above, try VanceAI's powerful editing tools to prep your photos and turn them into high-quality images.
With so many ambitious photographers already making rounds on online selling platforms, VanceAI is your chance to make your photos stand out from the rest, increasing your chances of scoring a good deal.