Having beautiful, high-quality images is an essential part of any online business. But to remove grain from photo, most of the image denoisers can be very expensive to purchase, and some are simply not that effective.
To help you make the right decision when visiting image denoisers, we've compiled this review of the top five online image denoisers based on their pricing, effectiveness, customer support, and user reviews from people who have used them in the past.
Top 5 Online Image Denoisers
Many sites offer online image denoisers. Let's look at five of them to see which ones shine. We will also examine some of their notable features and drawbacks to determine what they excel at and where they fall short.
Before we get started, let's first define image noise and its relationship with images in general. An image comprises pixels and tiny dots that make up an entire picture.
Each pixel has a color value assigned to it by an imaging device like a camera or computer screen; when you zoom into an image, you can see these individual pixels.
Noise is usually introduced into images during digitization or transmission processes; it can be caused by interference from other electronic devices or simply because there isn't enough data available for all of an image's pixels.
Here the list goes.
One of top 5 reviews picked VanceAI image denoiser as No.1 image denoiser. Their deep learning algorithm to understand the underlying structure created a tool that could remove noise by recognizing its pattern with pixel-level accuracy.
This tool's interface is relatively easy to use; you need one click to complete noise removal and gain clean images quickly and easily. This AI Image denoiser will take any photo and clean it up to look amazing using AI and Deep Learning technology.
In comparison to other applications in its category, VanceAI Image Denoiser is designed for anyone who is looking for fast and straightforward results in a very easy way without removing pixels from your photo.
After being processed by VanceAI image denoiser, no matter what type of photo it is (even low-quality ones), you will get clear images without losing details or causing any blurriness.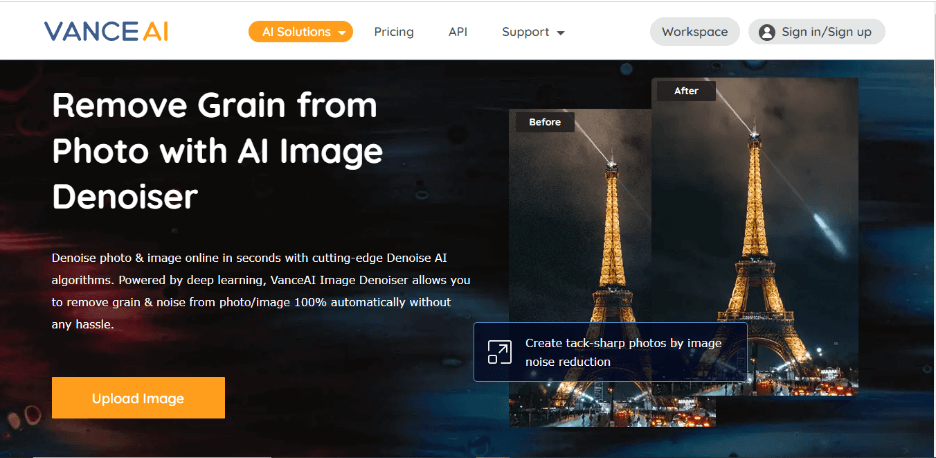 Pros:
●Automatically denoise image online
●Easy to use
●Offers great results
Cons:
●Limited free use
●The capabilities of zoom could be improved
●Size is limited to 2.8 megapixels
Image Noise Remover is the best resource for noise reduction online. It's a non-intrusive cloud-based service that gets results in real-time and doesn't require a lot of effort. You can remove noise from your images, but you can also fix color issues, red eye, or lighting problems.
With a simple slider bar on each picture, users can adjust how much noise needs to be removed from each photo. You can even turn any image into a sketch! The free plan allows you to process unlimited per month, which is plenty if you want to get rid of some noise.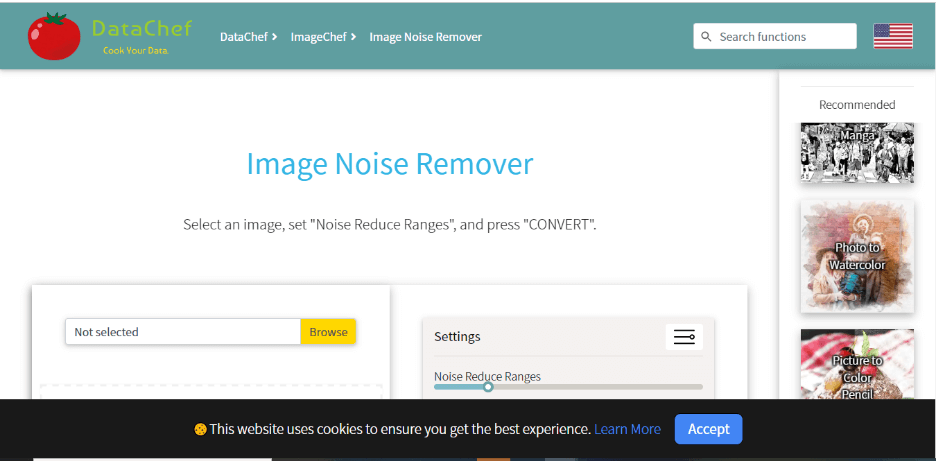 Pros:
●Easy to use
●Control noise reduction ranges
●Free
Cons:
●Nothing special to mention
Free & Premium Noise Removal Services. The fastest and easiest way to remove noise from images online for free. Remove Noise From Images Online, Automatic Photo Denoising Software. No signup is required—one-click noise removal for JPEG, PNG, and RAW photos.
Get your noise-free image in seconds! Noise can be caused by various factors, including motion blur, lens distortion, or even high ISO settings on your camera. Try it now!
Most cameras have built-in noise reduction software, but sometimes it doesn't eliminate all of that annoying noise you want. It is where Pinetools comes in handy as we offer some of the best online noise reduction software around.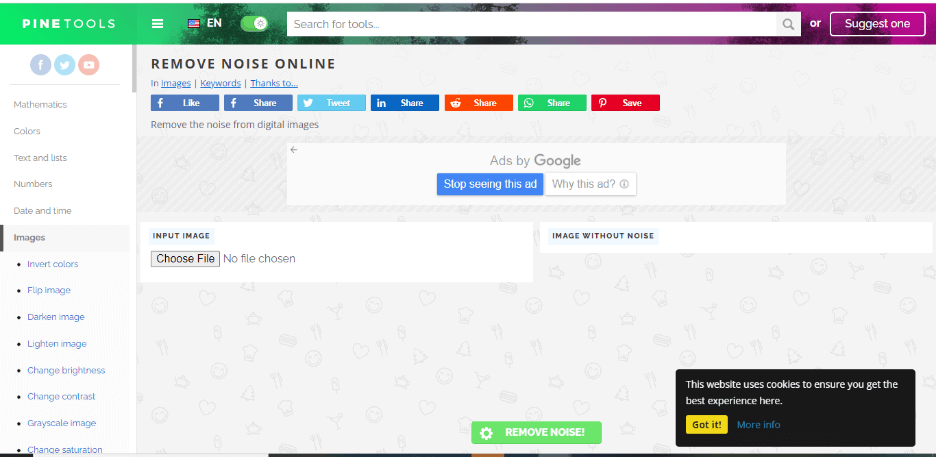 Pros:
●Free
●Other tools are also available
●Simply choose photos and remove the noise
Cons:
●No easy to use interface
●The website is cluttered with a lot of ads
While other online image denoisers are excellent, they don't compare to ImgLarger's image noise reduction tool. As an AI-powered noise reduction platform, ImgLarger detects overexposed pixels, then automatically applies an intelligent blend of filtering and masking techniques to clean up your photo.
The results are astounding – ImgLarger can correct noise across thousands of images in just seconds. In addition to removing noise from photos, ImgLarger also provides tools for cropping and resizing your images so you can resize them without any loss of quality.
These features make ImgLarger one of our top picks for image noise reduction software. If you want to eliminate noise in your images with minimal effort, check out ImgLarger today!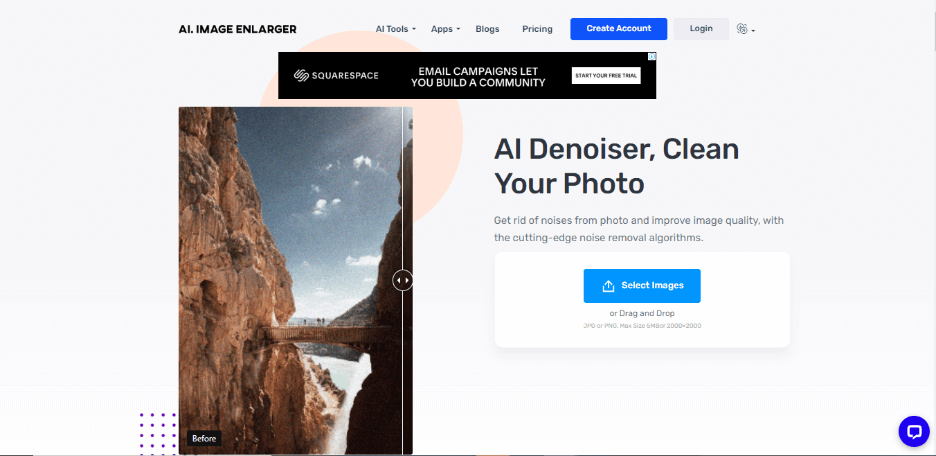 Pros:
●Automatic processing
●Various options for enhancing images
●Conveniently process the images
Cons:
●Free usage is limited
●Incompatible file formats
●Results are not always satisfactory
Noise is inherent in digital images. The camera's sensor picks up random dots of color that can detract from your photo, but noise reduction software programs can take those out of your picture. This online image noise reducer can help your photos look better by removing that extra graininess.
It's easy to try one out for yourself when you see all of these options for free on our website! You won't have to pay a cent and can get started right away! Don't let noise ruin your photos – remove it today with an online image noise reducer.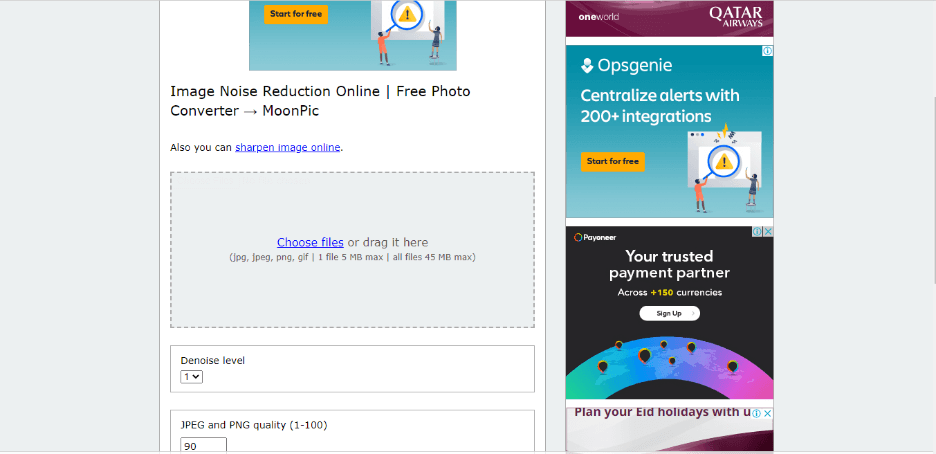 Pros:
●Free
●Control Denoise level
●Control image quality
Cons:
●No easy to use interface
●The website is cluttered with a lot of ads
Conclusion
While there are a few different kinds of image noise, these are some of your best options when it comes to denoising. But whether you decide to use an online or offline software depends on your computer skills and needs.
If you're looking for a quick fix without much thought, there's no reason not to use an online tool like VanceAI Image Denoiser. On the other hand, if you want more control over your photo editing process, then Photoshop or GIMP will give you all that power—but with a little bit more work involved.
Regardless of which method you choose, be sure to take time to learn how each one works to make better decisions about which tools are suitable for your photos. Let us know in the comments section which one you prefer.