Post-processing is a crucial part of photography because that is when our imagination comes into play. We take an image through multiple processes to finally get the desired result. Sharpening an image through software can help you when your photo is slightly blurry and needs detail enhancement. Uneven motion blur and camera shake can be treated to some extent as well with this image-sharpening software. Every professional or commercial photographer seeks crisp and sharp images for their clients. Thankfully, many AI-powered tools are now available that precisely sharpen your photos and take them to the next level.
Best 10 Photo Sharpening Software Review
Price: Free, Basic ($9.90/mo), Pro ($19.90/mo)
VanceAI offers various image enhancer AI solutions which use machine learning and advanced AI technology to produce print-size pictures effortlessly, allowing you to enlarge your images by up to 8x without compromising the quality. It artificially adds pixels to the required areas of an image and improves its overall quality. VanceAI Image Sharpener is another online tool that uses deep learning to fix blur and artefacts and gives you crisp and clear results. You can do so much as unblurring an image with this software. You can also get rid of motion blur while and adjust its intensity. It also supports batch processing which comes in handy for processing a series of photos in one click.

Pros:
● Fix blurry photos online in a click
● Batch processing
● Adjustability in unblurring images
Cons:
● Supports fewer export formats
● Lacks editing tools
Also read: How to Unblur Image Online with VanceAI Image Sharpener.
Price: $79.99
Sharpen AI by Topaz Labs uses machine learning to distinguish between noise and actual detail in an image, and it automatically restores and sharpens it. The software comes with three different modules, namely, stabilize, focus, and sharpen module. The stabilize module helps to remove unwanted blur, whereas the focus module restores focus on improperly focused subjects. The sharpening module deals with general softness caused by camera shake or improper focusing. You can certainly adjust the level of impact of these tools on your photos to get the best version of it.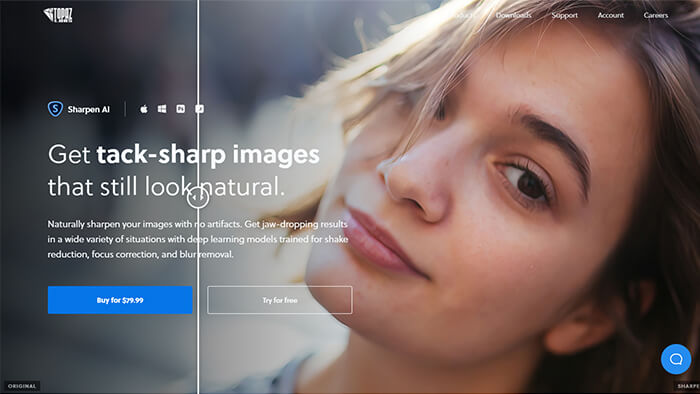 Pros:
● Works as a plug-in for Adobe Photoshop and Topaz Studio
● Excellent results with precise editing
● User-friendly interface
Cons:
● No free version
● High system requirements
● Slower processing
Price: $65
Focus Magic is another tool that can deal with motion and out-of-focus blur by using advanced forensic strength deconvolution technology. Depending on the placement of your subject, you can switch the depth of field to move the focus to the background/foreground. While sharpening, it does not create halos or artefacts and saves you from making any further corrections. When you begin to use the software, its interface seems complicated, but you can quickly get used to it. It makes your editing experience seamless as it works as a plug-in for photoshop.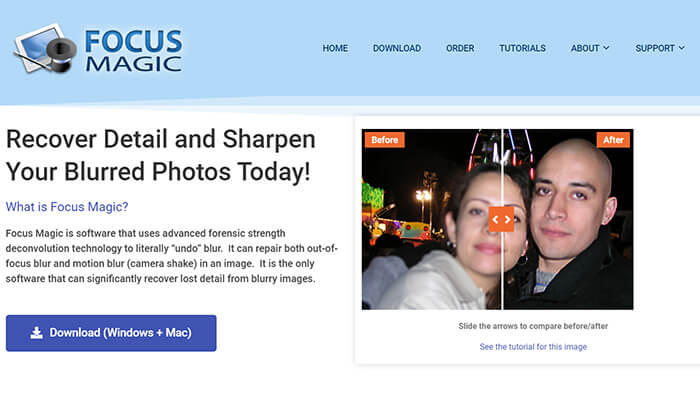 Pros:
● Switch depth of field
● Shift focus to background or foreground
● Works as a plug-in for photoshop
Cons:
● No free trial
● Tricky interface
Price: $8.99/mo, $11.99/year, and $17.99(lifetime)
Soft Orbits' Easy Photo Unblur uses artificial intelligence algorithms to analyze an image and fix blurs in a few clicks. It targets certain blurry areas in a photo and treats them by sharpening automatically without affecting the entire frame. It achieves the best possible results by using a fast Fourier transform algorithm. To enhance images and restore their clarity, It uses a military-grade blind deconvolution technology. You can also reduce noise in your photos to a great extent. Keeping all kinds of users in mind, the interface of this software is simple which can easily be used by anyone.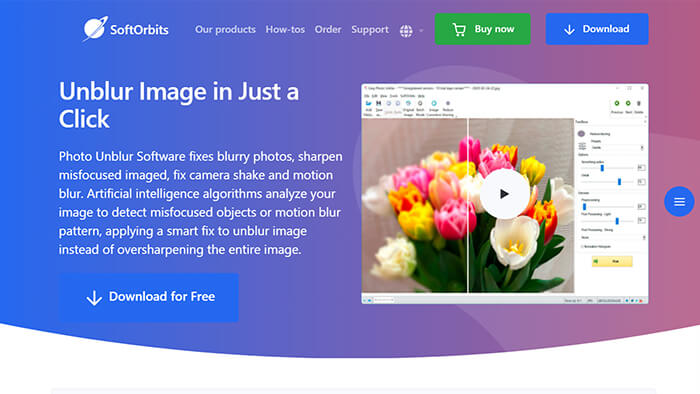 Pros:
● Fairly cheaper
● Easy to use
● Quick processing speed
Cons:
● Poor output quality in some cases
● Average looking interface
Price: $39(Basic), $49(Deluxe), $72(Business)
Akvis Refocus AI tackles the problem of out-of-focus images and improves the sharpness while enhancing the overall appearance. You can add bokeh and lens blur effects to your photos. Refocus AI, Tilt-Shift, Iris Blur, Motion Blur, and Radial Blur are the five modes supported by this software. Refocus AI sharpens your image with AI. With the tilt-shift mode, you can play with the shape of blur and the size it covers on the image. Motion blur mode can create different effects of blur on a static image. Radial blur can create a circular blurring effect in the background.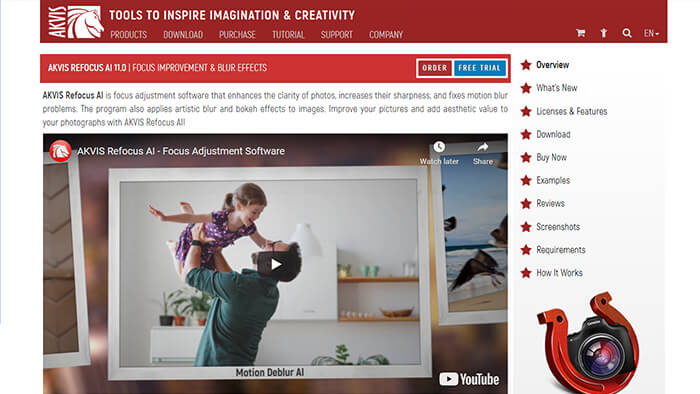 Pros:
● Free trial available
● Variety of modes
● Works as a plug-in for photoshop
Cons:
● High price for the basic functioning
● Confusing interface
● Average performance
Price: $99.99
Nik Collection is a bundle of eight software programs, 250 presets with a built-in U Point technology. U Point technology allows you to edit specific areas in your photo without the need for masking and layering. Nik Sharpener is one of the eight programs that come with the package. Nik Sharpener can extract the extra details on your photos and enhance the overall appearance of the image. It includes two unique stages of sharpening. In the first stage, its RAW Pre-Sharpener extracts the correct level of detail from the image file. The second stage automatically applies an appropriate amount of sharpening to the image.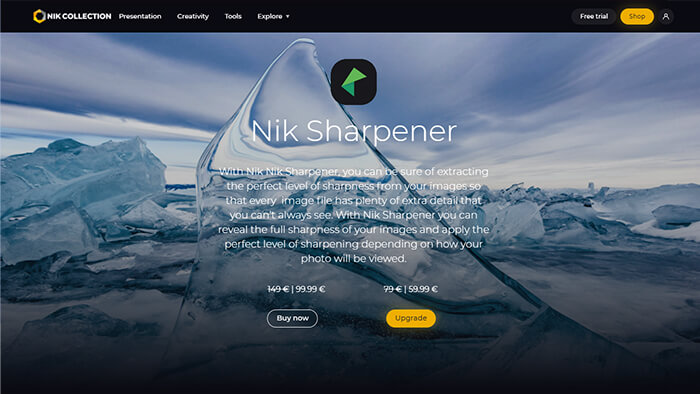 Pros:
● Future proof editing package
● Adjustable editing
● Amazing output quality
Cons:
● No free trial before buying
● Complicated interface for first-timers
Price: $99
Blurity is a simple and easy-to-use image deblurring tool. Its pricing might be a turnoff for many, but it is a decent tool for basic image sharpening. To edit, you have to upload the photo and select the blurry parts manually and finally process it. It will show you a heavily watermarked image in results. You will need the subscription to download the non-watermarked version of it. You can also go to the advanced options for precise control over the amount of blur that you might want to keep.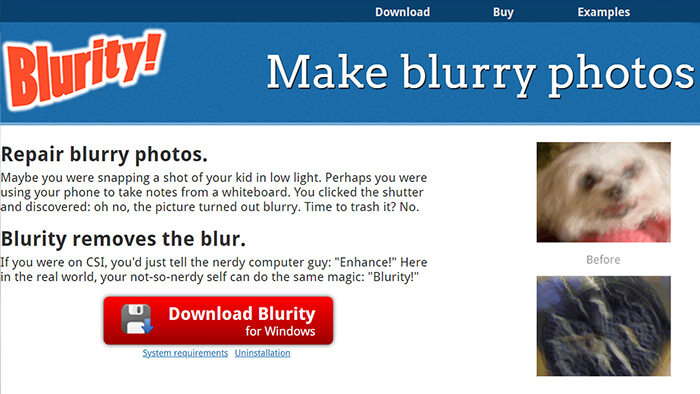 Pros:
● Easy to use tool
● Manually adjust sharpening
● Decent output for slightly blurry photos
Cons:
● No free trial and costly for a single tool
● Lacks editing options
Price: $49(Home), $98(Pro)
SmartDeblur uses a Blind Deconvolution algorithm which restores the detail of blurred and defocused images in just a click. The tool even reduces artificial blur caused by photo editing software. SmartDeblur also boasts of restoring more complex photos with combined blurs much better than other tools. To restore details, it uses an automatic shake pattern analysis technique that precisely tackles the problems in your image. The tool has an automated functioning and is easy to operate.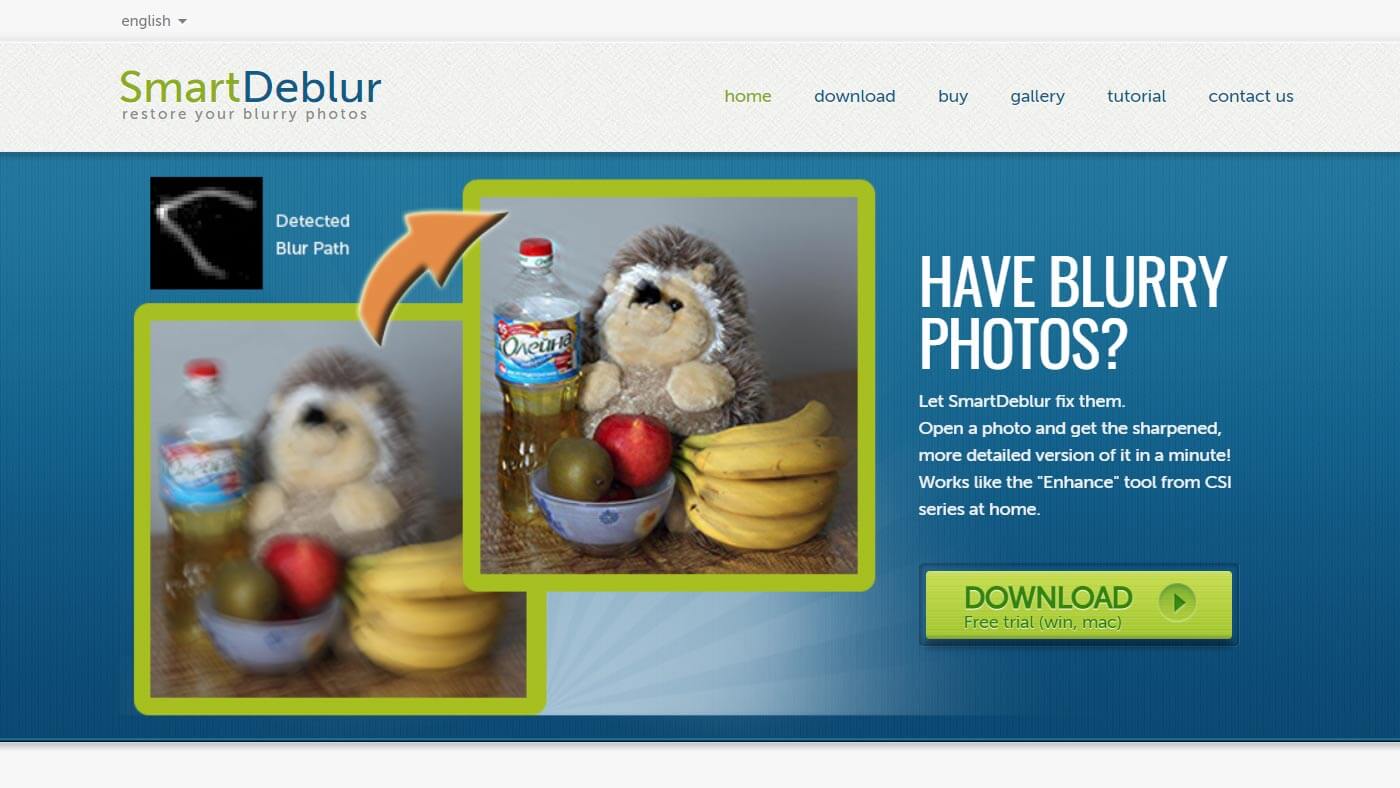 Pros:
● Automatic functioning, easy to use
● Free trial included
● No requirement for a high-performance system
Cons:
● Lacks editing options
● Costly for the provided features
● Fluctuating output quality
Price: $20.99/mo
Adobe Photoshop is the most famous photo editing software among artists all over the globe. Adopting AI technology to their software, Adobe took Photoshop to the next level. It automatically fixes the minor problems in your photo upon uploading, and it also uses machine learning to add pixels to your photos. However, the software is quite complicated for beginners. The sharpen tool in photoshop reduces the amount the noise and pixelation upon increasing sharpness with the help of AI. You would still have to manually look for the appropriate sharpness intensity that you would like in your images.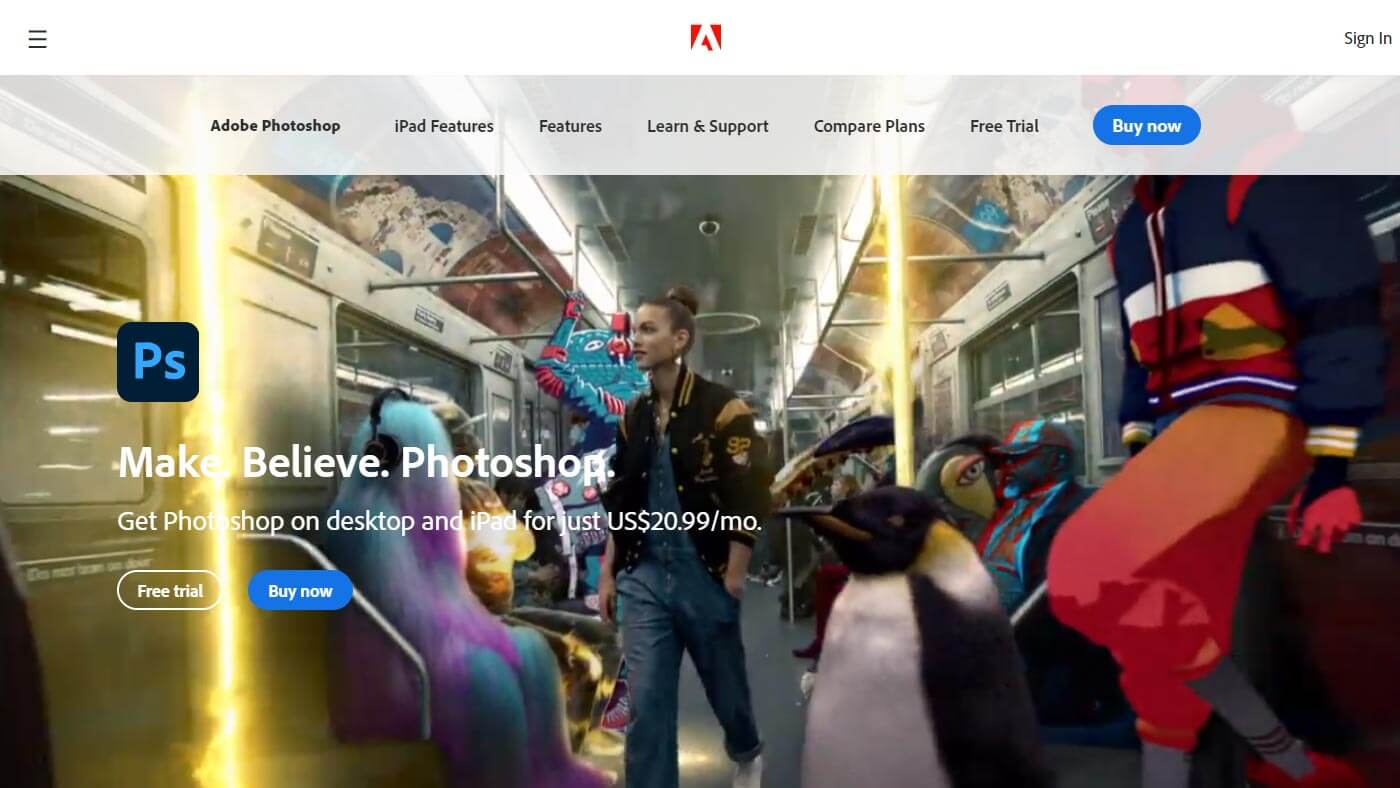 Pros:
● A 30 Day free trial
● Reliable software
● Good results with quick functioning
Cons:
● Costly and requires a high-performance system
● Complicated interface
● Not fully automatic
You may also read: How to Depixelate Image with Best 10 Tools.
Price: $79.99/year
InPixio is a bundle of editing programs like photo focus, photo maximizer, and HDR. It acts as a single space for all your basic image editing and restoring needs. It uses advanced AI algorithms in editing programs like the photo focus that recovers the lost details in your images and enhances its overall look by applying the correct sharpness. The interface is user-friendly and suitable for beginners. It works automatically to restore the defocused parts of your image, and it also has a few other editing options.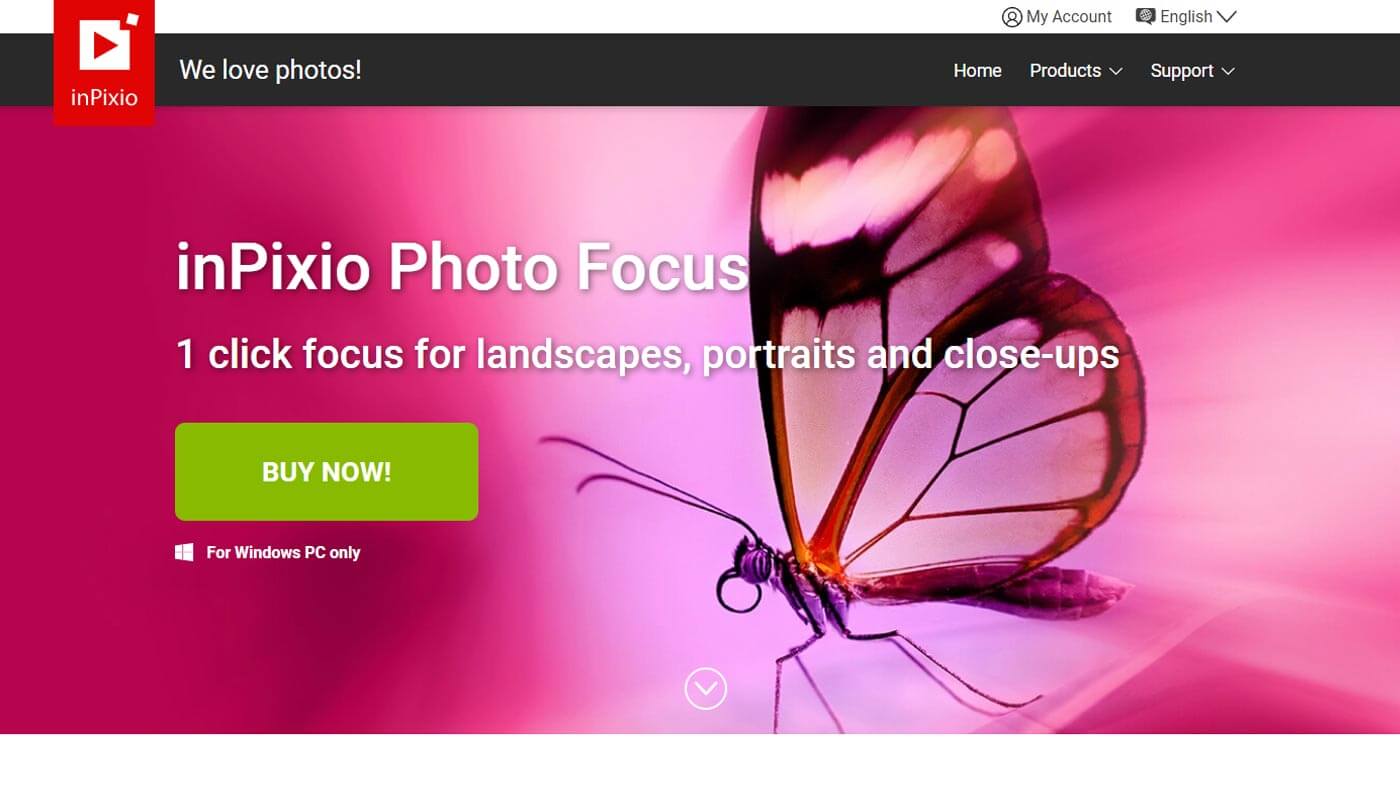 Pros:
● Bunch of AI editing programs like auto background removal
● Easy to use with a customizable interface
● Supports both AI and selective editing
Cons:
● Free trial adds watermarks to your images
● Batch processing not supported
Conclusion
Many photo editing tools backed by AI are getting popular among artists because they make the basic image editing tasks easy and save plenty of your time. You can also enhance images automatically by deblurring and adding pixels to required areas. These tools are helpful to perform the basic editing and corrections in photos because they are efficient and save your time. You may be also interested in Top 10 AI Image Upscalers for eCommerce to help you with your business.
FAQ
1. Is AI photo sharpening software better than traditional programs?
AI photo sharpening software might perform better than traditional programs, but they limit the artistic approach towards editing as they function automatically. For basic editing like image sharpening, AI software is doing a much better job.
2. What is the best photo sharpening software?
Sharpen AI by Topaz Labs is the best AI photo sharpening software. It has a 3 step approach to tackle focusing problems on an image. It recognizes the areas that need correction and then adds appropriate detail to them. This tool also works as a plug-in for Photoshop and Topaz Studio.