Animating pictures has now become a trend followed by millions worldwide. You can quite easily cartoon yourself online free. We animate photos as well as videos to add a certain kind of feeling to our content. However, the process to animate a picture in photoshop is quite hectic. Therefore, to make this task easy, we have listed the top ten AI Tools to give your photos a cartoon-like appearance.
Best AI Tools to Turn Photo in Cartoon
Price: $8.99/mo or $59.88/year
BeFunky is a powerful photo editing software supported by smartphones as well as computers. You can perform basic adjustments like crop, resizing, and enhancing along with other AI-powered editing options like turning your pictures into an art piece or an animation with just the click of a button. These option options are available in the Artsy section of the editor and provide stunning results. Third-party stock imagery platforms like Unsplash, Pexels, and Pixabay come integrated with this software.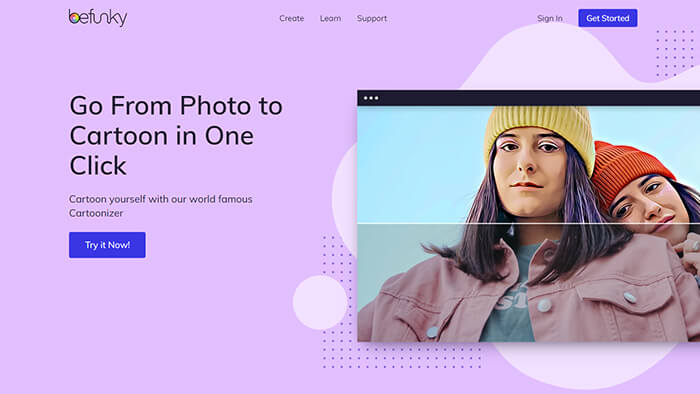 Pros:
● Stunning animation effects
● Fast processing speed
● A free version provided with the software
Cons:
● Limited editing in free version
● Lacks in animation effects
● Only supports basic editing features
Price: $8.96/mo (Based on average subscription prices)
ToonApp is a cartoon photo editor with a variety of face filters supported by both IOS and Android. It has a few AI editing features to add different effects to your pictures. With its Caricature Maker, you can toonify your images with the click of a button using multiple editing tools. It even allows you to change or edit out your background and change it into an animation. Apart from that, it has a Magic Brush and Selfie Camera Effects, along with never-ending photo filters to check out.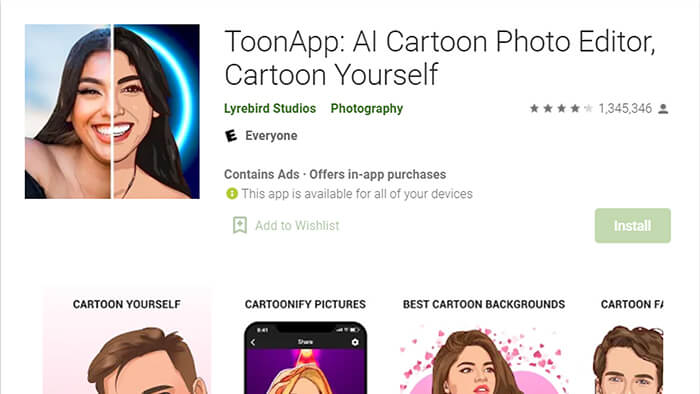 Pros:
● Good range of animating tools and effects
● Countless photo filters
● A variety of editing options to try
Cons:
● Negative customer reviews
● Not the best results in animating pictures
● Free trial for only three days
Also read: How to Turn Yourself into Anime with VansPortrait?
Price: $3.99/mo and $47.88/year
Colorcinch by Cartoonize is a photo editor and cartoonizer available to download as software on computers and can also be used online. With its hundreds of adjustable filters and cartoonizer effects, you can turn your photos into a cartoon, sketch, or painting with just a click. The interface of the website and its software is dynamic and lets you enjoy a hassle-free editing experience. With the help of AI, it allows you to achieve a stunning print quality of 400DPI while exporting your photos.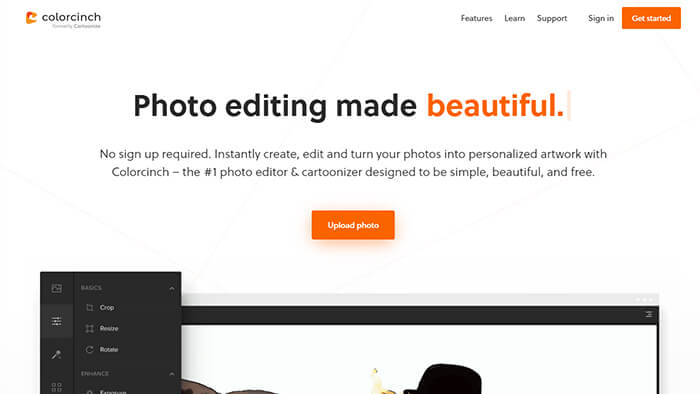 Pros:
● Simple and attractive interface
● Easy editing with hundreds of options
● Stunning export quality for print
Cons:
● Slow processing speed on the website
● Limited options in free version
● Not allowed to export photos in the free version
Socialbook.io is originally an influencer marketing management tool that also has some other free tools like the Cartoonizer. After uploading the picture, you get to choose from two different effects. It takes a few minutes to process, and the results will be ready. The editing options are limited, but it does not require any registration to get you started. You can directly use the tool for free.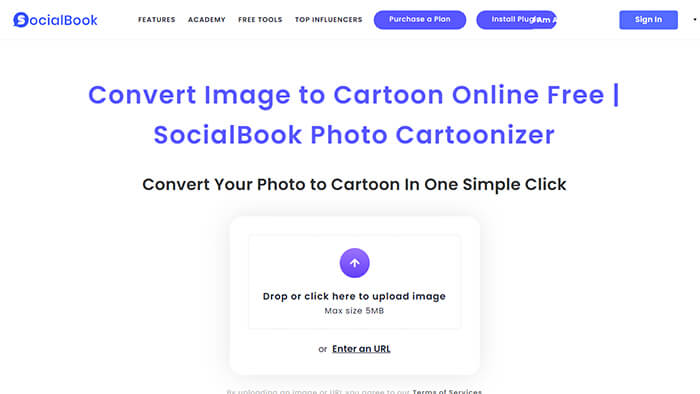 Pros:
● Free tool and no sign-up required
● Simple functioning
● Good blend of cartoonizer with a sketchy effect
Cons:
● Laggy website
● No editing options provided
● Low-quality outputs
Price: Free and Paid ($24.99 for Pro Version)
Photocartoon.net is a free online platform that allows you to turn your picture into Cartoons, Paintings, Sketches, and Caricatures. All you have to do is upload your image, choose an effect from the options, and click on Cartoonize. The tool will automatically handle the rest for you, but it might take a few minutes to process. This tool can also run on Windows and Android. You can directly download it from their website or the play store.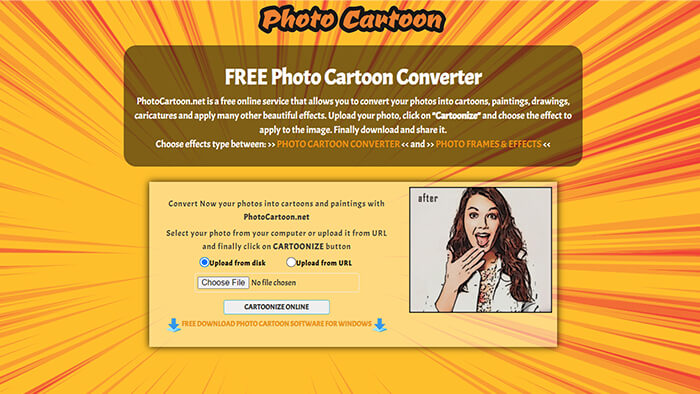 Pros:
● Free version with many animation filters
● Reasonable pricing
● Easy process to edit pictures with no sign in required
Cons:
● Average results
● Time-consuming processing
● Many Ads on the website
Price: Free and Paid (Basic – $9.90/mo and Pro – $19.90/mo)
Toongineer Cartoonizer can turn your photos into cartoons with one click using advanced AI algorithms. These algorithms get trained on millions of cartoon pictures and real-world images. Using advanced algorithms, it animates your picture effortlessly and also preserves its natural aspect. You do not need any additional skills to use this tool as it works automatically. The mentioned price applies to the whole pack of tools available at vanceai.com, and you cannot purchase this tool separately.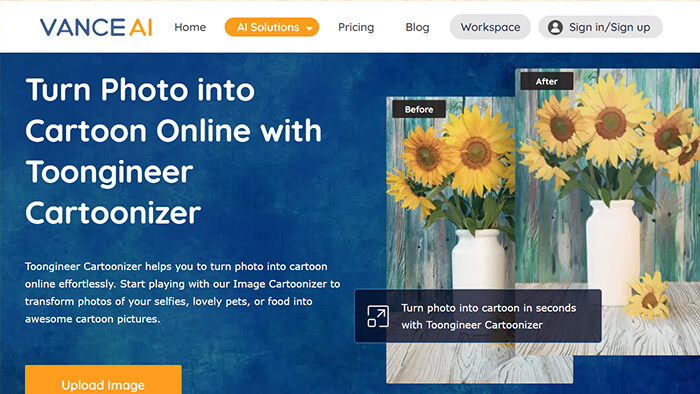 Pros:
● Generate realistic and high-quality animated pictures
● Free version with three credits per month
● Easy to use online tool
Cons:
● Limited to low-quality usage in the free version
● Slow processing speed
● Produces similar-looking results quite often
More Recommendation from VanceAI-VansPortrait
VanceAI also released a new AI portrait generator, VansPortrait that allows you to turn photo into anime without any manual operations. You may simply drop your image in this anime AI generator and can get amazing AI portraits in anime style.
This anime AI has been launched on ProductHunt. If you like it, give it an upvote by clicking on >>>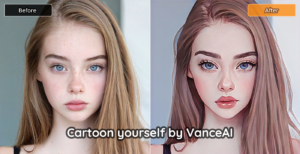 Pros:
Offers free version
Also allows you to apply other AI features
Generates high-quality anime-style portraits
Cons:
Has limitations to photo size
Would automatically crop images
Toonyphotos.com is a free online cartoonizer tool that does not require any registration or sign-up. To toonify your image, upload it on the website and outline the area you want to edit. It will get cropped out and processed almost instantly. However, the export format is png, and thus, the output might not be visible on some devices. There are no editing options or effects to choose from as it is programmed to solve just one purpose. Export quality is not up to the mark, but it can work well to make interesting-looking stickers for your collection.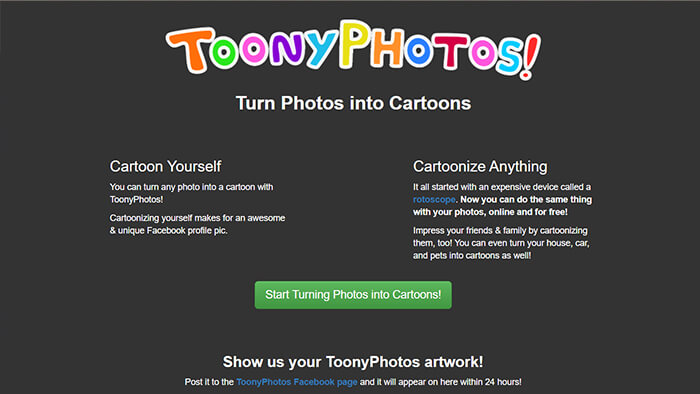 Pros:
● Free to use online tool
● Quick processing
● No sign up/registration required
Cons:
● No editing features or animation effects to choose from
● The export format is png
● Low export quality
Lunapic.com is another free-to-use online cartoonizer tool and at the same time offers a bunch of other cool and handy features. To turn your picture into a cartoon, you can directly upload it and select the filter's intensity before exporting it. Its other cool features include drawing or curating various things like watermarks or images with quotes. There are a bunch of animation effects, photo adjustment tools, border frames, and filters. An Art section is also available where you can watch and learn about various arts under different categories.
Pros:
● Free online tool
● Many helpful features apart from cartoonizer
● Fast processing of photos
Cons:
● No effects or filters in cartoonizer
● Many Ads on the website
● Average export quality
Price: Basic – $72/year and Pro – $120/year
Picmonkey.com is an online photo editing platform that features a 'photo to cartoon maker' tool. It has some cool artsy photo effects like Posterize, Edge Sketch, and Arcade filters. You can adjust the saturation, contrast, and intensity of the filter while editing your picture. The website also allows you to directly share your edits to various social media platforms making the job a bit easier. This tool does support a free trial with limited features, but you will eventually have to buy a subscription to use it to its full potential.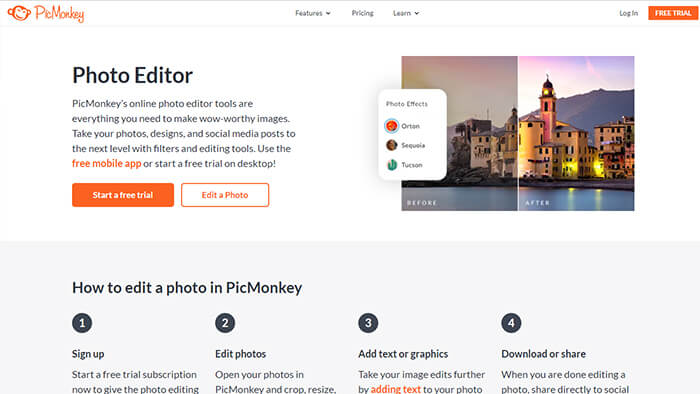 Pros:
● Cool artsy photo effects
● Bunch of photo editing features
● Directly share your edits
Cons:
● Limited editing with the free trial
● Pricey subscription
● The free trial also requires signing up
Price: Free and Paid (In-app purchases starting from $1-$25/item)
Cartoon.pho.to started as an online editing platform and now also has an app called 'Photo Lab Picture Editor' for both Android and IOS. You can turn your photos into cartoons and caricatures with just a click and enjoy other cool features like 'face morphing' that works only on portraits. This tool also makes it very easy to create avatars for social apps like Snapchat. You can create a static or an animated avatar while adjusting the speed of the animation. With its wide variety of face animations, you can do some funny edits as well as a few other moods.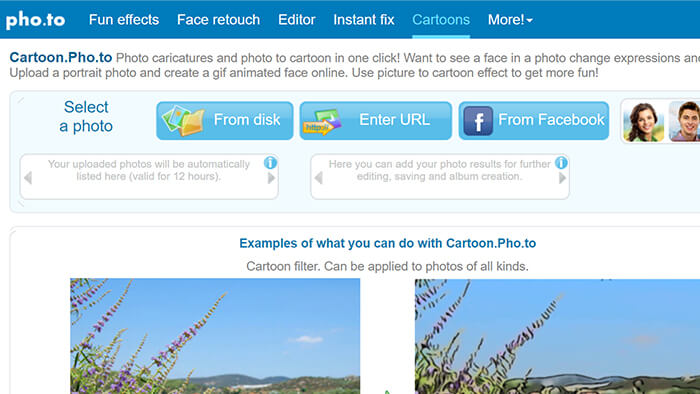 Pros:
● Unique face morphing feature
● Funny animations along with other moods
● Create animated or static avatars for your social media profile
Cons:
● Bad output quality
● Only for creating funny edits
● Ads and watermarks on photos in the app without getting a subscription
How to turn a photo into a cartoon in Photoshop?
If Photoshop is your top choice than AI photo enhancer, follow these basic steps to turn your photos into a cartoons:
1. Upload your photo: Start by uploading the picture that you want to toonify.
2. Convert the Photo into a Smart Object: In Photoshop, go to the Filter menu and select 'Convert for Smart Filters'. Doing so will allow you to make non-destructive edits.
3. Apply and Adjust the Poster Edges Effect: Go to Filter > Filter Gallery > Artistic: Poster Edges. You can adjust the thickness and intensity of the edges on your photo and adjust both accordingly.
4. Export the Photo: Go to 'Save As' in the File menu. Select one from the many export formats, and you're good to go.
Verdict
AI Cartoonizers prove to be a game-changing technology in the world of animation. Gone are the days when we would have to spend hours on photo manipulation to give them that cartoon-like look. Now, changing photos or even videos into cartoons is possible with just one click. These tools will also save a lot of time, effort, and money for various artists worldwide to perform basic editing chores. Thus, these tools are absolutely worth the shot. Or, if you are an eCommerce website owner, you may also be interested in Top 10 AI Image Upscalers for eCommerce.
FAQs
1. How to turn a photo into a cartoon with an AI cartoonizer?
AI Cartoonizer tools work automatically. You only have to upload the picture, then select an animation effect like filters, and your image will be ready for processing. Many tools are completely automatic, while there is some level of adjustments available on some of them.
2. Is there any tool that can turn your photo into a cartoon?
There is a wide range of tools to turn your photos into a cartoon. These tools are available online, and some even work like software or a mobile app. All the AI-Powered Cartoonizers are capable of performing automatically.