Photo restoration is an incredible feature that anyone could have for their business, website, etc. This is because photo restoration can open up a lot of options for you when it comes to visuals and considering the kind of photo restoration software tools available, you can expect some great looking pictures to use. With that said, this article will give you a list of the ten best old photo restoration applications that you can use right now and get ready-to-use images instantly. Plus, the best photo restoration software or online tools can offer amazing results for pretty much all kinds of images. Thus, you are not restricted as a user at all.
Best 10 Photo Restoration Software & Online Tools 2022
Price: Colourise is an online photo restoration application which is free to use.
Photo restoration with Colourise.com is one of the easiest to do. The major reason for this is that Colourise.com operates by making use of AI based technology to process images. For the user, it simply means that they receive their photo restoration results in a matter of seconds. Additionally, users no longer have to worry about downloading any kind of plugins. This old photo restoration software will process all kinds of images as well, making it a viable option for any user.
Also read: Colourise.com|New AI Colorizer to Colorize Photos Online.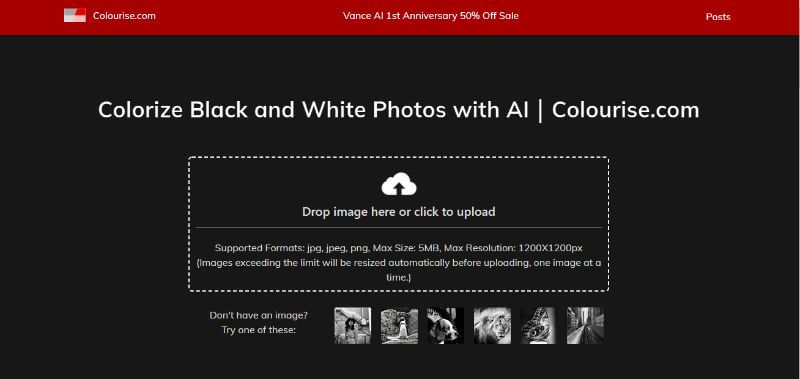 Pros:
AI based photo restoration.
Free to use.
Easy to navigate.
Cons:
Does not offer extra features.
Limitations on the image size for upload.
No batch processing.
Price: This photo color restoration AI offers 3 image credits for free. For more credits, you can buy either Basic or Pro editions that cost $9.90 per month and $19.90 per month respectively.
VanceAI Photo Colorizer, like other AI photo enhancer applications from VanceAI, utilizes AI and Deep Learning for AI photo restoration. Similar to Colourise, this can allow users to simply upload an image and get their output images ready in a matter of seconds, saving a lot of time. Users don't even need to be experienced with image editing software applications to use this. Apart from that, paid subscriptions enable the usage of batch processing, further making the process a huge time-saver. You may also try VanceAI Photo Restorer to restore your old photos.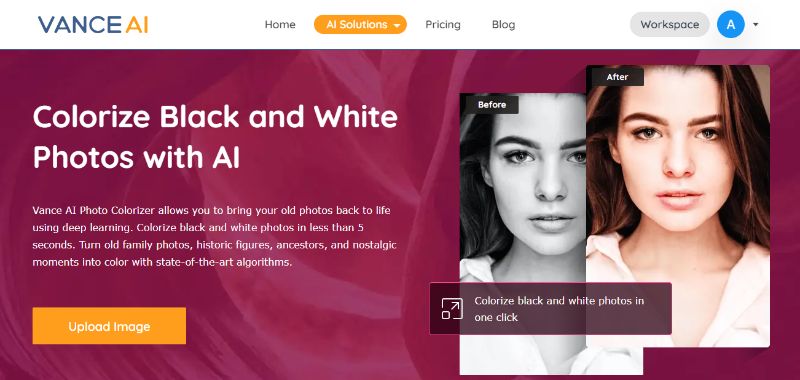 Pros:
Has many features.
Free to use.
Stunning photos.
Cons:
Limited free use.
Need a free account.
The software version of Vance doesn't include Photo Colorizer.
Price: MyHeritage offers free photo restoration and retouching but also has paid options that start from $4.08 per month, which then includes customer support.
MyHeritage is a popular online photo restoration application. Though it is mostly an old photo restoration tool, you can nevertheless use it to convert other kinds of images and get good enough results. The website has an uncomplicated design, as it simply shows the upload button and a gallery of the images processed by the tool.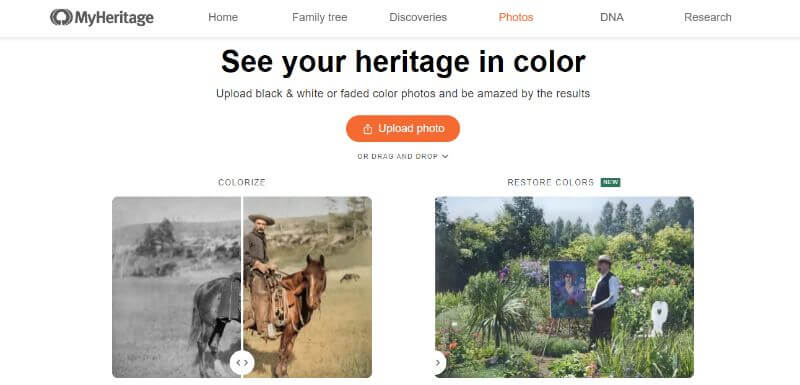 Pros:
One of the best photo restoration software for family photos.
Easy to use with drag & drop option.
Popular website.
Cons:
The results are not always exceptional.
The paid options are not competitive.
UI can be better.
Also read: Best 10 Tools to Colorize Black and White Photos.
Price: You can do photo restoration for free with this online tool but will need to pay if you will use the images for commercial use.
Hotpot AI is another AI photo restoration application as seen in the title. A unique aspect of this application is that it provides an API edition of its application, which results in different modes of usage for the users. These API tools also include other great features such as image upscaling, background removal, picture colorization, and more. Using this tool is easy as well, for all you need to do is upload one and let the tool undergo photo restoration and retouching.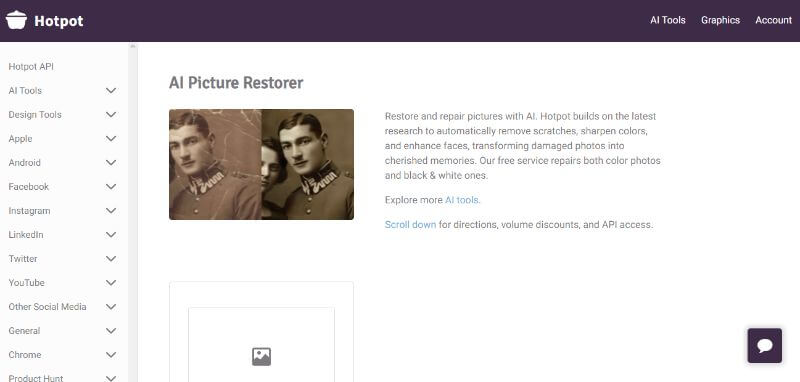 Pros:
Easy to use.
Quick processing.
API versions provided.
Cons:
The results are not always great.
Not enough info given in the website.
Most features are still in development.
Price: This online tool can also automatically restore your old photo for free but for limited uses only. Paid options start at $9.9 for extra image credits.
This online tool for old photo restoration is a versatile one as it is not only able to remove scratches, fractures, and spots but also enhance the photo details by enhancing portrait and sharpening colors. Using deep learning, it is 100% automatically used to hepld you restore old photos online in seconds with better quality.  One regret is that it doesn't allow you to adjust the photo manually for better accuracy.
Pros:
Enhance photo details with advanced AI algorithm.
Easy to use with clear and simple UI design.
100% automatical
Cons:
Limited free use.
Doesn't allow to adjust the photo manually for better accuracy.
Price: This photo color restoration AI is still in its demo phase and hence, free to use.
NVIDIA is a powerhouse when it comes to visuals and they have a lineup of various AI based projects and applications, one of which deals with photo restoration. This particular Image Inpainting application enables users to mark out sections in images that they want to change. This gives users full control of the output and gives a picture akin to their imagination. This tool is perfect for all kinds of designers who want an image exactly how they want. Furthermore, this application for photo restoration is absolutely online right now.
Pros:
NVIDIA offers reliable tools.
Free to use.
AI photo restoration.
Cons:
Manual editing is not for everyone.
Slow process.
Application is still in demo.
Price: You can get a free trial of this old photo restoration software though you can buy the paid version with $37.99.
For the users who prefer a desktop, offline software tool instead of an online tool, Pixbim can be a great choice. It is also an AI photo restoration tool which implements AI and Deep Learning techniques to provide results automatically. Apart from that, since the tool is a dedicated software, it also consists of extra features that you can use to further enhance an image.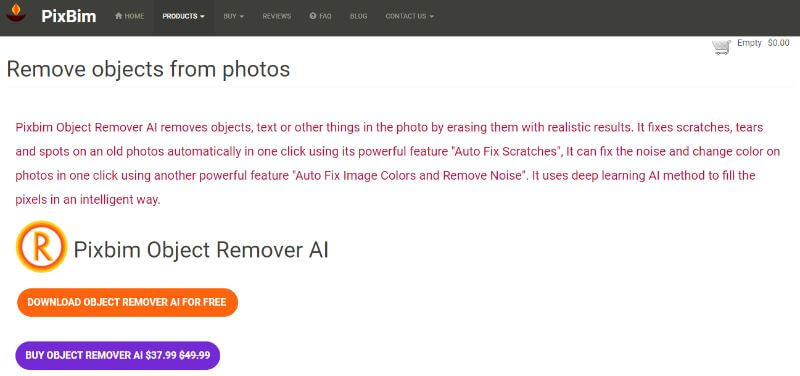 Pros:
Dedicated software application.
Additional features.
Lightweight software.
Cons:
The paid version is a bit steep.
The outputs can be better.
Long processing times.
Price: The free trial version can be downloaded from the website. It otherwise has multiple paid plans starting from $8.25 during the current sale.
Photo Works is definitely one of the best photo restoration software tools that you can have. It not only is useful for photo restoration but also for other kinds of image editing such as removing blemishes, instant AI image enhancement, photo cropping, and more. It also has higher compatibility with file formats since it supports RAW, JPG, BMP, and other formats.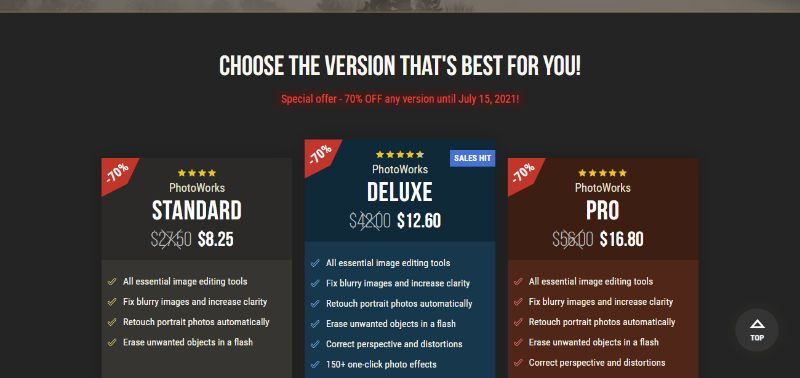 Pros:
A comprehensive tool which deals with more than photo restoration.
Easy to install and use.
Affordable.
Cons:
Takes time to process images.
Limited free use.
Need a decent system.
Price: Completely free
This is web-based online tool that is similar to the previous one on this list though photorestoraiton.ai is more focused on photo restoration. You can easily use it to restore old photos with a single click, get rid of imperfections like tearing and cracks, and more.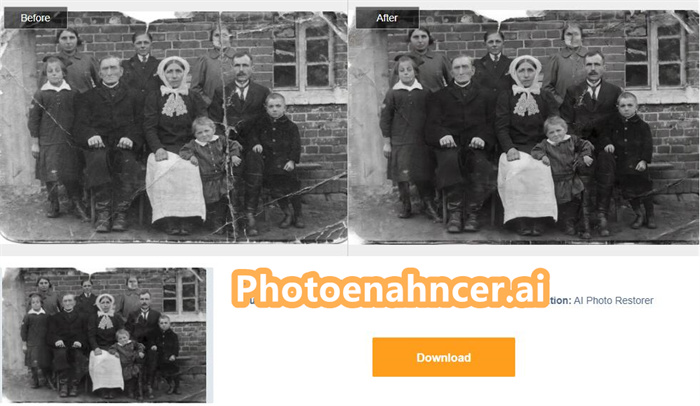 Pros:
AI photo restoration tool.
Easy to use.
Completely free
Cons:
Doesn't have many features.
Takes time to use.
Price: You can get a free trial download from the website. The paid versions start from $87.
This photo restoration tool is an AI based tool, so you can expect this tool to automatically process images without much user input or instructions. Furthermore, this application can also reconstruct missing parts of an image, if there are any, though the quality of that reconstruction is not consistent. The tool is available in multiple forms. You can either get a complete software for home usage, business, or even a plugin.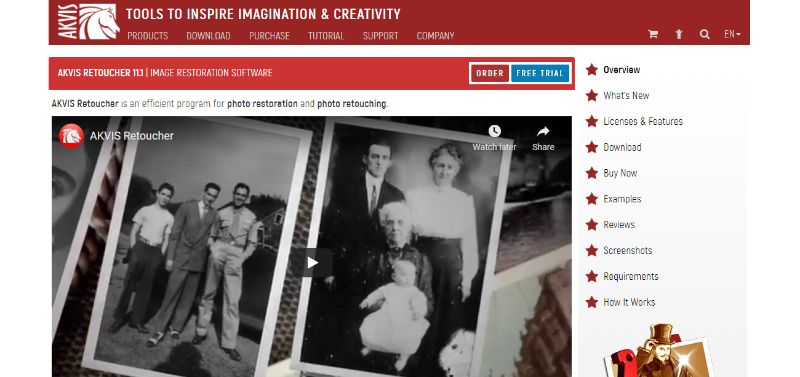 Pros:
Dedicated software tool.
AI photo restoration.
Available as a plugin.
Cons:
Results are not always up to the mark.
Too expensive.
No unique features.
Also read: Best 10 Photo Restoration Services Review 2022.
FAQs
In case you weren't yet aware, photo restoration can also be done by human experts and they offer their services too. For instance, this link will take you to such a website. Both AI photo restoration and human one offer unique results. Of course, accuracy is the common determiner of quality but there's more. Now, the experts can charge anywhere near 10 pounds whereas AI photo restoration is generally cheaper. If you have a really complex image with gigantic resolutions, it is better to use an expert's help. If you want photo restoration for standard images regularly, then AI photo restoration is a better, more economical option.
2. What is the best photo restoration software?
Though different photo restoration software applications offer various features suitable to various users, VanceAI Photo Colorizer, Image Inpainting, and Photo Works are really good tools to use. The Photo Colorizer is exceptional due to its features and performance, which is the same for Image Inpainting though it contains manual editing. Photo Works is a great all-rounder software application that offers photo restoration and other image editing features.
Conclusion
Photo restoration is an amazing feature to have with you, regardless of the kind of user you are. These tools are so versatile that they can pull off restoration for any simple or complex image. As a user, choosing which tool depends on preference too. If you are a user who wants regular photo restoration then consider ImageColorizer.com. Other than that, VanceAI Photo Colorizer is also an online image colorizer tool, but it also includes valuable features though paid. As for software applications, Photo Works is a great one. All the tools, though, are remarkable and will definitely provide the result that you want. Also read: This AI Helps You Restore Damaged Pictures.