The world of designing is quite diverse, especially in this age of digital businesses. With all the hype for the countless image filters floating around social media and the Internet in general, turning black and white images into colored ones is certainly highly sought after. In fact, you will see many artists and designers restore a black and white image just for comparison purposes Vintage images count here as well. In this review, we will analyze the new Colourise online tool and explain to you its features, how it works, and more. This tool's basic function is to colorize black and white photos with AI tech and methodologies for the most accurate and crisp outputs.
Also read: Best 10 Tools to Colorize Black and White Photos.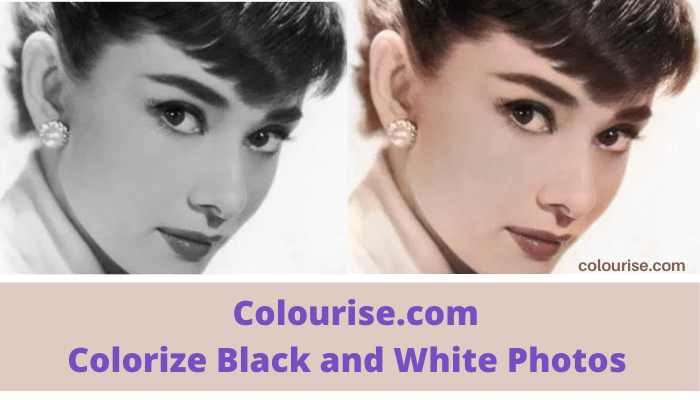 The technology of Colourise.com
To colorize a photo, as quick and easy as it looks for the outsider, actually consumes a lot of processing power from your system. After all, it involves all of the millions of pixels of an image. It is essential for any image processing application to be equipped with cutting-edge technology for it to be relevant against competitors. When it comes to Colourise, the frontline is something called Generative Adversarial Networks or simply GANs. This technology isn't exactly that heard of but it is used for all kinds of creative and scientific fields regardless. Image processing, interior designing, fashion, video games, scientific and cosmic research, etc are a few examples here.
Also read: Best 10 Photo Restoration Software & Online Tools Review.
Looking at Colourise.com
Let's answer the biggest question that you probably have about this online AI Colorizer: It is free. Additionally, there is absolutely no requirement for an account or bothersome free trials in order to use it. All you have to do is show up on the workstation of colourise.com. You will notice that many photo colorizer websites do what Colourise.com does but at a price. Therefore, the free to use nature of Colourise.com is surely a big advantage.
An important point to note about Colourise.com is that it works exclusively online, even though it has some heavy AI algorithms running in the backend. It also means that there is no need for any kind of external download as a prerequisite to using this tool. As a user, this matters most in the aspect of how fast the processing will be.
Let's analyze further while seeing how this tool works in order to understand it better. Since it is an online tool only, we first need to visit the official website. The home screen is a simple introduction page, providing some background on black and white images as a concept, with an example image on the right side. We need to move to the workstation of colourise.com as it is our actual operating page. Have a look here: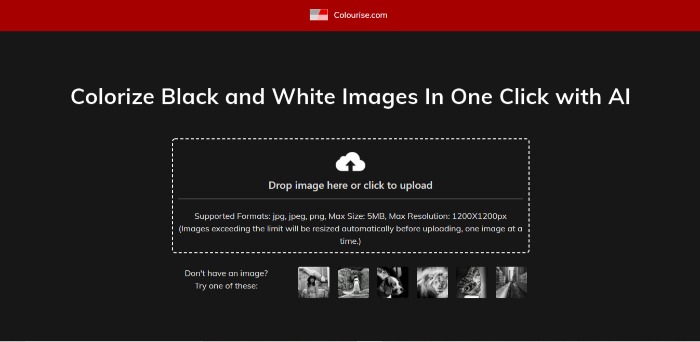 As you can see, the big dialog box or button at the center is used for uploading images. If preferred, you can also drag and drop images. Below are the restrictions. The tool supports jpg, jpeg, and png file formats. As for size and resolution, 5 MB and 1200 x 1200 px are supported, respectively. Not to mention that you can process just one image at a time, which leaves batch processing a feature to be added in the future, hopefully. The web pages themselves load fairly quickly and the UI is short and sweet, which every user always desires from an online AI tool. Colourise.com delivers on that pretty decently.
When you upload your image, the tool will display a box in which you will see your original image on the left while it processes then displays the output on the right for comparison. It will look something like this:
There are of course sample black and white images presented by the website but the image you see above is a random image chosen to test the software. As you see, the restoration is commendable. Not only do the colors look realistically accurate but minute details such as shadows are really well done as well. The time it took for the software to process this image wasn't that long either. Colourise.com is surely apt to colorize photos online.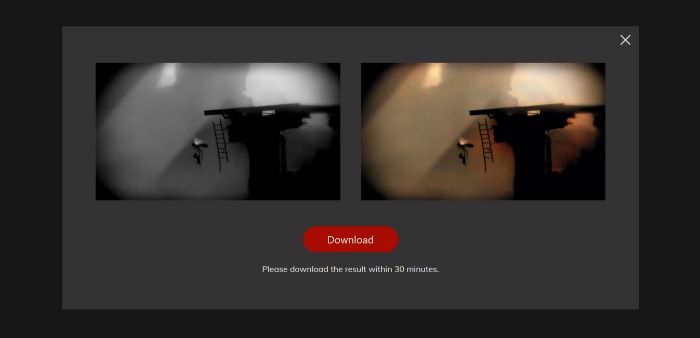 Another good thing about this tool is that it deletes your uploaded image permanently after 30 minutes. It is a good security measure and works with or without the user being alert.
Verdict
Colourise.com covers everything a user would require from an image colorizer. It is accurate, quick, and most importantly, free of cost. If there are any drawbacks, it is the fact that there are limitations to the kind of images you can upload. For instance, the 5 MB image file size limit can be discouraging for various artists and designers as images tend to exceed 5 MB quite easily nowadays, with all the designing and editing going into it. However, this site is pretty new so do expect updates as time goes by.