The PDF, also known as Portable Document Format, is primarily designed for the ease of sharing files between different systems. However, PDF files are somewhat tricky to edit and that is why it's important to convert PDF to word format for editing. So, while it is relatively easy to convert word to PDF, we require dedicated PDF to word converter software and tools. Since the PDF file format is now one of the most popular formats, there are a bunch of converter technologies waiting for your click of the button.
Top 10 Best PDF to Word Converters Review
In this list and review, you will find the best products out there that will easily convert PDF to word for you while also giving you a variety of useful features that you might just want to use every day. These include both PDF to word converter software and tools to convert PDF to word online. Not to mention, especially for those new to these software, we will provide quick and easy steps for teaching you how to convert a PDF to word.
Part 1: Top 5 Software to Convert PDF to Word
Price: A free trial of seven days, or you can purchase it for $14/mo. Adobe also offers other individual and team packages such as Adobe Acrobat Standard DC and Adobe Acrobat DC.
Compatibility: Adobe Acrobat is compatible with Windows and Mac. However, some of its features such as Adobe Scan, Adobe Acrobat Reader, Adobe Sign, etc will run on mobile devices as well.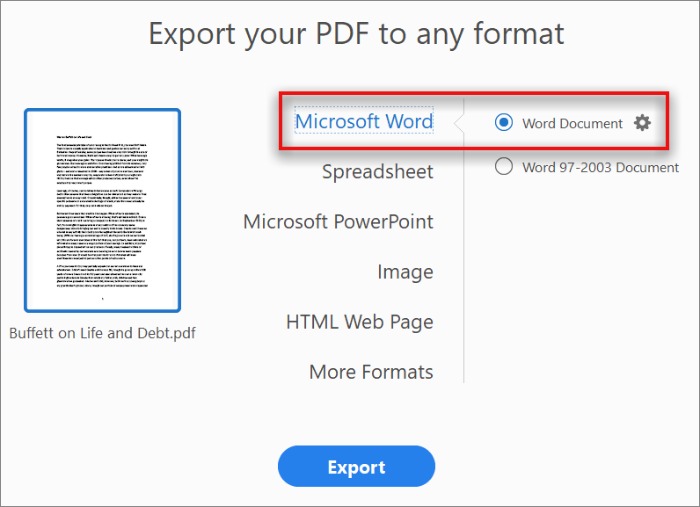 Features:
Adobe is the original innovator of PDF. Thus, they not only have PDF to word converter options but also many others such as PDF to PPT and PDF to JPG converters.
Your PDF files remain intact even after you convert PDF to word so you never have to worry about unnecessary formatting or font changes.
Adobe Acrobat makes use of OCR (optical character recognition), making it suitable to deal with scanned documents.
Works well with other applications such as PPT or DOCX from Office.
How to use:
Open your file that you want to convert in Acrobat.
You will find the option to "Export to PDF" on the right-hand side of the software page.
You can then select the format as per your preference, which in this case is to convert PDF to word.
After selecting, you can simply save the file and find the converted file on your system.
Pros:
Adobe offers one of the highest number of tools as a PDF to word converter.
Available on multiple platforms and compatible with different apps.
Provides security options for your files.
Cons:
The fact that it is a paid software might deter some people.
 Price: Wondershare offers three kinds of packages – Individual, Business, and Education. You can get PDFelement Standard at $6.99/mo or $79 for a permanent license. You can also download a free trial version for testing.
Compatibility: PDFelement will run on Windows 10, 8.1, 8, 7, Vista, Mac and might need an internet connection during the initial installation and activation of the product.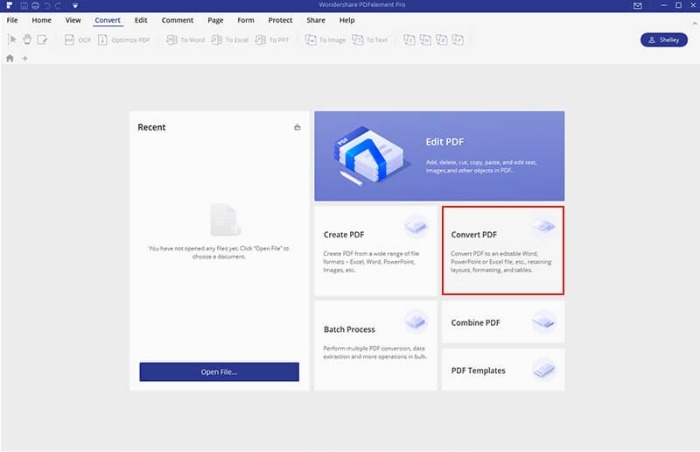 Features:
Wondershare has built an impressive UI which makes users feel at home due to its simplicity and similarity to Microsoft Office.
Similar to Acrobat, you will find a variety of supported file formats ready to be converted to. PDF to word converter is merely one of many options.
You can leave comments on your file for your team members to view later.
It is possible to set passwords and other security measures for protection.
Enables creation of forms and editing them in detail.
How to use:
First, open PDFelement. You will be taken to a screen where you can select the "Open File" button to open the file you want to convert PDF to word.
After you have opened the file in PDFelement, you can click on "Convert" and "To Word" for converting the PDF file to Word.
The new file will be saved on your local file system.
Pros:
Wondershare offers many features similar to Adobe at a more affordable rate.
Their UI is a standout among other PDF to word converter applications, allowing for work to be done at faster rates.
Wondershare has really competent and active customer support.
Cons:
PDFelement Standard version does not offer enough.
Overall, Acrobat still maintains to be a more extensive software.
Price: Free trial or purchasing a package, namely Standard 10, Business 10, and Mac 4. Standard 10 costs $17.99/mo or a one-time cost of $139. The Business 10 has more advanced features and costs $179 one-time. Mac 4 package is $139 one-time.
Compatibility: Foxit's PDF to word converter will work on Windows and Mac. Some of its PDF apps can also be found on Android and iOS.
  Features:
Quickly and systematically converts other files of different formats into PDF and vice versa. You do not have to worry about an Excel sheet either, as you can convert from it by drag and drop.
It is possible to scan documents and convert them into a PDF file while not putting a burden on your local disk space.
Naturally, Foxit PDF Editor also makes use of OCR technology.
Supports collaboration with colleagues through editing and sharing methods.
How to use:
Open the file in PhantomPDF and go to the "Convert" tab.
You will be presented with many file formats to convert to. Choose the one you need and click on "save as".
When you see the window, go to settings. Select "text-based document" under the "Export Engine Settings".
The PDF to word converter will make the necessary changes and open up the newly created file for you.
Pros:
Team-based and business focused features.
It can scan and present outputs quickly.
Creating forms out of PDF or other files is intuitive.
It is a decent free PDF to Word converter from the free trial.
Cons:
The UI can be better designed to avoid clutter.
Price: Free trial or paying $19.99/year after creating an account or logging in with Google, Facebook, or other supported platforms.
Compatibility: WPS PDF to Word converter will run on Windows and Android. It also has its own online edition to convert PDF to Word online.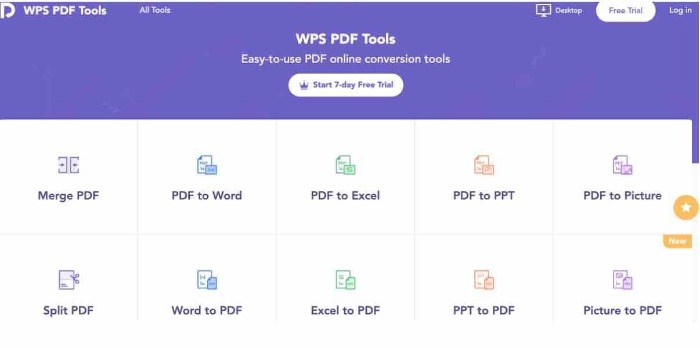 Features:
This PDF to word converter can convert PDF to word in a matter of seconds while retaining all the originality of the previous file.
A rather unique feature of WPS is its split-merging PDF pages. You can connect only the PDF files that you need to create the optimal PDF file.
It has a multitude of supported formats for you to choose from to convert your PDF file.
How to use:
Once you launch WPS, look for "PDF to Word" under Special Features.
Open the PDF file that you want to convert and click on Start.
Choose your preferred save location and you will find your new file there.
Pros:
 Split-merge is a valuable tool and unique in its own right.
 Offers batch processing.
 The conversion accuracy is spot-on.
Cons:
 The free version is not worth it since it has a five-page limit.
Price: If you are purely looking to convert PDF to word, UniPDF offers its PDF to word converter for free to download. To unlock all of its features, upgrade it to UniPDF Pro for $29.97 for the Expert version or $99.97 for the Business version.
Compatibility: UniPDF is a PDF to Word converter exclusively for Windows. Versions supported are 10, 8, 7, Vista, and XP.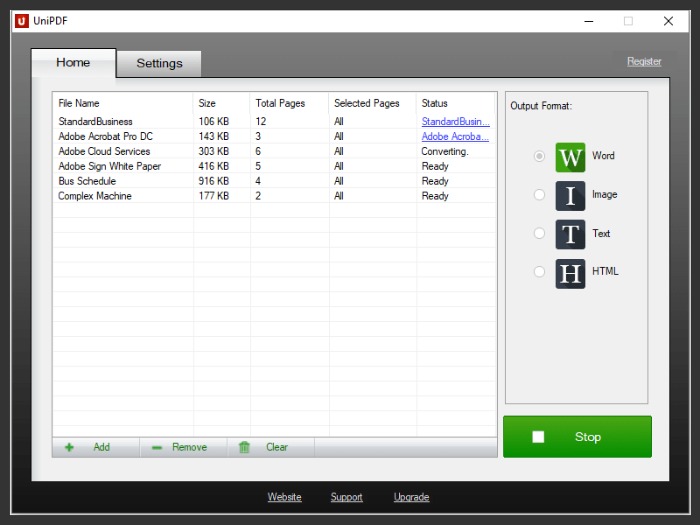 Features:
It's more secure compared to some other apps.
Supports many formats for conversion such as to convert PDF to word, PDF to HTML, PDF to Text, etc.
Supports batch mode processing.
How to use:
When you open UniPDF, you can simply drop or open the file that you want to convert.
Select the Convert option and let UniPDF do its job to convert PDF file to word or any other format you selected.
You can now either open the word file immediately for further editing or find it later in your system.
Pros:
 It is a simple tool designed for handling basic PDF to word conversion tasks.
 It can maintain image quality pretty well.
 It is one of the most popular free PDF to word converter apps.
Cons:
 If you are looking for a feature-rich converter application, there are better alternatives.
Part 2: Top 5 Best PDF to Word Converter Online
 Price: VancePDF offers a free PDF to word converter online.
 Compatibility: This PDF to word converter will work online on browsers.
  Features:
○ It offers a few formats to convert to and from, such as Word, Excel, PPT, etc.
○ Delivers the output to your email.
How to use:
Visit their site and set the format of the file from PDF to Word or any other available option.
Upload your file and enter the email where you want the file to be sent to.
Click on Convert Now and the rest will be taken care of.
Pros:
 Efficient and one-stop place for basic conversion of PDF to Word.
 Batch processing.
Price: Investintech PDF converter is a free technology. Moreover, it will not ask for your email either. You can download a free trial of their desktop app as well.
Compatibility: It will run on browser for Windows, Linux, Mac, Android, and iOS.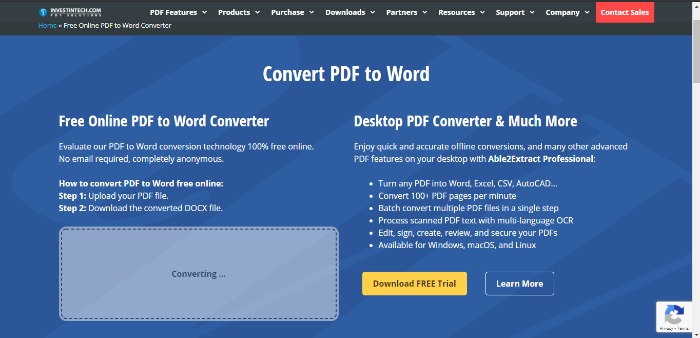 Features:
○ This PDF to word converter makes use of OCR technology.
○ You can straight away use its features without logging in or giving away personal data.
○ It has a solid security system in place which deletes files after a few hours.
How to use:
Click on the Upload button present on their site, which will open a window to your PC.
Select the PDF file you want to convert and the PDF to Word converter will do the rest.
Download the file after it is done converting.
Pros:
 Anonymous conversion of files.
 There are no page limits.
Cons:
Conversion online can take some time.
Price: The basic PDF to Word converter online is free. It also offers a desktop version for free trial and has subscription-based packages starting at $6.75/mo.
Compatibility: SodaPDF will work online for Windows and Mac.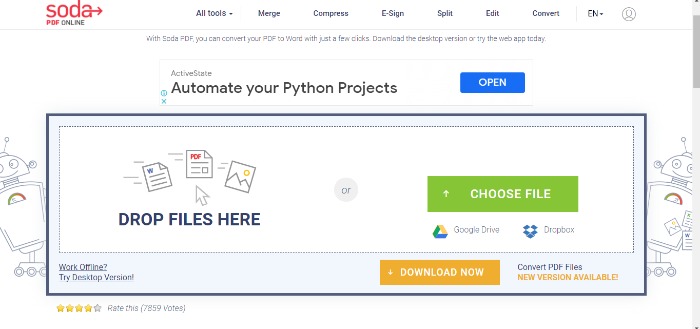 Features:
You can upload files directly from Google Drive or Dropbox.
Can send your converted file to your email.
How to use:
Provide SodaPDF the files by clicking on Choose File or going for the other two options, Google Drive or Dropbox.
The PDF to word converter will convert the file and give you two options: Either download the file or have it sent to your email.
Pros:
 Quick and easy conversion.
 Deletes files after some time for privacy.
Cons:
 Most of the good features are available only with the paid version.
 Price: OnlineOCR is an online free-to-use software.
 Compatibility: It works online on browsers.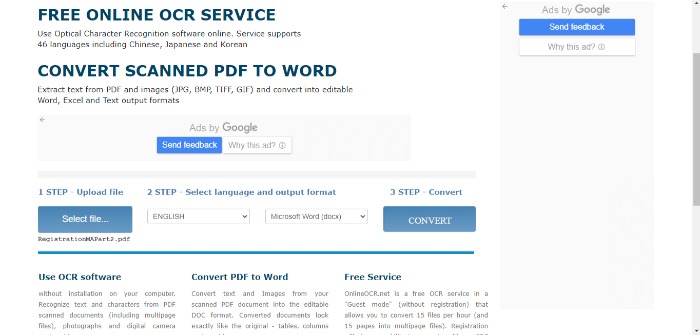 Features:
Supports a diverse set of languages, up to 46.
Uses OCR technology.
How to use:
Simply drop a file to their website by clicking on Select File.
Choose the format you want to convert to.
Click on Convert and download when it is done.
Pros:
 Multiple language support.
 OCR technology.
Cons:
 Less file format options.
Limit on file size and number of conversions.
 Price: It is free-to-use.
 Compatibility: It will run on desktop online as well as on mobile.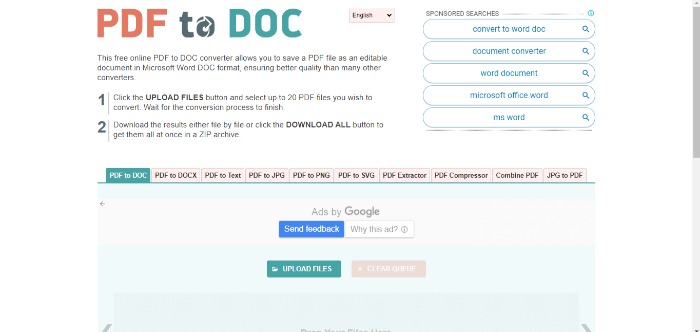 Features:
○ You can drop up to 20 files to convert PDF to word or many other formats.
○ You can also compress PDF or merge them.
How to use:
Click on the Upload Files button where you can choose up to 20 files.
Select the files and wait for conversion.
Once converted, download the finished files.
Pros:
Cons:
Converting multiple files can take a lot of time.
Conclusion
To convert a PDF to word document can sometimes be complicated but with these tools you can complete the bare minimum in no time and develop your files further with the amazing features that these technologies provide.