To convert PDF to JPG can prove to be a real time saver with specialized software as it eliminates the need for plug-ins to do the same task, hence saving time and resources. Not to mention that you can save disk space with the help of PDF to JPG converter applications.
Top 10 Best PDF to JPG Converters Review
PDF files are usually a mixture of text and visuals. So to convert PDF to JPG, an image based format, can be confusing for newcomers. However, in this review list we will go through steps on how to convert PDF to JPG as well as showcase each software's key points to help you decide which PDF to JPG converter is the best for you. Naturally, we will also go through online options.
Part 1: Top 5 Software to Convert PDF to JPG
Price: Boxoft is a free software that does not even require you to make an account or provide information.
Compatibility: Boxoft's PDF to JPG converter is an old-school app that runs on Windows 2000, Windows 2003, XP, Vista, and 7. It will also support MacOS with versions 10.5 and above.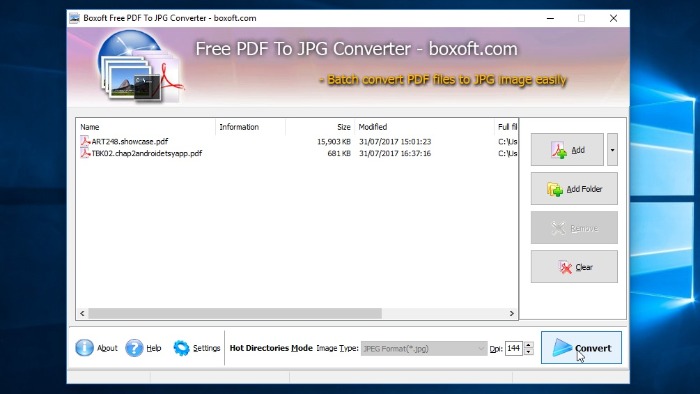 Features:
Boxoft is a free and lightweight software, which means the installation is quick and easy.
It provides Batch conversion mode, allowing you to input multiple PDF files to convert at the same time.
The app it will accept command-line statements and can be programmed to convert PDF to JPG as per your convenience.
There are a good bit of customization options available such as choosing which pages from the PDF file to convert, quality settings, color editing, etc.
Drag and drop PDF files for efficiency.
How to use:
When you run this app for the first time, it may ask you to install a Ghostscript. You can do that through their window prompt.
Boxoft opens a window where you can select the Add option to import single PDF files. Use the arrow to import a list.
Once added, you can simply click on the Convert button for conversion.
Select the destination folder and find your required files there.
Pros:
Quick and easy to understand UI.
Provides enough features for basic PDF to JPG converter needs.
Cons:
The Ghostscript download might stop some to install this software.
Price: Adobe Acrobat Pro DC can be downloaded for a free 7-day trial. If you are looking for paid options, Adobe has multiple plans for various user types starting from $14/mo.
Compatibility: Acrobat Pro DC will run on Windows and Mac systems. Supported versions for Windows are 7, 8, 8.1, and 10 and for Mac 10.12 upwards. Also, some of Acrobat's features are available on Android and iOS.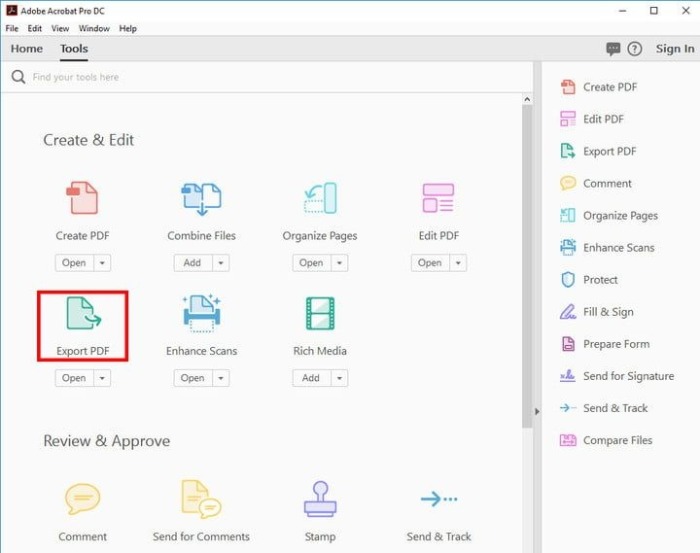 Features:
Adobe Acrobat is more than a PDF to JPG converter as it hosts a catalogue of conversion options for you to make use of.
Acrobat maintains the same richness of quality in your converted files on any platform.
Supports conversion to JPG and PNG as well, which is usually needed in professional settings.
How to use:
First, open up Adobe Acrobat DC and then open the file you wish to convert.
Choose the Export PDF option and it will present you with different formats to convert to.
Select Image, that is the correct option for JPG, and click on Export.
Now, you can simply select the destination folder, save the files, and look for them in the destination folder.
Pros:
Adobe Acrobat can be your one-stop shop for all your PDF to JPG converter requirements.
Maintains image and color quality.
One of the more secure software.
Cons:
It is a paid software.
Takes some time to get used to its features.
Price: Icecream offers both free and paid versions. The free version has limitations but it can convert PDF to JPG just fine. The paid version usually sells for $29.95 but it usually has offers which reduce its price to $19.95.
Compatibility: This PDF to JPG converter software will support numerous Windows editions such as Windows XP, Vista, 7, 8, 8.1, 10, etc.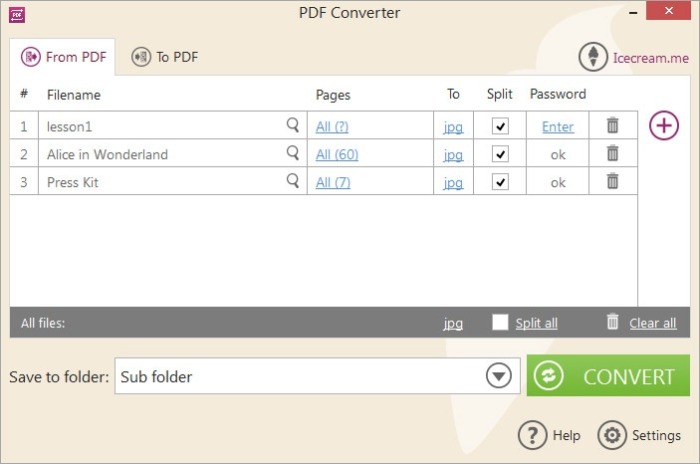 Features:
Its quick preview option lets you check all the details of your PDF before going forward with the conversion.
You can use its drag and drop feature to save time.
It allows you to set passwords and security checks to maintain a level of privacy for your files.
Batch processing is possible.
How to use:
Open opening the Icecream PDF to JPG converter software and you will see a window screen.
Go under the From PDF tab and add the files you want to convert.
You can choose to split or add password to your file by clicking on the appropriate buttons present there.
Click on Convert, choose destination, and save the files.
Pros:
Extensive range of support on Windows systems.
Easy to use UI with security options.
One of the popular choices.
Cons:
There are restrictions on the free version so you cannot use it all the time.
Price: DocuFreezer's personal use license is free for download and is enough for basic PDF to JPG convert purposes. The other way is to purchase a commercial license for $49. There are other options for Enterprise licenses.
Compatibility: DocuFreezer supports Windows 10, 8, 7, XP Service Pack 3 and several Windows Server versions.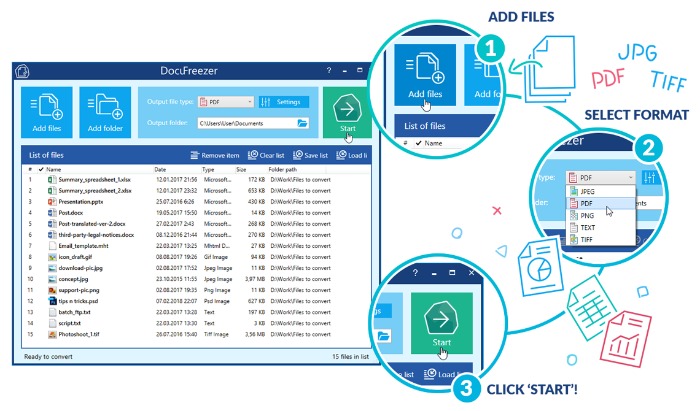 Features:
Supports a wide variety of input files, including files from Microsoft Office.
It is highly customizable when it comes to your input PDF files as you can choose
specifications for the body of the PDF and attachments separately.
You can make a list of the files you need for repeated uses and quick access.
How to use:
Launch the DocuFreezer application, where you will find the Add Files button on top.
Click on it to add files to convert PDF to JPG, then choose your preferred output file type.
Click on Start, let the software do what it does, and get your output files in your destination folder.
Pros:
Intuitive UI design.
Efficient work possible through lists.
Cons:
It could use a more diverse set of output file options.
You will need a fairly decent computer system to run this smoothly.
Price: You can download PDFMate's PDF to JPG converter app for free with limited features. The paid option, PDFMate Pro, will cost around $47.
Compatibility: PDFMate offers compatibility with Windows Vista, 7, 8, 10, and XP. MacOS versions from 10.6 to 10.12 are also supported.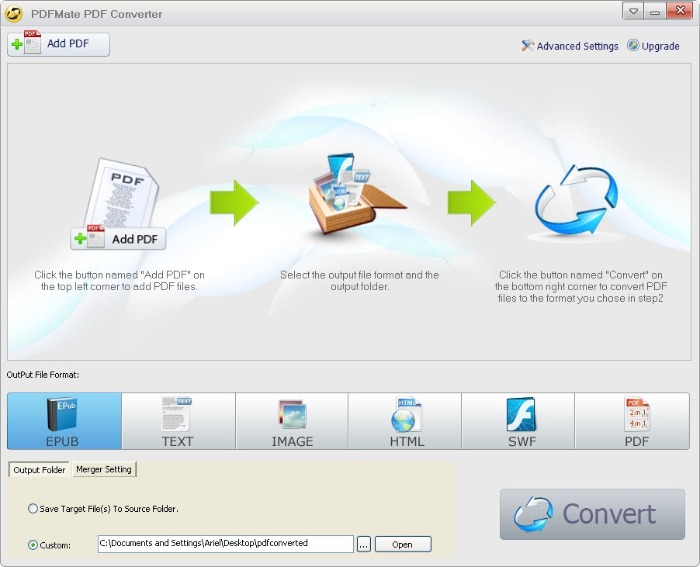 Features:
PDFMate can provide security for your files as you set passwords for the files.
You can change PDF to JPG and vice-versa just as easily, which is quite useful.
You can customize your PDF files in-depth with the tools that PDFMate provides.
You can batch process your PDF files to convert to JPG.
All the necessary options are on its front screen thanks to its simple UI.
How to use:
Launch PDFMate, which should open up a window screen with all the options.
Choose Add PDF and select the file from your system.
Customize your desired output file as per requirements and select the output folder.
Click on Convert and get your files from the destination folder.
Pros:
It offers a good number of output files and file layouts for editing.
Its PDF merger and splitter features enable greater control over your PDF files, which enhances speed and efficiency.
You can convert other types of files into the PDF file format.
Good security measures.
It is a beginner-friendly app due to its ease of access and UI design.
Cons:
It is not as comprehensive as some other free PDF to JPG converter software.
Part 2: Top 5 Best PDF to JPG Converter Online
Price: ilovepdf's PDF to JPG converter is a freeware that lets you convert PDF to JPG online.
Compatibility: It will work online on browsers.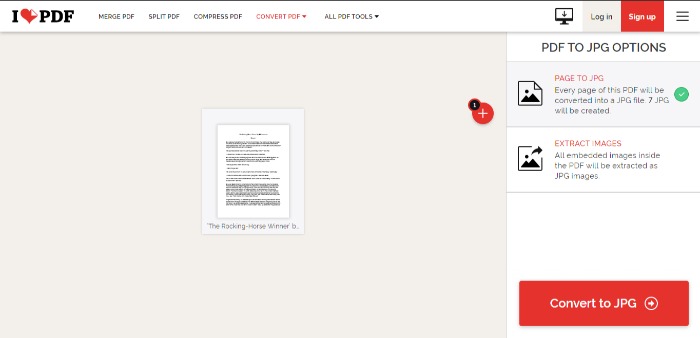 Features:
There are various options with a PDF file. You can compress it or even split and merge it for your convenience.
You can remove or extract certain pages from the PDF file and edit only those.
You can also convert PDF to other file formats.
Adding watermarks to your PDF file is possible through its Add Watermark feature.
There are a few security measures that can be set up for your files.
How to use:
When you arrive at their site, you will see a big red button that says Select PDF file.
You can either directly upload your file from your local file system or drop the file from Google Drive/Dropbox.
Select the file and the app will display its contents on the screen.
Click the Convert to JPG button
Now, you can either download the file directly or save it on Dropbox, Google Drive, or save it as a link.
 Pros:
 Multiple file saving options.
 Converts the file fast.
 Multiple conversion options.
 Cons:
It should offer more features.
 Price: VancePDF converter is a free online service.
Compatibility: This PDF to JPG converter is an online browser based utility software.
Features:
The website converts PDF to JPG all automatically.
It will convert PDF to JPG without needing additional permissions or installations.
How to use:
Simply visit their website and look for the button that says Choose a PDF file.
When you click on it, a window will appear where you have to choose a PDF file to convert.
Click the Convert button to get the system going.
Click on Download and you are done.
Pros:
 The conversion and website itself works fast.
 The website is all free to use
 Price: Smallpdf is a PDF to JPG converter online for free with limited uses. It offers paid packages for teams starting at $28.5/mo for three desktops. Additionally, you can also try Smallpdf Pro for 14 days as a free trial.
Compatibility: Smallpdf works on browsers online.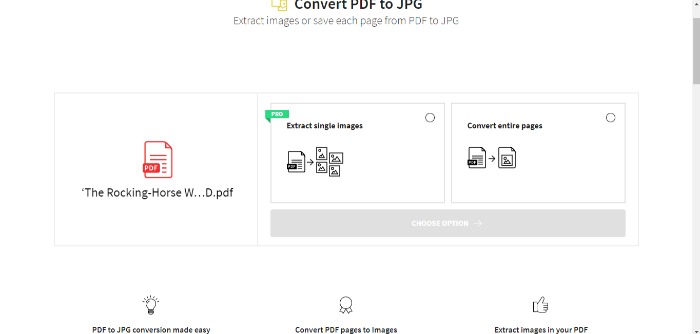 Features:
Smallpdf works on the cloud, making it easy to access files from anywhere.
You can convert PDF to multiple other file formats.
Extra steps are taken for the security of your files.
How to use:
Click on the Choose File button when you reach their site.
Upload the file from your system, Dropbox, Google Drive or drag-drop the file to the box.
Choose Convert Entire Pages if you are on the standard version, it will convert the PDF to JPG.
Save the file.
Pros:
 Multiple formats.
 Social media and other storage app integrations.
 Attractive and simple UI.
Cons:
 Price: It is a free online software requiring no downloads.
 Compatibility: It will run on browsers online.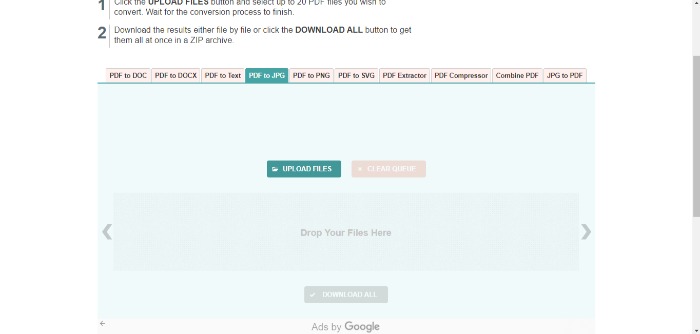 Features:
Allows up to 20 PDF files to be converted at once.
Also offers multiple file format conversions.
How to use:
The website has multiple tabs, each dedicated to a certain category of conversion. Choose PDF to JPG in this case.
Click on Upload Files and select the files needed or drop them into the suggested box.
Click on Download All for the output files.
Pros:
 Batch processing.
 Zip file downloads.
Cons:
 50 MB limit on files size.
 Price: FreePDFconvert is a freeware.
 Compatibility: It supports browsers.
Features:
Makes a series of JPG files out of a PDF for customization.
Dropbox and Google Drive integration.
How to use:
Select Choose a PDF file option or upload it via Google Drive, Dropbox, or a link.
The PDF to JPG converter will give you the output in the form of a series of JPG images.
Download the selected images.
Pros:
 Quick and easy process.
 Storage app integrations.
Cons:
 Occasionally takes more time to convert than expected.
Conclusion:
PDF to JPG converter technologies can fasten tedious tasks and the apps on this list will quickly and easily teach you how to convert PDF to JPG format. And since most of them are completely or partially free, you can convert files without having to spend a penny.