Photo restoration services are vital if you want to enhance or even do a complete makeover of an image that has been damaged due to wear out, time, or any other natural factors. Not to mention that pretty much everyone has at least a few very valuable photos that they would really like to get back to life. Luckily, you can choose an online photo restoration service as well, if you want to revive your image and memories. With a comprehensive list of ten best photo restoration service tools, you no longer have to worry about your old images. You can also find some 'photo restoration services near me' applications with features, prices, etc all disclosed.
Best 10 Photo Restoration Services 2022
Price: You can restore old photos with this online tool three times for free. After that, the prices begin from $9.90 per month for 200 image credits.
The overall photo enhancer online product or application is VanceAI, which hosts a multitude of unique image editors that are designed to tackle all kinds of editing tasks and requirements such as background removal, converting a photo into a sketch, photo enhancement, and more. In this case, we will be looking more at the image restoration application. Common to all the VanceAI applications, the tools make use of AI and Deep Learning based mechanics to analyze images. They are exceptional at duplicating lost pixels and recreating them. In this case, the application will replace the damaged bits with the most applicable parts of the image. It produces realistic outputs that are usable anywhere.
The image enhancer can also allow users to complement all of the applications to further enhance an image. If you, for instance, used the image restoration tool and now want to make the image bigger so as to use it on a blog or as a poster, you can process the same image with the AI Image Enlarger or AI Super HD to make the image sharper. Though online, VanceAI has enough options to rival dedicated software applications for professional image editing.

Pros:
It is one of the best photo restoration services tools.
Good results.
Quick processing.
Cons:
Limited free use.
Software version doesn't include the image restoration services tool.
Can be buggy if you use sample images.
Also read: This AI Helps You Restore Damaged Pictures.
Price: This digital photo restoration service can fix your photo within three days since upload. Otherwise, you can pay $19.99 for a one-day delivery or $69.99 for the entire product, no restrictions henceforth.
Though this picture restoration services application can seem to be on the expensive side, it does come with reliable performance and variety. This tool can not only be used for repairing damaged images but it can also colorize black and white photos. You can even combine these two great features to first repair an old family portrait and then colorize it to give it a modern look and feel. Other than that, this tool can also be used to make physical prints that you can use in many ways. They are a recognized brand with enough credibility too.

Pros:
Reliable software tool.
Good amount of features.
Popular application.
Cons:
Takes time to deliver results.
It is on the expensive side.
The quality of physical prints can be risky.
Price: The Photo Restoration Services product online offers photo restoration services starting from 10 Pounds.
This application is an online tool that is more services oriented than the other applications. They are an online photo restoration service and you can also get a 'photo restoration near me' feature by sharing your necessary details, in case you want physical copies of the images. The tool offers postage, colorization of images, fading correction, and much more. Using this tool is easy as well, since all you need to do is click on the Get Quote button and simply upload the image with a few details.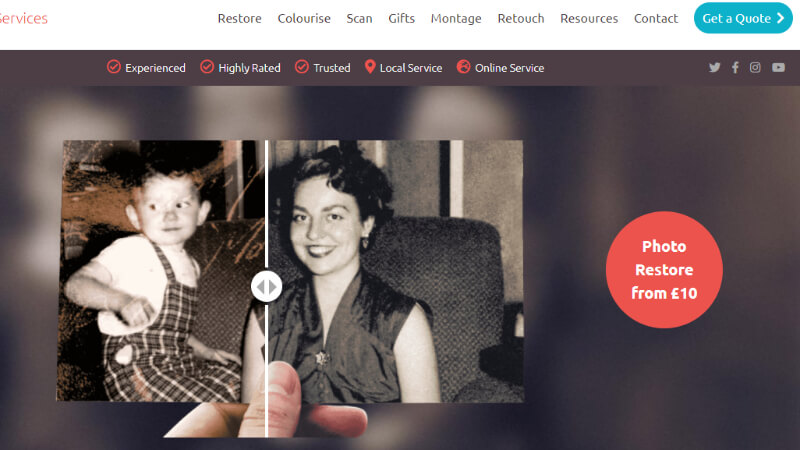 Pros:
Can offer good results.
Reasonable pricing.
Local service.
Cons:
Can take time to deliver results.
The UI can be designed better.
It is not for free.
Price: The total cost of using this photo restoration services program will vary according to the user. Getting digital photos cost $35, which is the minimum amount.
This is a good picture restoration services online tool with a collection of images that are revived and displayed on the website. It also promises to deliver the results anytime within 4 days of order. Apart from that, they will also provide physical copies as well as frames, if you choose to include those in your order. They also have special discounts active on many days, which you can use to get a hefty discount from your orders.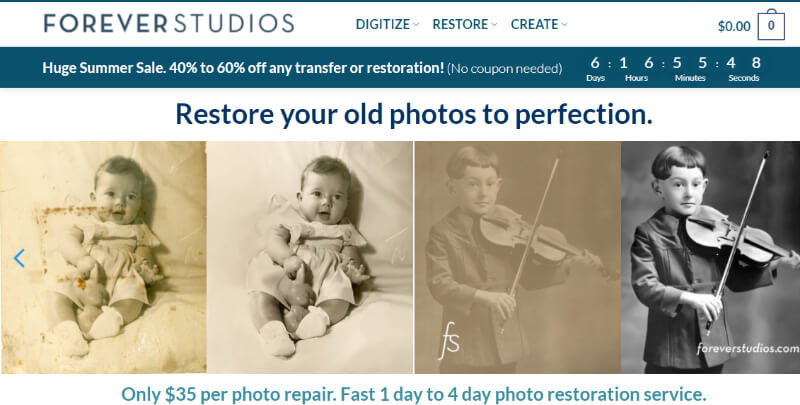 Pros:
Great results.
Offers physical frames and more.
Variety of features.
Cons:
It is definitely expensive.
It takes time to deliver results.
Design can be better.
Price: While each image is unique and requires different processing, the average cost of restoration can land somewhere around $350, according to The Photo Restoration Center itself.
For starters, users can at least get a complimentary quote for their damaged photos, which can be essential if you are looking to repair a very important photo. This application is best suited for a photo that is too damaged yet too significant to leave as it is. This application will deeply analyze your image to find the most realistic options for repair. They are especially great at dealing with historic or vintage old images that are usually in black and white completely.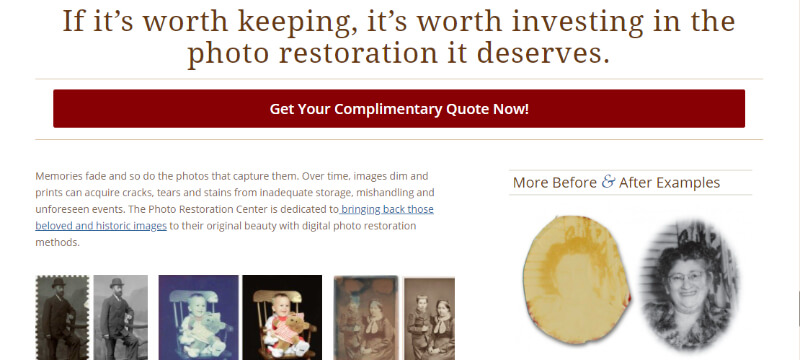 Pros:
Comprehensive approach to the picture restoration services.
Complimentary quote is offered.
Good results.
Cons:
Takes time to process.
It is really expensive.
It cannot be used regularly.
Price: The services can vary but application will charge a minimum of $150 for any type of work and restoration.
This tool, similar to the one before it in this list, excels in old vintage photographs. Not to mention that its collection in the website is also filled with such images, showcasing its capabilities. The tool will offer pretty much all kinds of repairs, including getting rid of acidity, brittleness, holes, fading, and more.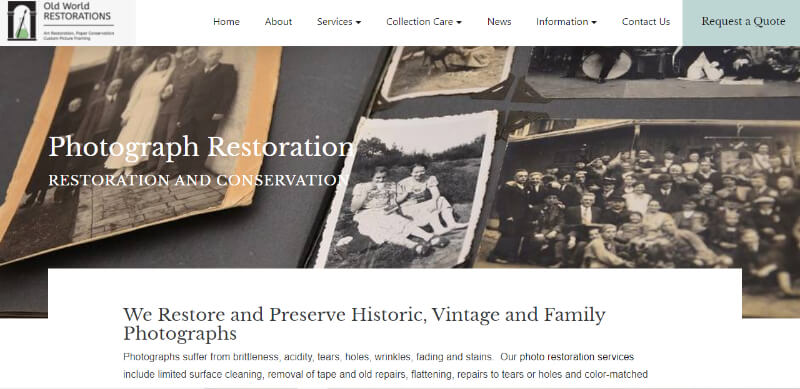 Pros:
Good at vintage photos.
Professional application.
Easy to use tool.
Cons:
Takes time to process.
Only good for a specific kind of image.
Minimum $150 cost for anything.
Price: It costs around a dollar to do the basic scanning and restoration of images. Users will get a better grasp on the cost and results after they request for a quote, however.
With this tool, users can place an order by filling a short form for absolutely no cost. The images that you upload will be scanned and given to the developers. They review the photo and make it go through the process of restoration. You can download the image from their servers, which are really secure and encrypted with enough protocols.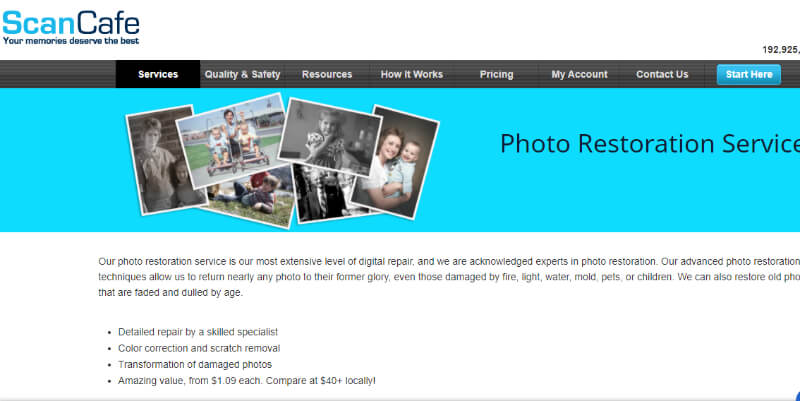 Pros:
Explained process of restoration.
Much more economical than other tools.
Free quote requests.
Cons:
It can take time to deliver results.
The results can sometimes be off.
Better design needed.
Price: The pricing depends on the type of photo restoration service, though the minimum amount of processing and enhancement will cost $45.
A great aspect of this tool, along with the ScanCafe tool, is that they can restore images out of CD and CD drives as well. If you are nearby, you can also give them a USB drive for the restoration process. The restoration and enhancement can bring out the best in an image as they not only provide basic restoration but also oil treatment, which basically makes your photos appear like an artistic work suitable to be framed.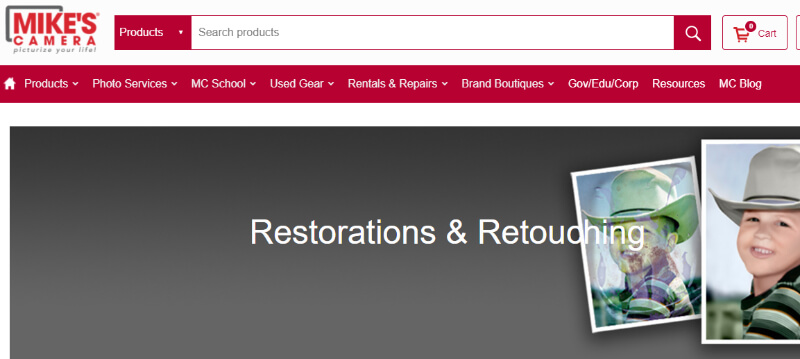 Pros:
Multiple ways of providing an image.
Oil painting feature is unique and cool.
Not too costly.
Cons:
The results are not always top quality.
Light restoration mode is not worth it.
Works better on certain images.
Price: The NCPS provides image restoration services at the cost of $25 and upwards, depending on the type of image and the amount of restoration that is put through.
The NCPS is a great online photo restoration services application that offers other features such as scanning, film developing, printing, and a lot more. You can easily click on the Price Sheet it has on the home page and go though the list of services that it offers. The onsite workplace also utilizes some of the best machinery for photo restoration services.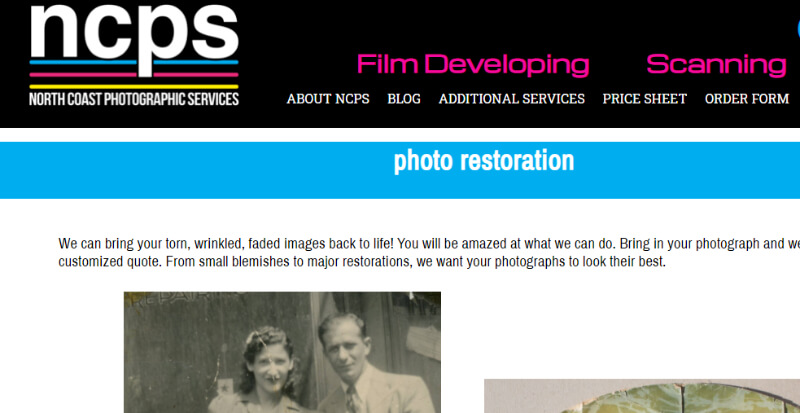 Pros:
It has a great design.
Easy to use.
Affordable and reasonable pricing system.
Cons:
Doesn't have too many great results.
Processing can take a lot of time.
The procedure to get a quote is time-consuming as well.
Price: The simple restoration of images can cost around $7 and go upwards as the complexity of the order increases. Furthermore, if the order exceeds $99.98, users will need to provide a deposit of $25.
Similar to the Mike's Camera photo restoration services tool, the restoration and processing of photos is taken by various levels, starting with Level 1 named Minor Restoration. Users are advised to first determine the level of processing they want for their image.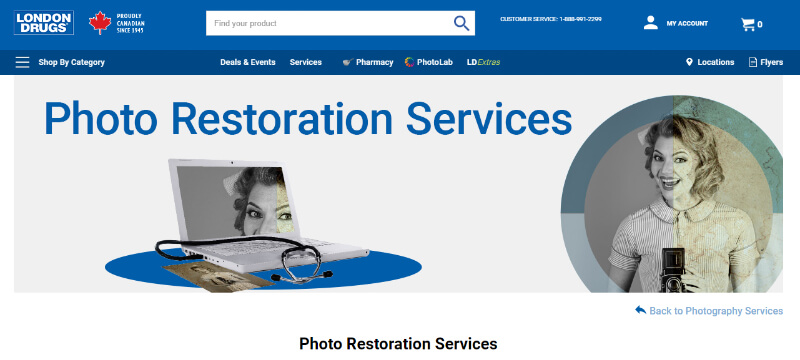 Pros:
Levels of various processing types.
Affordable pricing system.
Provides a CD and a frame.
Cons:
The processing can take time, especially if the image is sent to another London Drugs branch.
The results can be underwhelming.
The Location feature needs improvement.
FAQs
1. How much does photo restoration cost?
The answer to this question varies according to the user and application because the cost of photo restoration is too random. There are many applications that only require around $10 to $20 for restoration whereas the other half of the applications can ask all the way for $150 or even $300. Again, the cost will also increase as you keep adding features to your image.
2. Is AI better than human photo restoration services?
When it comes to photo restoration and whether AI is more reliable than humans, the answer depends again. If we consider simple enough photos such as empty landscapes, a portrait of a very few people, etc then an AI is much preferable over human services. It is definitely easier for AI to predict such images and offer quicker results. For huge images with a lot of details, it is better to go for human photo restoration services even though they will take more time.
Conclusion
You can make use of any of these tools for a great photo restoration services experience. However, their performance is not all the same. It is better to go through the websites and see which area of photography the tools are better suited at. If you want great results at a fast pace, your best and only bet is VanceAI Photo Restoration tool. If you don't mind spending more, then The Photo Restoration Center is an amazing option to consider. You may also need Best 10 Photo Restoration Software & Online Tools Review.