When preparing for some events which require a solid white background, how to make one comes to your schedule. Businesspeople, freelancers, and bloggers may want to make their photos neat and appealing , and then they may need a solid background. The secret of making photos stunning is the background. The backgrounds can either be the natural surroundings in the street, forest, or artificial backdrops in the studio. Sometimes you are in a hurry to make a solid background photo, or maybe you want to take a custom photo backdrop, then to get a background remover should be on your to-do list.
What is a photo backdrop?
A photo backdrop is a surface that serves as a background in a photo, which usually applies in photography; the photographer uses backdrops to create a specific visual scene behind the subject for creating a needed back environment scene. People who work in art and photography can tell whether a portrait is taken by an amateur or a professional just by looking at the backdrops.
What is the purpose of a backdrop in photography?
In photography, backdrops can make or separate your photograph, and a good backdrop can set the right mood and bring your main subject to life. They highlight the subject, define location and setting, and they help to create a story. Backdrops affect the depth and composition of the photo; they make your photo meaningful, enhance your images, and let the watchers feel the spirit or idea behind the picture. You can also DIY photo backdrop digitally to make things easier.
BGremover: get you a solid white background without backdrops
BGremover is a photo background removal tool powered by AI background removal technology and deep learning. As a background removal tool, whether you are a designer, blogger, freelancer, or online shop owner, BGremover will boost creative tasks and productive output for you, batch processing, background editing, changing. It also allows you to cut out smooth and accurate subjects from your photos, even for more, added with full customization features to ensure you can replace your photo background with designs and solid colors.
How BGremover works to produce a solid white background photo?
With only a few clicks, BGremover helps you to DIY photo backdrop instantly; in less than five seconds, you can have a solid white background for your image. More importantly, this tool keeps very high standard quality for photos; terrible situations like sketchy details and hazy edges will never happen. It separates the image from the original background first, and then you can apply the image to transparent or solid background colors without losing image quality. That's how it works.
How to use BGremover for a solid white background
Step 1: Open the home page of BGremover and click "Upload Image."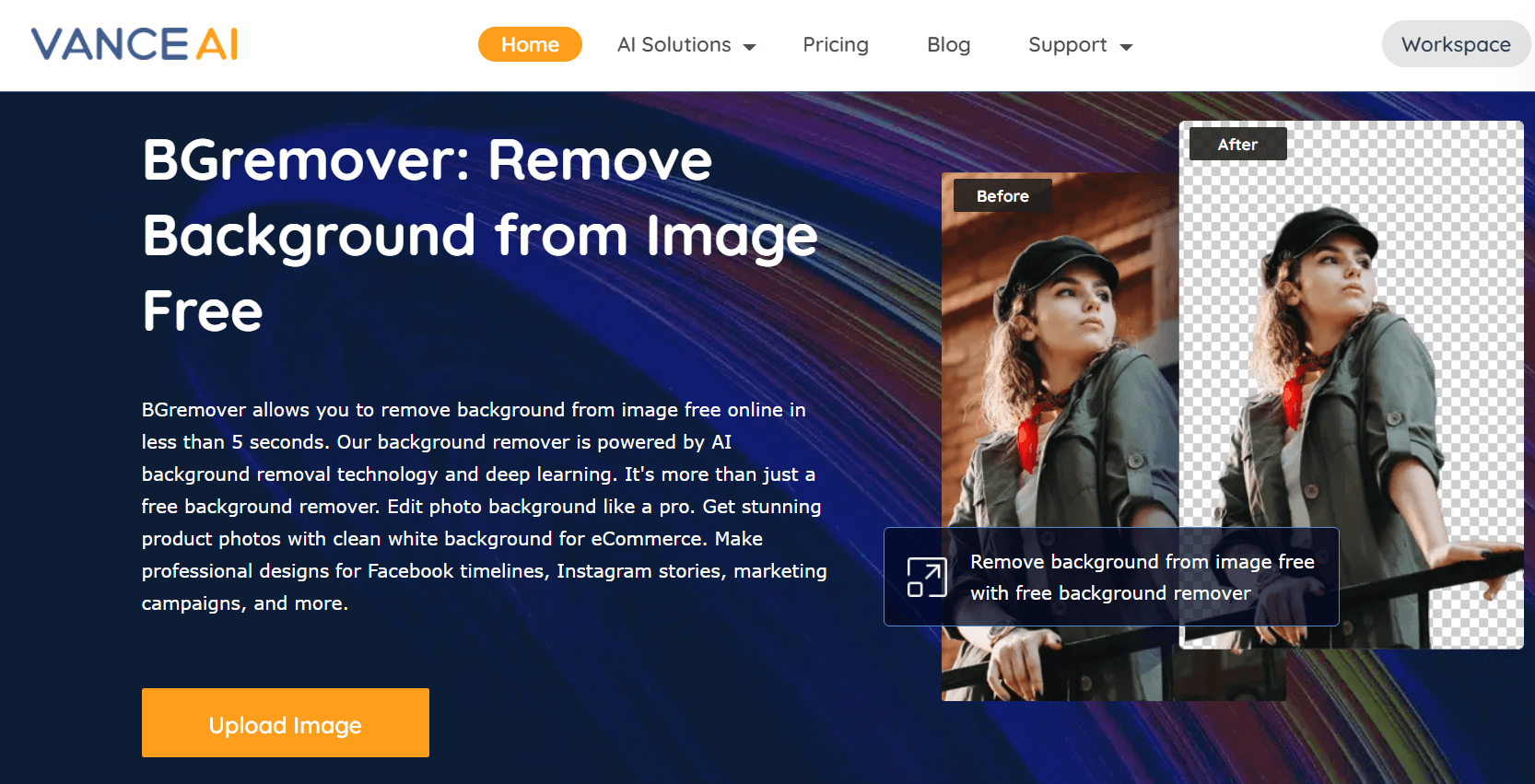 Step 2: Select the quality of the photo (the default mode is high quality), then click" Start to Process." Batch processing is available for its subscriber, and it can process ten images at a time.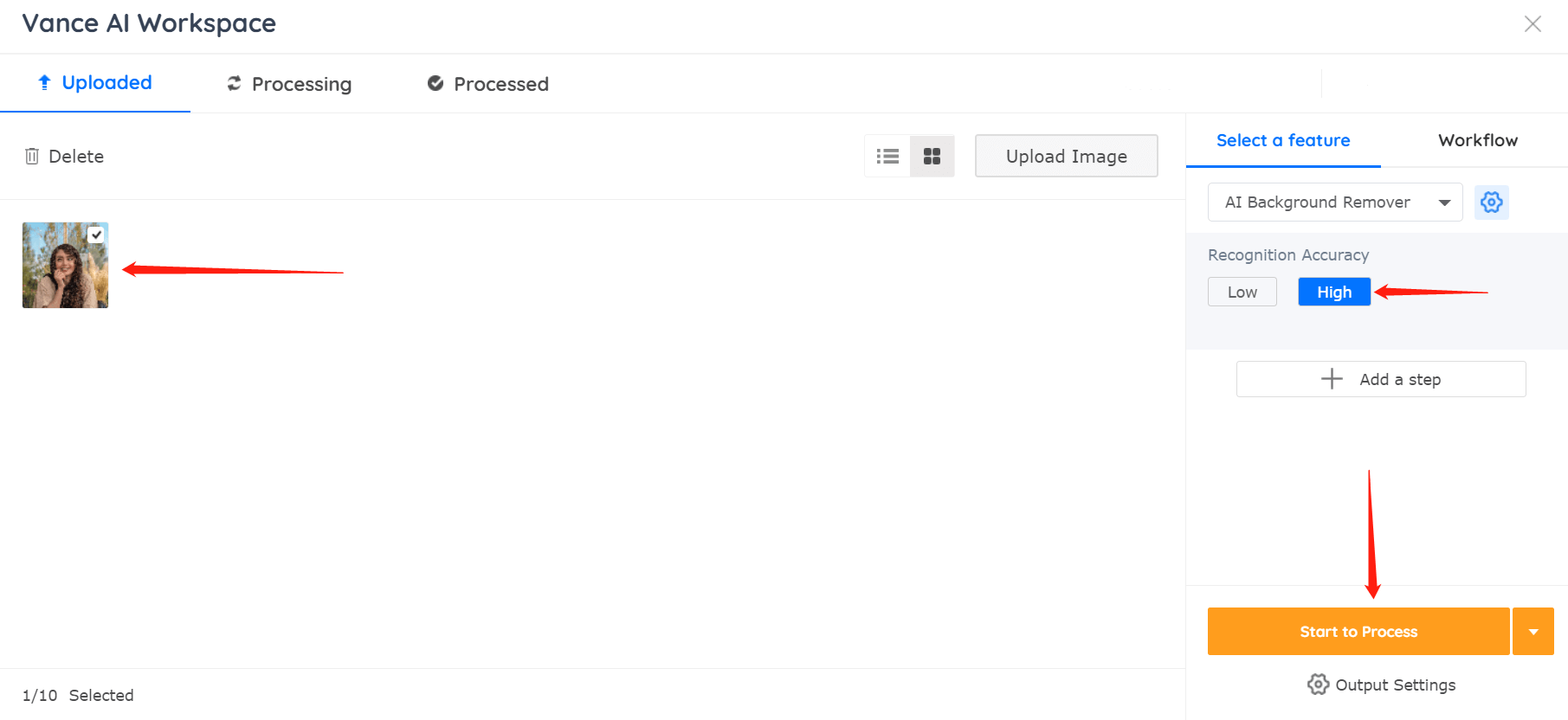 Step 3: Select the processed image and click the icons on the right-side according to your needs. You may preview, edit, and download the processed image. Click the edit icon in the picture to make a solid white background.

Step 4: After finishing the last step, click the icon in the red cycle, and there are many types of background colors available; you can create whatever solid background colors you need, and lastly, click "Save & Download."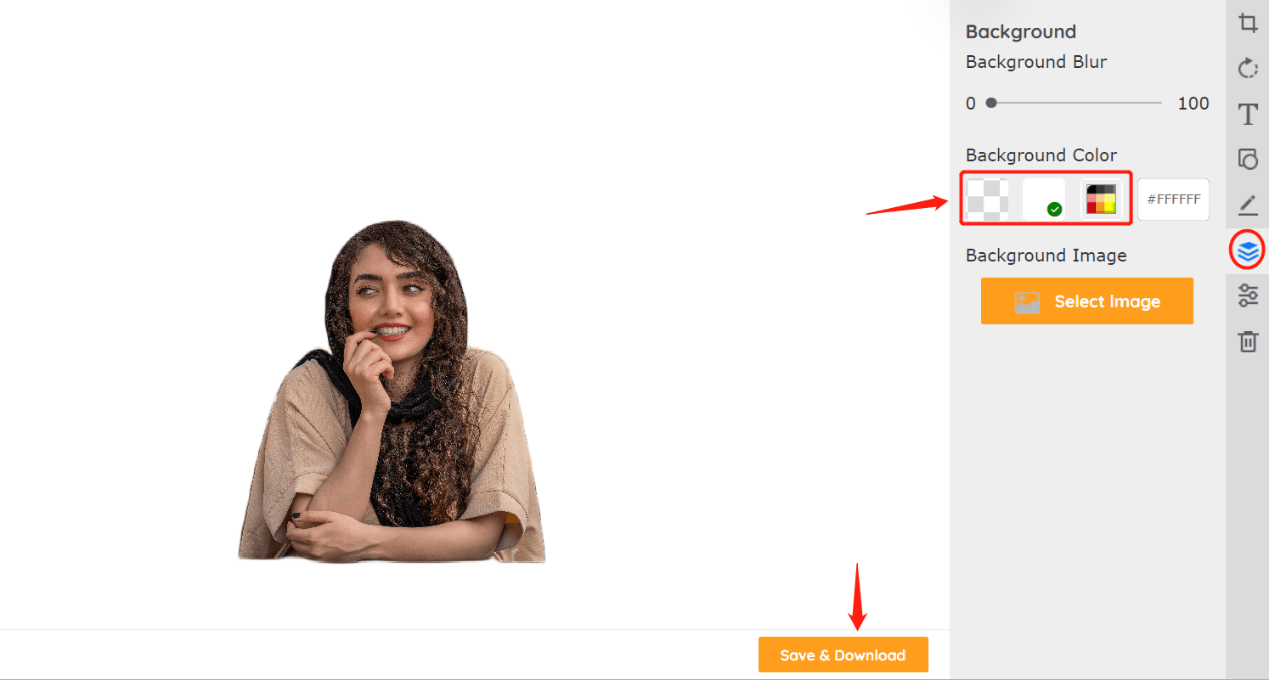 BGremover output review
Comparison between before and after: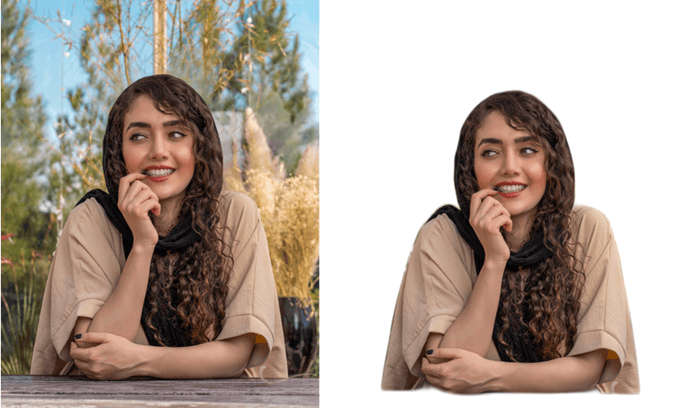 Here is a processed photo by BGremover; needless to say, you can see how good the after photo performs: the backdrop disappears completely, only the subject stays still, her body shape, cloth, hair, and all their original photo parameters are perfectly saved; the background become a solid white background, which is suitable to your need. You can also change the background in any solid background colors or DIY your solid background for official background photos or create a custom photo backdrop, no worries, super easy with this tool!
Final Thoughts
Now, I believe everyone has learned how to make a solid white background with BGremover. To remove background from image is not a problem for you anymore. With a few steps in BGremover can have your business done efficiently. No matter what kind of photo removal work you do, this tool is always an excellent choice for you. The AI tech applied in BGremover leaves space for an even faster image processing and higher quality, and you need only a little effort. For industries that require quality images for products or anyone looking to secure a competitive advantage over competitors, this one helps you create your fancy works.
Learn more tools to edit image background by reading: 7 Best Background Removal Tools Review.