VanceAI, an AI solution provider, recently launched its image enhancer AI solution, which is made to mainly enlarge, denoise, sharpen, and restore images without losing details. As AI becomes a new trend, AI-powered products are expected to perform better than its competitors.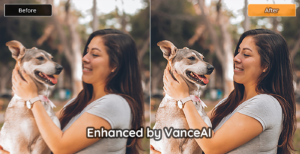 Better Enhance Images with AI
AI is generally supposed to perform better in enhancing images due to deep convolutional neural networks. By feeding millions of blurred/sharp image pairs, AI Image Enhancer can preserve original details even easily fix blurry and pixelated images. Easily remove motion blur and out-of-focus blur. VanceAI even makes your shooting easier and fun.
Before you save the result, Image Enhancer from VanceAI provides a preview to compare the original image and the enhanced one. It clearly tells the difference. With AI Image Enlarger, you can choose the size and noise reduction level as you like. Make a better result with custom options.
Other Highlights You Should Know
VanceAI, with a clean interface, is quite easy to use. No superfluous buttons to distract you. It's totally safe and no bundled web-based tool. Fast processing supported. You can get up to 5x faster processing speeds with an Intel graphics card (6th Gen + higher). Features of enlargement, denoise, sharpness, etc. are integrated into one tool. Powered by the most advanced technology to produce the best result. AI Image Enhancer redefines photographs.
Pricing Plan
The free download which allows you to process 5 images is available on its official website. The monthly plan is something that you can't miss. It only costs $9.90 per month and is really a good bargain now.
VanceAI, a newcomer in AI, develops image enhancement software based on proprietary technology. With mature techniques and experienced team, VanceAI plans to provide more AI solutions to image and video processing in the future. The brand is new but the product is pretty worthy. After all, the product tells everything.
For more information, you can go to the official website of VanceAI.
Official website: https://vanceai.com/
Contact us: https://vanceai.com/contact/