With the rise of social media platforms, meme, a popular way of expressing our emotions and opinions online, comes into the new buzz in the internet world. It pops up on social media platforms, such as Twitter, Instagram, and Facebook. People often use meme keyboards to talk to each other. Even many business organizations make a meme for attracting customers.
Do you want to make your own meme with your image easily? There are a bunch of memes generators to make our creative memes in seconds. Here are the top 10 online meme generators in 2022 that you can use for free. This article ranks them according to the following criteria, including feature, function,registration, watermark, meme library, meme community, costs, ads, and more. Now let's get started and check out the top meme makers one by one.
Canva goes a step further and gives you professionally created templates that you can use for your memes. You can customize your meme with zero restrictions-no watermarks, no font restrictions, and flexible templates, instantly upload and rotate your image, add infinite text boxes, choose any font and color you want. The meme creator has preset image sizes for Twitter, Facebook, and even Pinterest. This meme maker online contains a free version and a paid version ($ 12.95 per month/ $ 119.4 per year). It supports various output formats, including PNG,JPG,PDF, MP4, and GIF.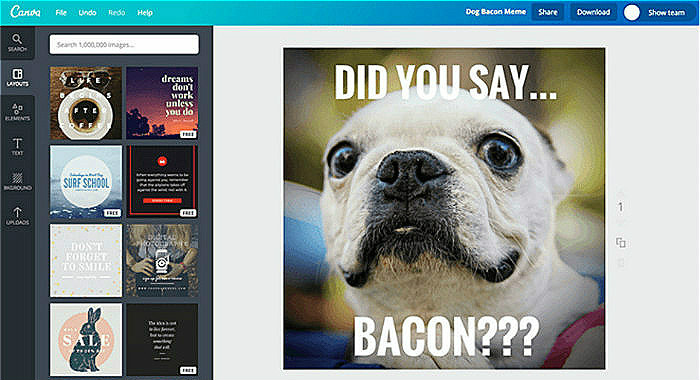 Pros:
 No ads to make a meme
Lots of options and rich material
A professional tool to edit images, GIFs and short videos
Various input/output formats.
Adding music, video, emoticons to memes
Cons:  
A user account is needed to use this meme generator
A difficult to use tool to create memes for laymen
Meme Maker is an excellent meme creator for making and using memes. Millions of people use this meme generator to create and share their own memes on social networks, forums, and different channels. Unlike best picture editors, this meme maker not only provides the newest meme templates in the meme library but also gives you suggestions to add funny words to the meme template. It is free and easy to use but only supports PNG format.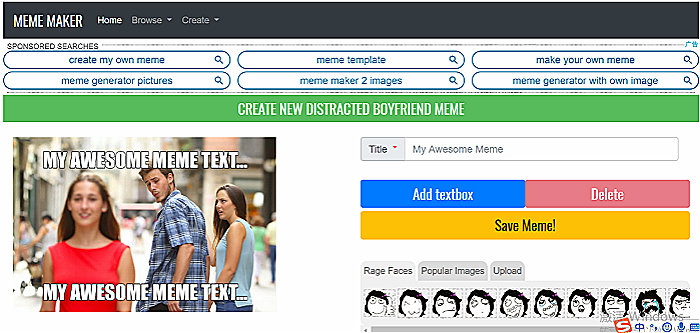 Pros:
No registration required to make a meme
No limit on the number of text boxes
Many interesting and latest recommended meme effects
The custom text boxes to adjust the color, location, and size
Cons:
No social options
Many advertisements
Imgur is mostly known as an image hosting platform. People usually host images on this meme creator so that they can share them with friends or on social media. It not only allows you to choose a wide range of memes on this site but also upload your own meme. After generating memes, you can easily download and share directly on social media sites. It extends support to almost all website fonts, Mac fonts, and Window fonts while handling italic and bold text as well.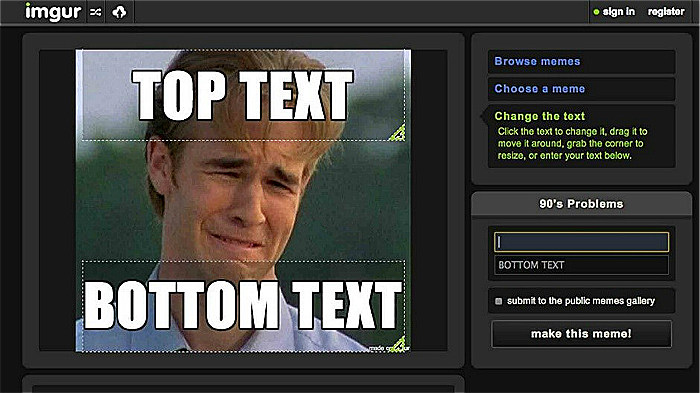 Pros:
A social platform to share memes
An easy to use tool to make a meme
Searching and sorting to find memes
Plenty of useful resources and options
Cons: 
A user account is required to submit memes to the community
Only top and bottom text boxes to resize and change the text
Imgflip is a free online image mememaker that allows you to add custom resizable text to images. If you are unable to receive any suitable meme on this platform, you can conveniently upload your favorite theme and edit it to create an awesome meme, such as adding sunglasses, bubbles, ads, and drawing lines. You can also share it to social platforms directly, including Facebook, Twitter, Pinterest, Reddit, and Gmail. By the way, it creates memes with watermarks, so you need to purchase the paid version to remove it. (3.95$ / month).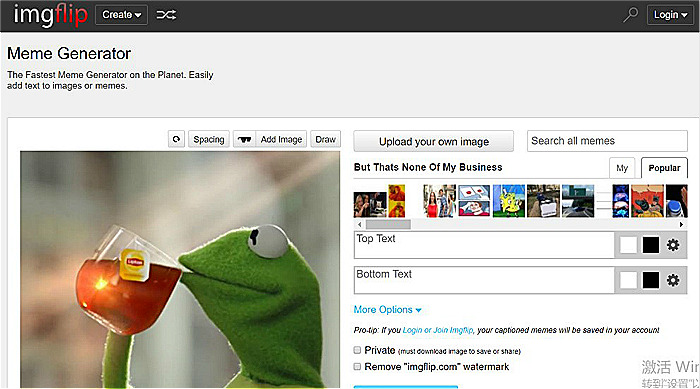 Pros:
Lots of built-in memes you can edit
Using custom images from multiple locations
Adding popular or your own images to the meme
No account required to create memes
Cons:
Removing watermark ads is not free
Monotonous design
ILOVEIMG is an all-in-one online video tool to create meme, including compressing, cropping, rotating, cutting images, and more. It is also a meme generator with a simple interface and incredible processing speed. You can use the meme templates in the library directly, or upload your favorite images from local computer/phone, Google Drive and Dropbox. Besides, it supports adding texts inside or outside your image when you use this meme maker online.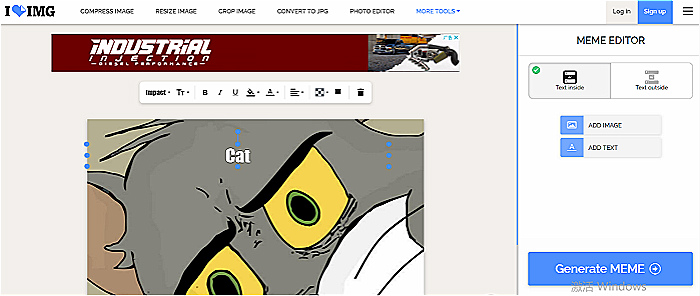 Pros:
The custom text boxes to adjust the color, location, and size
No user account is required to make your own meme
Uploading images from Google Drive and Dropbox
A feature-rich image and video tool
Cons:
A few template options in meme library
No meme community to share memes
Meme Center has a special kind of meme generator tool broken up into four functions: the meme builder, the quick meme, the GIF maker, and the uploader. Before you do anything, you need to sign up for a free account, which shouldn't take too long. This memes generator is another fantastic tool with powerful functions to create photos and memes. But it is not recommended for beginners to use this difficult to use the tool.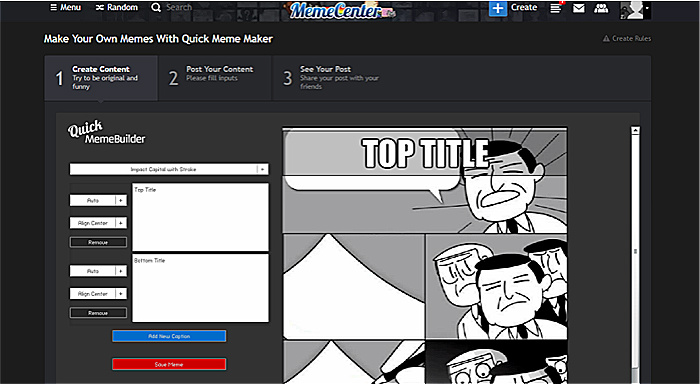 Pros:
A social meme website
An advanced meme builder
Lots of meme templates
A feature-rich meme tool
Cons: 
A difficult to use tool with slightly advanced controls
A user account is required to make your own meme
Kapwing is a powerful online meme creator that you can use to upload images, GIFs, and videos from local or URL option. It is easy to add text, images, timeline, and audio, adjust the look of your meme, like opacity, brightness, contrast and more. After making the meme, you can use this memes generator to share memes directly to social platforms. Welcome to a powerful meme maker online for your content creation needs, but easy enough for anyone to use.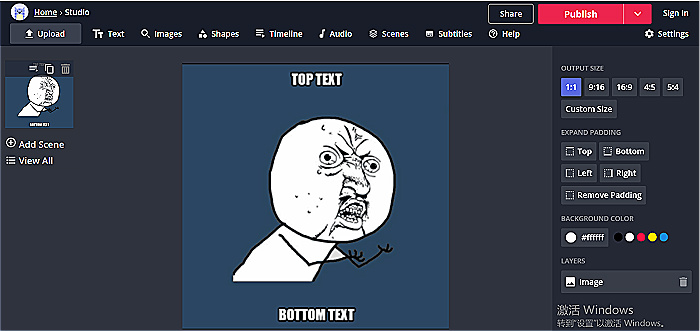 Pros:
An easy to use tool to create memes
Many functions as shown to make your own meme
No need to register to create or submit memes
Various input/output formats
Cons: 
No meme library
A user account is required to remove watermark
makeameme.org is a super quick and simple to use mememaker for creating new memes. This memes generator also provides the option to preview the memes before the final generation. You can find something unique to design a meme through meme library when you use this meme generator every time. Amazingly, you can get your meme on a Mug.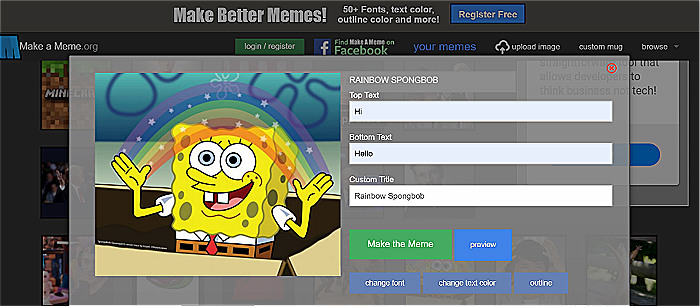 Pros:
Add text at the top and bottom of the meme
Making your own custom meme Mug
No user account is required to make or submit memes
Cons:
Text boxes cannot be customized
Long waiting time to make a meme
Filmora is a fast and free online meme maker geared toward beginner and novice users for editing videos, GIFs, and images. Just upload your file or paste the URL into the editor, and then you can add texts inside or outside your image and adjust color, size, and font as desired.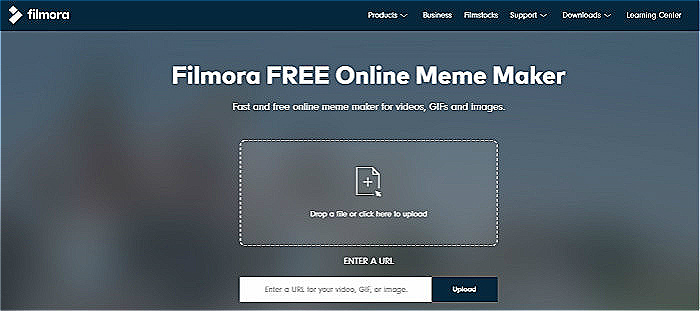 Pros:
No ads and cost
No need to register to make a meme
Adding text inside or outside the image
The meme text color and size can be customized
Cons:
No meme library
No picture function added
The quick meme provides you with a lot of meme templates. You can find one easily with the help of a random or featured meme tab. You can also create a meme by clicking on Caption a meme. This mememaker is a quasi-social network for humorous reposted images around the internet.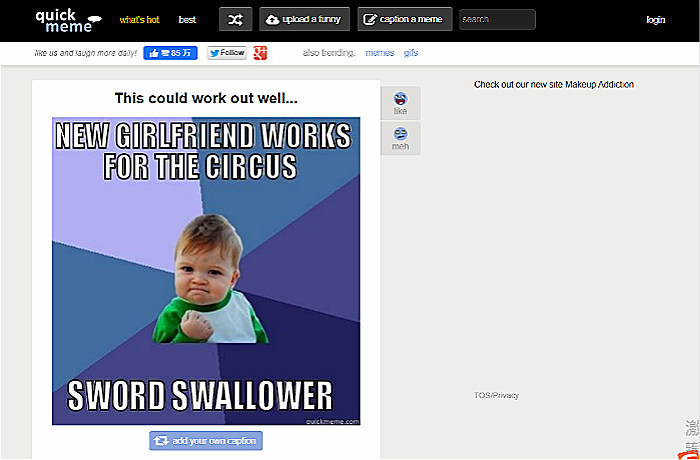 Pros:
Changing font size, color, and type to create meme
Using your own image or famous template to create a meme
A social network for sharing the humorous re-crafted images
Cons:
Doesn't work sometimes
Monotonous design
Conclusion
If you are searching a memes generator with rich meme templates and functions, Canva, Imgur, Meme Maker, Imgflip, and Meme Center, Make a Meme.org, would be a good choice for you to create memes.
If you want to find a website with the community to share your memes, not just to create memes, Imgur, Imgflip, Meme Center and quick meme would be better options for you than others.
If you just want to add text to meme without tedious steps, ILOVEIMG, Meme Maker, and Filmora would be suitable tools for you to make a meme.
If you are looking for a comprehensive tool, not just a meme generator, Canva, ILOVEIMG, and KAPWING would be appropriate options for you to make a meme.
So, these are the top 10 best free meme generator online sites 2022 to make a meme online. You can use any of the mentioned meme creators to make funny, angry, beautiful and meaningful memes. These memes generators are different from collage makers. They can help managers to generate higher engagement while diverting more traffic to your website.
If you want to make your own memes, just give these online meme generator tools a try, and sure you would love them. Perhaps you've already used some of these mememakers before, and have some thoughts about them. Let us know in the comment section below.