Unless you are specifically aiming for an aesthetic shot, it is important to denoise photo before going ahead with posting it or sharing it on the Internet. Regardless of the purpose, images are essential to getting your foot forward. Luckily, due to the kind of tools available nowadays, you don't need to think twice about how to denoise a photo. We will quickly get an overview of an online tool to denoise photo with called VanceAI Image Denoiser.
Features of VanceAI Image Denoiser
VanceAI is an online image editing software and product that consists of the AI Denoiser application as well. You can use these tools to enhance and change your images in any way that you want. You can also use it as a denoise photo editor by processing the image first to enhance it and then converting it to something else entirely, such as a sketch. With a wide variety of applications, you can never run out of options for image editing. Other than that, this is an easy photo denoise tool since users only need to upload an image and they are done from their side. We will now see how to denoise photo online with Denoise AI.
How to Denoise a Photo with VanceAI Image Denoiser?
You can access the image quality enhancer page and choose the AI Image Denoiser from the Solutions tab and get started.
1. First, you will be shown the main web page of the AI Image Denoiser and from there you can click on the Upload Image button to open the VanceAI Workspace. You can also scroll further to know more about the photo denoise software.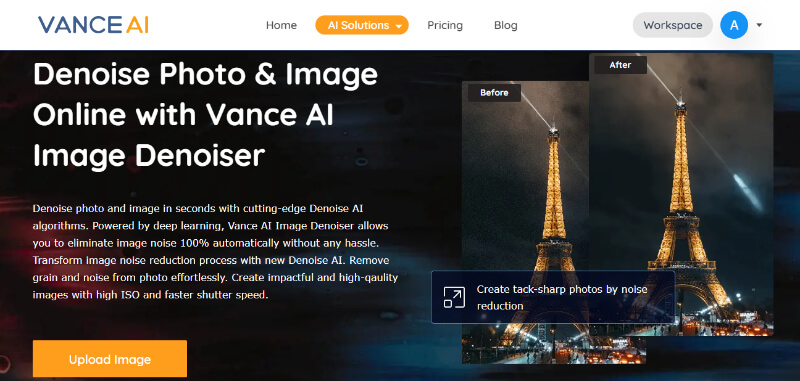 2. Now, use the upload box to upload an image there. You can click on it or simply drop an image into it. After the image is uploaded, proceed further by clicking on Start to Process.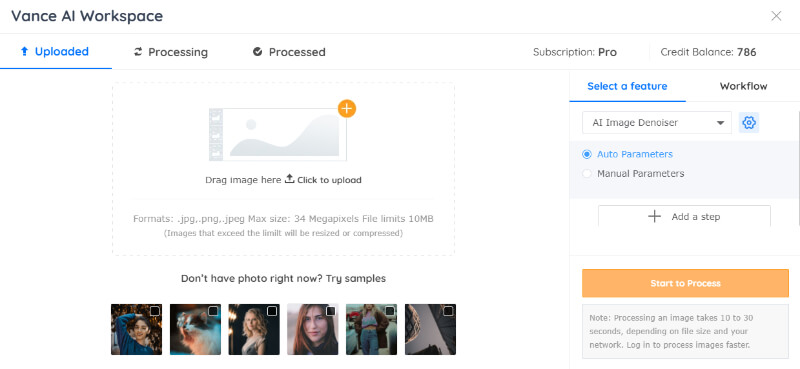 3. The image will process and go to the Processed tab, where you will see a notification. Go there, click on Preview which is on the right side of the image, and use the Download Image button to save the image on your device.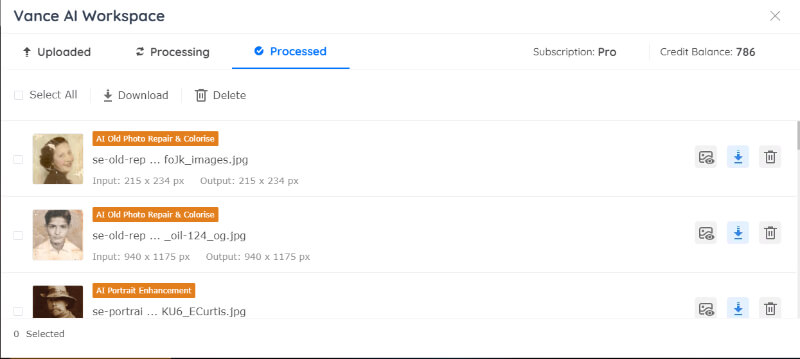 How does this online denoise photo editor work?
The Denoise photo application has another great setting that adds to image editing and that is setting up your own parameters. These parameters are for adjusting how much denoise and sharpness you want exactly. You can set both of them at maximum if you want to remove as much noise as possible. That's why, in this case, we can see just how clear the denoise photo tool can make a picture. The end result is a really high quality image.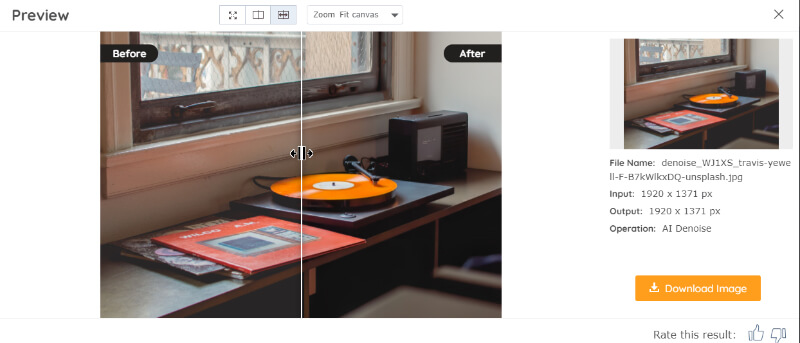 The colors of the After image have a much better impact due to their image noise being removed. Furthermore, this level of detail goes on for the entire image all the way to the back. The denoise photo tool produces great images consistently with a continuous quick pace.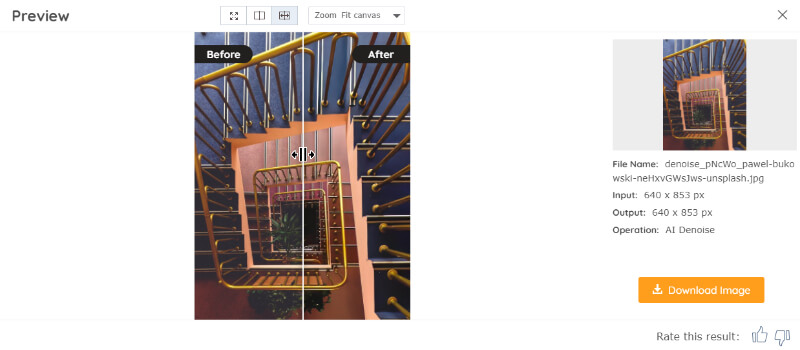 About VanceAI
The image enhancer product is a multi-faceted one. Due to its range of features and design, it is a great product or application to have online and offline for pretty much any kind of image editing, especially when you do not have time to manually edit pictures. The AI based design allows the tool to perform just as well as heavyweight software applications while eliminating the user's input. Thus, basically anyone with or without experience can pick up this application and start using it.
Conclusion
As you have seen from the images above, the VanceAI Image Denoiser is more than capable of delivering the kind of images that you expect without any hassle. Not to mention that you can even purchase any of the product's paid plans so as to benefit from cool features. One of them being batch processing, which significantly hastens your entire process. You may be also interested in How to Enlarge Image without Losing Quality with VanceAI Image Enlarger.
FAQs
1. How to denoise photo online?
You can denoise photo online by using the VanceAI Image Denoiser application. You can start by using the link given above and clicking on Upload Image. After that, all you have to do is upload an image from your device and wait for the tool to process the image. You can then go ahead and download the image by previewing it and using the download button.
2. What is the best photo denoise software?
VanceAI Image Denoiser is definitely an application online that should be on your radar. With a combination of top performance and easy user experience, this online product can provide you with results at an amazing rate, consistently. If you are looking for a dedicated image editing software offline, you can consider Photoshop, VanceAI Image Enhancer, and Luminar 4.