Making large image uploads on your website will not only take a toll on its speed but also could be detrimental to the overall user experience. As of 2022, the average human attention span is 8 seconds. Thus, no one wants to stay several minutes waiting for your website to load. For this reason, it is becoming increasingly essential to learn how to optimize your images or compress PNG making them fit for use on your website. "Fit" doesn't just denote better looking or appealing, you're also enhancing your website's overall performance, as well as its SEO efforts.
Selective 7 Tools To Compress PNG
Price: Free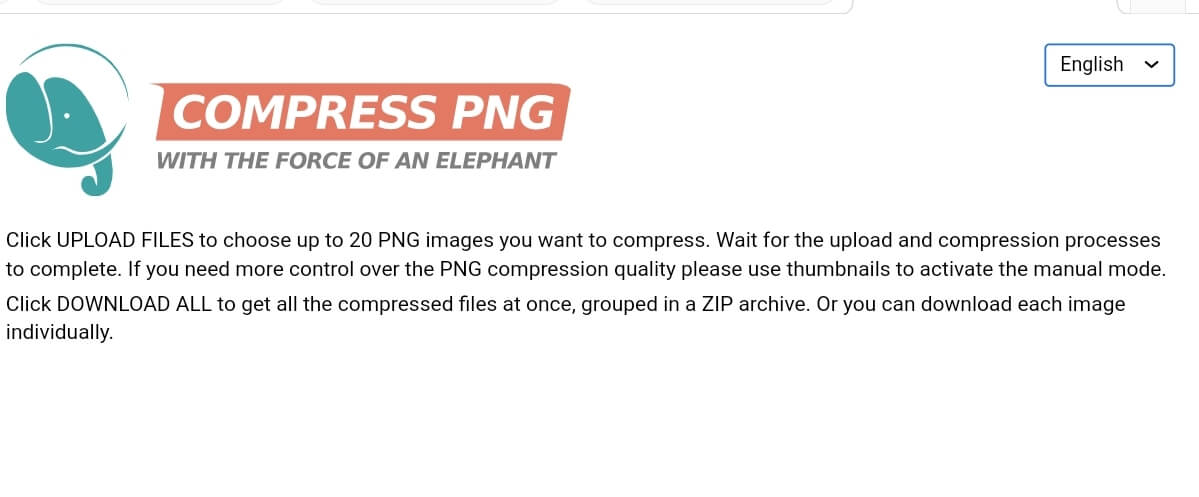 With a maximum file size of 20 PNG images, Compress PNG remains of the most functional tools available for you to compress PNG files. This tool comes with a pretty simple user interface, and all you need to do is drag and drop the images you want to compress or picking them via the available options. To further cement its position as an effective PNG compressor, this tool offers all of its services at zero cost. The tool has an automatic mode that automatically analyses your images and detects the best possible compression for them, as well as a manual mode that offers you the freedom to modify and tweak some settings in the image as per your preferences. To switch to the manual mode, all you need to do is use thumbnails to activate it.
Pros
Easy to navigate
Customization freedom
Maximum attention to users data
Cons
Price: $0.009/Image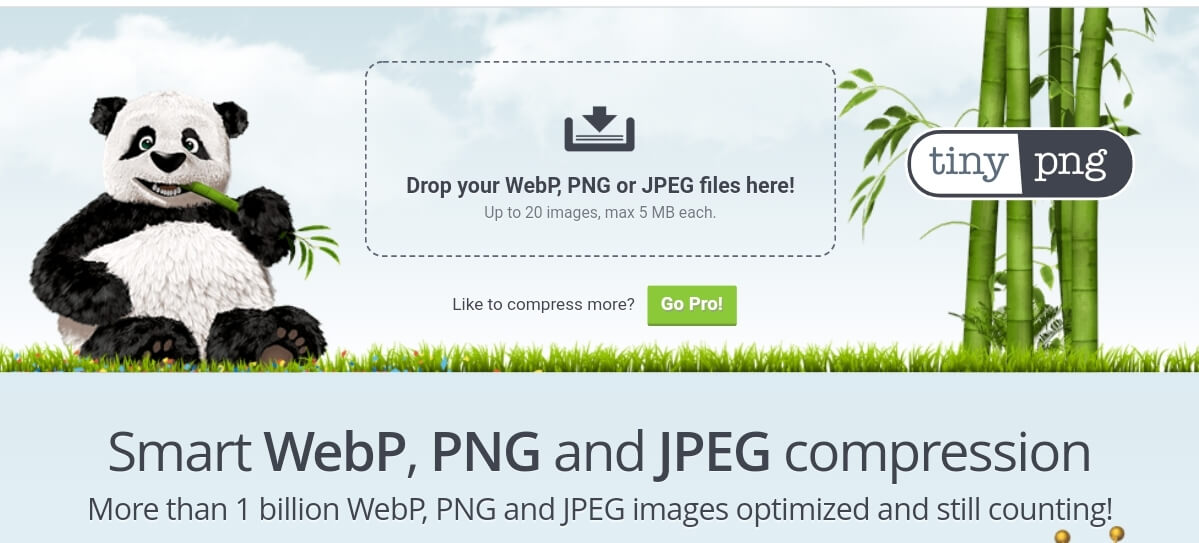 TINY PNG remains one of the most famous and oldest free png file compressors. It allows you to compress png online and it is an extremely instrumental tool if you are looking to shrink images for any purpose at all. Evaluating its performance, Tiny PNG can attain a maximum result of saving over 70 percent of the image size even after compression. Besides this, for every upload, it allows you to send 20 images simultaneously, however, each picture file size limit is pegged at a max value of 5MB. Monthly, you can compress PNG images if up to a hundred images. Asides from its impressive functionality, this tool also boasts a convenient and free extension that allows you to compress png, particularly for the Magento platform.
Pros
Relatively easy to use
Bulk image optimization
No file size limit
Cons
You can't choose the compression level
Price: $4/month

iLoveIMG is another popular tool, well known for its unparalleled features providing simple, yet productive tools for efficient image edits, image compression tools. If you are a beginner, and still looking for how to compress a png, you might want to take a look at this tool. Its user-friendly interface is perfect for all. Its compression speed almost has no equal. All you need to do is select the images you intend to compress and click the compress button, and that's it! You can go on to download your compressed image. Besides, it allows you to pick multiple files, and in various formats, not limited to PNG. Everything is automated, and as such, the tool leaves no room for users' customization and preferences.
Pros
Easy to navigate
Simple drag and drop interface
Completes the task within a few seconds
Cons
The free version has limited functionalities
Absence of user's customization features.
Price: Free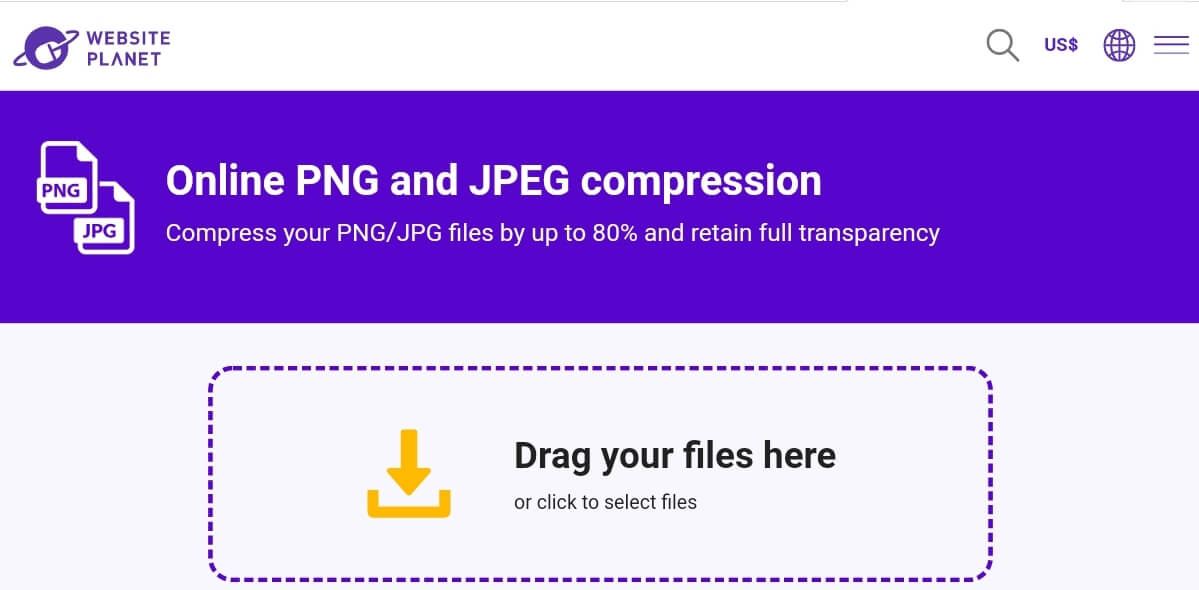 Here is a lossless tool to help you compress PNG images. Essentially, website planet is a free online tool that allows you to adopt its technology for website image optimization. Of course, there are tons of solutions you may want to consider to compress png; however, most of these options end up reducing the quality. But as a lossless png compressor, Website Planet could help you retain the image quality and only reduce it in size, ultimately offering your website the best of both worlds – displaying aesthetically pleasing images on your website and enhancing its performance and SEO metrics. To facilitate the security of user data, the tool features diverse security frameworks and models for this effort.
Pros
The tool is completely Free
Gets the job done within seconds
Helps you retain the image quality
The platform is easy to navigate
Cons
Allows you to work on only one file at a time.
Price: 1000 conversion minutes at $9 monthly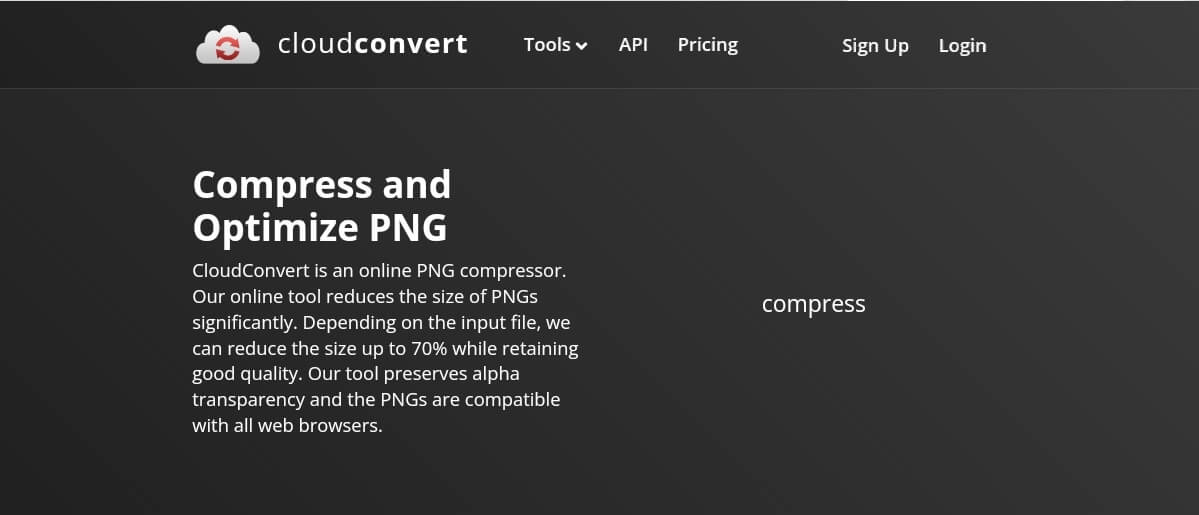 Here is another lossless tool that helps you compress png. Boasting an activity of over 6000 TB file sizes, Cloud convert definitely has a justified shout on this list. Essentially, it is an online compressor that can significantly reduce the size of your PNGs depending on the size of the image you upload. Roughly, it could shrink your image up to 70% without leaving you to worry about quality. This platform retains even the most seemingly insignificant element in your image such as the alpha transparency. Besides, the compressed file can work anywhere – on any browser and any platform of your choice.
Pros
Attention to data security
The platform is easy to use and navigate
Mobile friendly
Cons
Price is relatively exorbitant
Features in the free version are limited
Price: Free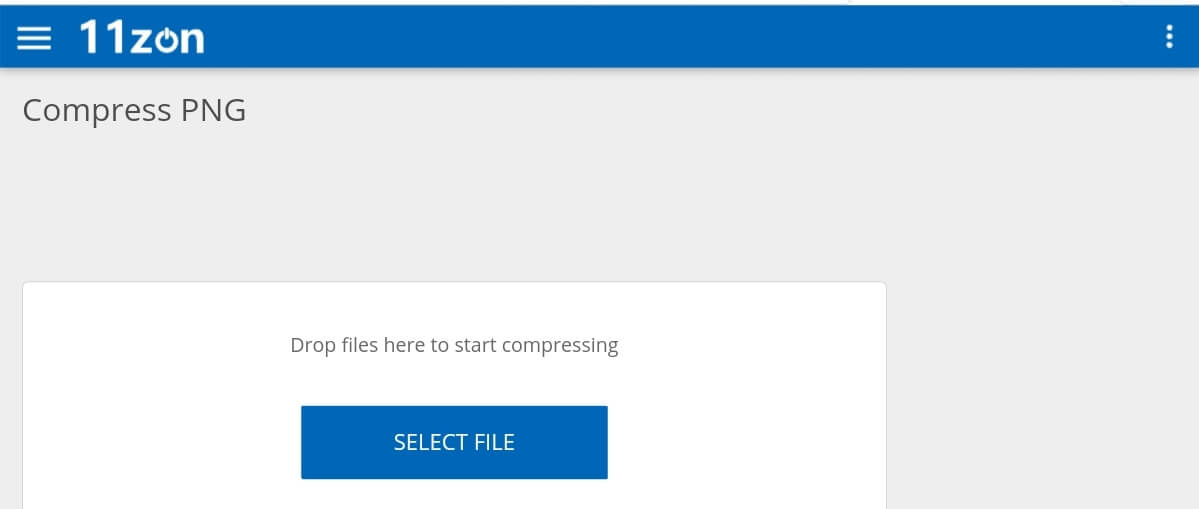 This is another completely free option for you. With 11zon, you can easily drag and drop your image file or pick them using the select button, and complete the entire process within a few seconds. Besides, you have the liberty to add various settings available on the platform on the compressed png file. After your first upload, the platform still allows you to add more image files, so you can still include multiple files and compresses them simultaneously. The compressed files support every platform and web browser. And as a means to guarantee security, the platform claims it does not upload users' images anywhere. All in all, it's quite a compelling website you definitely should give a trial.
Pros
Unlimited functionalities available for free
User and mobile-friendly
A vast range of file support
Freedom to modify and customize
Cons
Price: Freemium ($25/year)

Tiny JPG centers are instrumental to compress png. On upload, the platform automatically Carrie's out a smart evaluation on the images and as such, tries to apply the best JPEG encoding for such image. Besides, depending on the content of the image, it selects pertinent optimal strategies for them. Thus, the resulting image is always that of top quality that would eventually save bandwidth as well as space on your website. As you probably know, JPEG files are relatively challenging to optimize. In fact, setting a fine balance between quality and size used to be a predominantly manual and time-wasting task. But with TinyJPG, all you need is to upload the image, the platform analyzes it, automatically detects associated color trends and patterns, and lastly, fine tine the resulting image by stripping off unnecessary metadata from it.
Pros
Quick and easy to use
Mobile-friendly platform
Cons
The free version is with limited functionality
Conclusion
Kudos to the range of benefits introduced by these tools, anyone can now apply relevant edits as well as optimize images on their websites. As highlighted in the 7 tools above, each tool features its fair share of strengths and drawbacks. As a user, your need predominantly relies on the range of features you intend to utilize and compress png. These tools are perfect for varying occasions, the workload of the user, and how many images were to be converted, to compression speed. All in all, the ultimate decision in this situation decision relies on the user's preferences.