Imagine that you have two PDF files of over 200 pages. However, you only need three pages from each PDF file. A possible solution is to split these two files for six pages and remove the rest through online PDF split tools. Then what about merging the six pages into one PDF file? Sounds a little bit tricky?
Here is the good news: there are many powerful online PDF Split tools designed to help you split or merge PDF files easily. In this article, you will see the top ten safe and handy PDF Split tools available online, which will make your PDF splitting as easy as clicking.
How does it work?
Splitting a PDF can be difficult. But if you find the right tool, it will be as easy as breathing. A few steps will help you split your PDF files into pieces. You just need to upload the PDF files by dragging it and dropping into a page, choose the pages you need, and wait a few seconds to download.
Top 10 Split PDF 2022
If you choose a free online PDF Split tool at random, you might get disappointed because some online PDF Split tools allow you to download split files but on the premise of charges or signing up. No worry. This article will walk you through the top 10 free online PDF Split tools to help you find the best one that suits you most. The ranks are based on features, user interface, costs, operation, download speed, and ads.
VancePDF.com is one of the most intuitive free online PDF split tools that help you split PDF files in seconds. It allows you to easily get your PDF file split by simply dragging it into the neat blank area or choosing one from your computer.
Unlike other confusing versatile PDF split tools, VancePDF makes PDF split extremely easy with its single but intuitive function. Just input any page number you want, and you will see your work done on the download page. Notably, the well-designed progress bar on VancePDF is very relaxing even though you just need to wait within a blink of an eye during the splitting.
In a word, with just one input (page number) and three clicks (file choosing, split, and download), you can get all complex PDF split work done. VancePDF is most suitable for minimalist users who need to extract specific pages from a PDF file.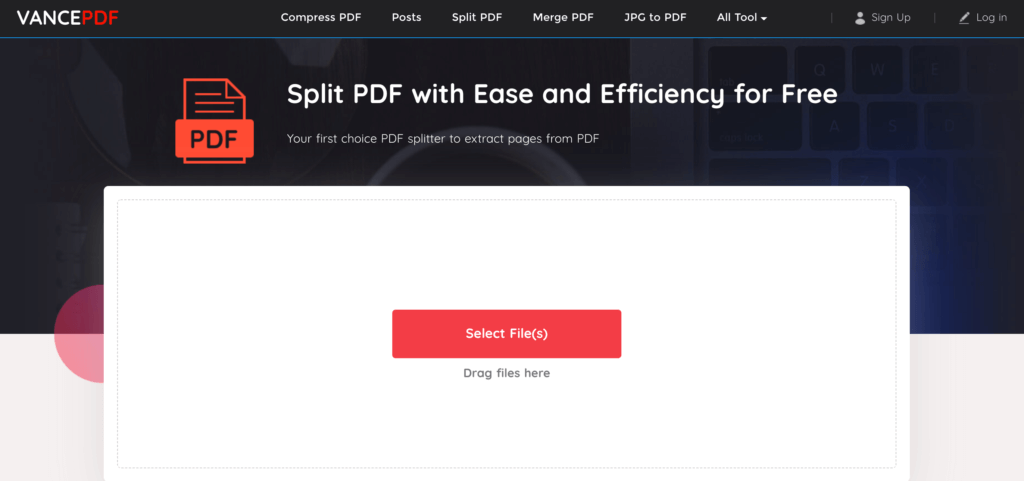 Pros:
Fast splitting
Simple and intuitive interface without any ads
Split PDF and download files split without signing up
Most suitable for extracting specific pages
Cons:
Does not support splitting multiple PDF files simultaneously
No preview feature
iLovePDF lets you split PDF in multiple ways. You can drop a PDF, or upload one from your computer, or select one from your Dropbox or Google Drive account. After uploading, you will see two options, "Split by range" and "Extract by pages", which are designed to meet your tailored demands for splitting.
The "Split by range" option allows you to extract PDF by customized ranges. When you need page 2 to page 6 from a 20-page PDF, you should choose "Split by range". You can also add more page ranges to split and merge them simultaneously on the same page.
The intuitive "Extract by pages" option can extract all pages of a PDF file. If you just need to extract certain pages, say page 5 or page 10, you can also choose this option. Split PDFs can be downloaded to your computer, saved to your Dropbox account, or Google Drive account without registration.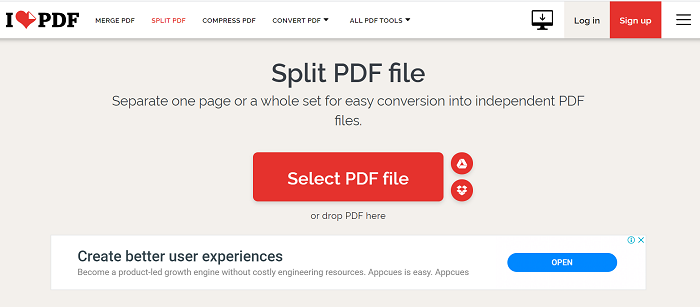 Pros:
Supports preview so that you know what you are going to split.
self-explanatory options
Supports downloading to your cellphone by scanning the QR code or share the URL of split files with colleagues
You can go back to split PDF option easily
Cons:
Intensive advertisements are distracting
Too many options might overwhelm you
Preview size is fixed and quite small, not easy to see content exactly
Smallpdf is a powerful tool that allows you to split and merge your PDF files easily. It makes it easy for users to extract or split pages from multiple PDFs simultaneously. Therefore, when you need to split out content from different PDF files, you don't need to work backward. You can easily go back if you want to split more PDFs guided by the intuitive backing option.
Smallpdf has a small but attractive simple interface with no advertisements. Extracting pages is available to anyone but splitting service is limited to those who have signed up.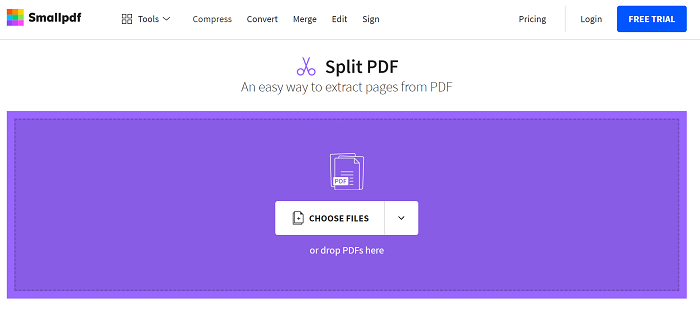 Pros:
You can extract pages without signing up
Preview size is adjustable
Done within seconds even with big PDF files
Supports emailing your split file to others
Provides articles on how to split PDF with illustrations
Cons:
You need to roll down your page to see the split icon, which is not easy to find
14-day free trial requires signing up
Supports just one free splitting method
Free splits are limited, and you need to sign up for more PDF split
Pdf2go is a free and easy-to-use tool to split PDF pages regardless of your file size. Apart from common uploading options, it enables you to upload your file via URL. Just choose the pages you want to keep intact and you will have them in seconds.
You can also choose "Split All" to save all PDF pages. For example, if you have a 100-page PDF, you'll see 100 PDFs or a ZIP file of 100 PDFs. It has a unique feature that allows you to download each split page or save them to the cloud even if you choose the "Split All" option.
However, all pages of the PDF files are displayed on the Split page after you upload. Hence, you might find it time-consuming and disturbing to roll down to the exact pages you want to split. You can imagine how upset you will be if you have a PDF of 200 pages, and you just need page 100. Thus, pdf2go is a good choice for you if you just need to split a PDF of fewer than 20 pages.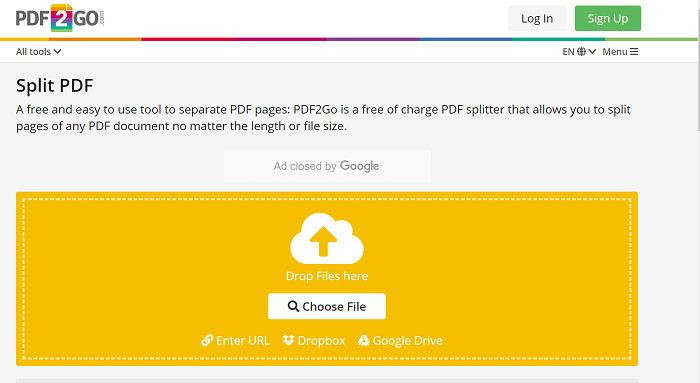 Pros:
Preview for every page when you choose to split a PDF
Gives freedom to download any page or save to cloud after splitting
Cons:
Slow processing when it comes to big PDF file
Preview size is not adjustable
Displaying all pages is not user-friendly if you have a big PDF file
Only supports 12 languages
Sodapdf online is a free online PDF split tool that offers self-explanatory splitting functions. Like other powerful online PDF split methods, Sodapdf also supports different ways to upload your file, including dragging and dropping it into the box or uploading one from your computer or Google Drive or Dropbox. Extracting pages from a PDF file on Sodapdf is intuitive. For example, you can choose page ranges to extract out in each split file.
However, you may find it uncomfortable to wait for at least 10 seconds before you can download the split file. Maybe, the unavoidable advertisements displayed during the 10 seconds can kill your time. You can choose to send the downloaded file to email which is valid in 24 hours or save it to your computer.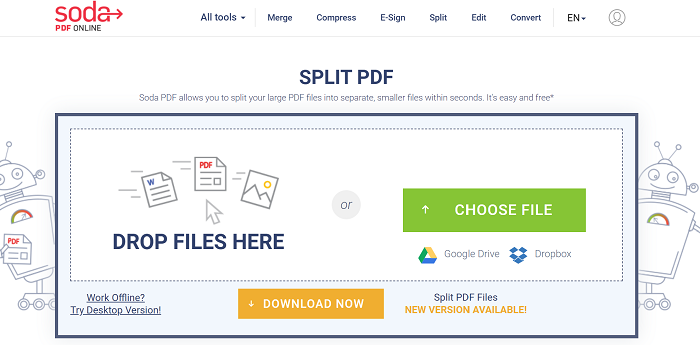 Pros:
Single "Split" option is easy to use
Extract function is self-explanatory
Supports emailing downloaded files
Cons:
Difficult to find where the Split page is from its main website
Frequent failure to download
10 seconds advertisements display before you can download your split file
Does not support saving to the cloud
Unable to view the split file as promised by the website
Rare do we see online PDF tools that provide a whole blank area on its split page, which is designed for you to focus on your splitting work. Pdf.io is one of them. You can hardly get distracted from your work even though there is a tiny ad on the upper front of its page.
pdf.io makes PDF split extremely easy. You just need to click on any pages you want and pdf.io will automatically turn the pages you have chosen into one PDF file, instead of a zip file. If you want to save the chosen pages as separate PDFs, just click "Save as separate PDFs" at the bottom of the page. The biggest feature is that pdf.io offers a smooth and fast experience. The countdown is not necessary before you can download as it's really fast.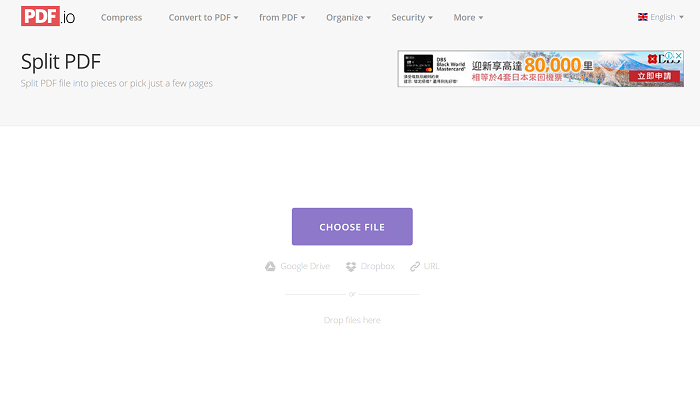 Pros:
Every process is really intuitive via word description instead of confusing icons.
Apart from common ways to upload your PDF file, pdf.io also supports uploading via URL.
Previews are adjustable with "zoom-in" and "zoom-out" options.
Superfast download speed
Cons:
Only suitable for small PDFs due to the preview layout
Displaying all pages is not user-friendly if you have a big PDF file
Freepdfconvert is a versatile online PDF split tool that offers more than the basics. It allows you to rotate pages and change the order of pages while splitting. It also supports multiple upload methods. You can merge the split file directly on the download page without going backward.
Your first use is free of charge. But later you have to pay for it. Without signing up, you need to wait about 60 minutes to get the download file. OMG, you'd better have a nice pizza before you get your split PDF. There is no free trial period and premium membership charges$6 per month and annual premium membership charges$50.

Pros:
The home page is neat and clean
Given the freedom to edit each page during splitting
The speed of the splitting is pretty fast
Cons:
Split service is not free
No free trial period
Sejda offers free service for documents up to 200 pages or 50 Mb. But you can only split PDFs for free three times per hour. Sejda supports different ways to upload your PDF files, including cloud storage accounts and URLs. Once you upload your PDFs, you can choose to extract every page into a PDF, or select pages to split and you can also split every even page.
Yet, you might get confused when you try the "Split every X pages" option, which allows you to split PDF into a specific number of pages. For example, if you have a 12-page PDF, you could split every two pages to make six separate PDFs.
Your Split PDFs are kept and automatically deleted after 2 hours. Sejda also gives you more freedom to handle your Split file as you can rename your file at your will before and when you download.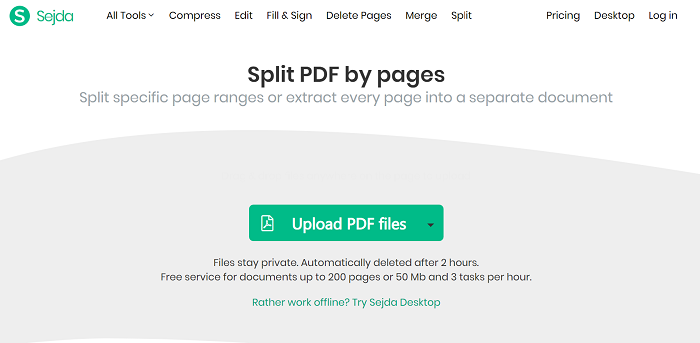 Pros:
The layout is pleasant and user-friendly
Supports adjustable previews
Supports renaming your files when you download
Cons:
The service is limited to 200 pages, 50Mb, and 3 Tasks each hour
The layout during the splitting process is not too friendly for big PDF files of over 50 pages
Splitting options, such as "Split every X pages", are confusing
pdfcandy is an easy-to-use online PDF split tool. In just a couple of mouse clicks, you can get your work done. You need to first add a PDF file by dragging and dropping into the box or clicking "Add file". You can preview each original page of the PDF file with its zoom icon. If you forget the content you are going to split, you can also zoom out the page and find it. This is suitable for small PDF files.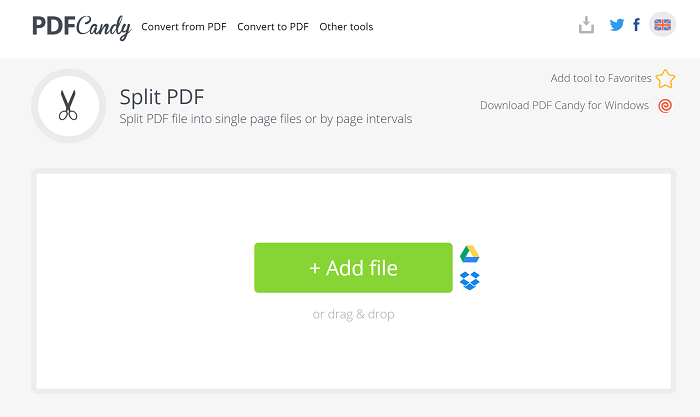 Pros:
Splitting is pretty fast
The layout of the split PDF features is pretty simple
Full page preview is really thoughtful
Cons:
The layout homepage is distracting
The interface is a little bit crowded with too many words on its page
The unique feature of pdfresizer is that it allows you to split multiple PDF files at once (batch processing). You can split a PDF file into individual pages (one page per file) with a single click, or manually choose where to split the PDF if you want a selected range of pages to be included in the output document. After splitting, you can download each page individually as a one-page PDF, or all of them at once as a single zip archive.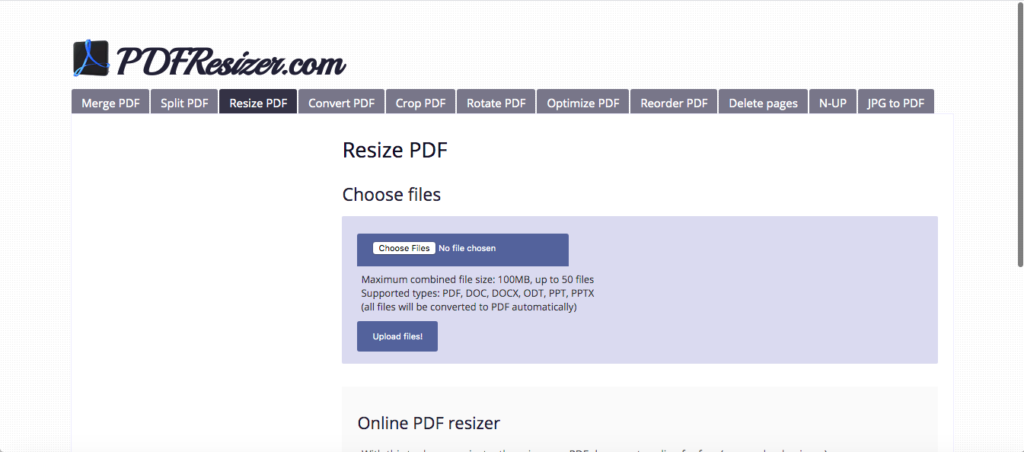 Pros:
Even though it looks old, it is pretty self-explanatory
Supports batch processing of multiple PDF files
Cons:
The layout is obsolete
Only supports upload files from your computer
Summary
Which one is the best online PDF split tool for you? You have the answer. Different online PDF split tools offer different advantages such as high-speed downloading, batch processing, and neat layout. To sum it up, each online PDF split tool has its own flaws and its own strengths. Hence, whichever product you choose, make sure the product caters to your needs.