Due to the ever increasing presence of visuals in our daily lives due to social media and the Internet in general, more and more people are getting into photo editing and enhancement, even though not professionally. This in return makes applications like Remini and VanceAI Image Enlarger needed more than ever before. In this Remini review, we will be analyzing the core features and design of Remini as well as taking a look at other aspects such as pricing, performance, etc.
Remini is an image editing and enhancement software that is compatible with popular mobile devices that run on Android and iOS. The Remini application has more features though the most notable ones are enhancing images in a similar manner to how you upscale images with AI based applications, sharpen or unblur images lacking in quality, repair old and damaged images, etc. Essentially, you can have a bunch of image enhancement functionalities with a single Remini app. Not to mention that Remini has garnered noticeable attention, being a fairly popular app at this point and processing well over a hundred million images from users all over. If you want a mobile app that can revitalize, enhance, and edit images on-the-go without user expertise, then Remini is a really good option.
How does the Remini App work?
Remini does almost all of its processes automatically without much user input and that is made possible by the utilization of AI based image processing technology. The AI image processing technology is trained beforehand by having a huge number of images enhanced through its algorithms. This makes the algorithm much better at dealing with images that a user might upload since the images would have many similarities. Also, the AI can be trained to conduct many kinds of image enhancements, such as image upscaling, sharpening, and more. You can also colorize photo online of cost with an AI algorithm.
On a more practical side, let's overview how the Remini app works in real life. Since it is a mobile app, you can install it from your respective Play Store apps. It is an efficient download of around 35 – 40 MB and works pretty smoothly as far as navigation goes. The app does contain ads, which you can get rid of by subscribing to a paid edition. The paid versions start from the one month program that costs around $6. When you're using the app, you only need to tap on the feature you want, upload an image, and just for a few seconds as the app gives you the result.
How to Use Remini APP to Create Quality Photographs?
Since this application processes images automatically, users don't have to think much about how to use Remini. Here are a few simple steps to get you familiarized with the application.
1.Use the Remini link given above and install it from the appropriate PlayStore. Tap on it to open it and press the Next option. It will take you to the home screen.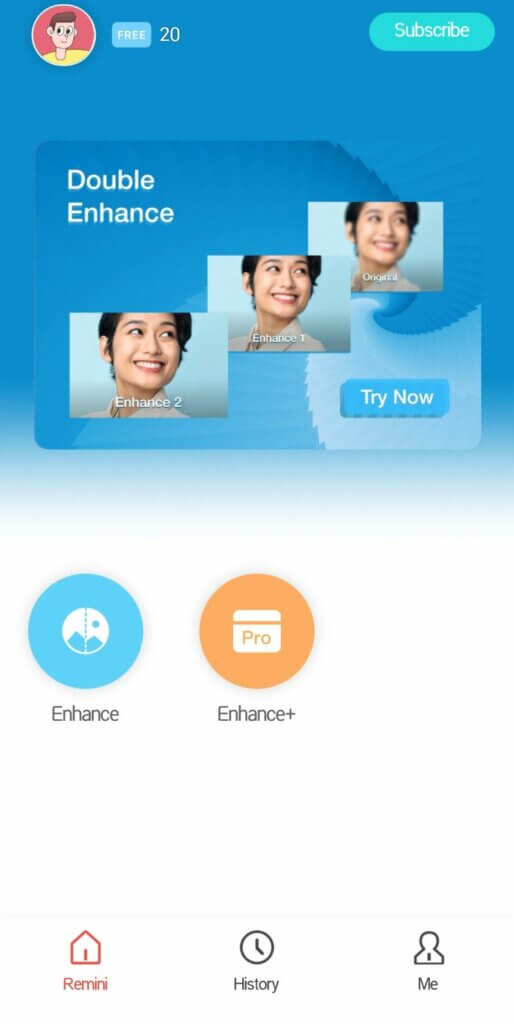 2.Tap on the Enhance button and upload an image from your gallery. You will see your image on the screen with the Tick mark option below. Tap on it to begin enhancement.
3.After a few seconds, you will see the Before-After comparison image. Tap on the Download icon on the top-right corner to save the image.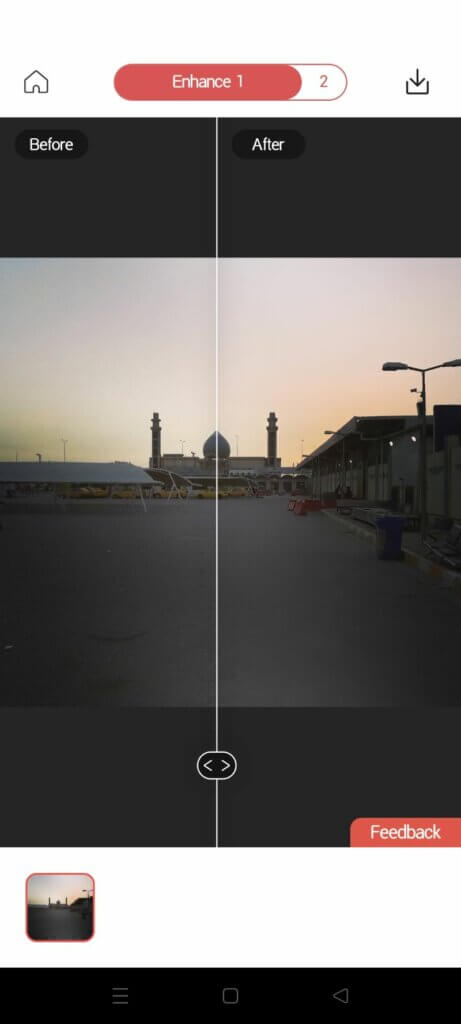 FAQs
1. Is Remini safe to use?
Remini is definitely a safe application to use and users can also head over to their Profile and read the Terms of Privacy to get a better idea of how the app works. Regardless, there is hardly any risk of your data being misused or stolen by or through the application.
2. Is Remini free?
As a first-time user of the application, Remini will offer you up to 20 image credits that you can use for any of its features. However, to expand that, you will need to purchase a paid subscription that starts from $6 per month, opening up more credits and removing all ads from the app.
Conclusion
Remini is one of the top choices for image enhancement and editing when it comes to mobile devices. It has a responsive UI and offers good AI image processing performance, which most users are looking for. Remini can also be used by those who aren't professionals and are only looking for quick image enhancements. Although, Remini can stand to benefit from adding more features such as colorization, background remover, etc. A great alternative that even tops Remini is VanceAI, an AI image enhancement platform that comes with even more AI features than the former. Also read: How to Unblur an image with VanceAI Image Sharpener.